Connected to the Wynn, the fabulous Encore is naturally every bit as impressive. Locals and tourists come from all over to eat, gamble, party, and stay there. The Encore is centrally located on the strip but is away from the thickest of the madness making walking and driving around the area a little less hectic. It's a five-star experience, and its sportsbook is a contributor.
Encore Sportsbook
This sportsbook is very much the little brother to the recently renovated Wynn sportsbook, but make no mistake this is still a nice place to watch a game. Nothing about it is particularly mind-blowing, but most of the bases are sufficiently covered.
On most days expect this sportsbook to be quiet. It offers a nice contrast to the all-star Wynn sportsbook in case you prefer something lower key. There are only two betting windows, although there is a third in the nearby poker room as well, which is the only poker room in town to have one.
Instead of having them together, on each side of the cashier are pamphlets for that day's sports and horse racing action along with upcoming events and futures. Regarding seating, it starts with two rows of 16 premium leather chairs. Behind those are 20 more leather club chairs with end tables and lamps in between, and behind that is a counter row with 20 more barstools for smokers. There is no bathroom within immediate walking distance, but it is just a short walk to find one.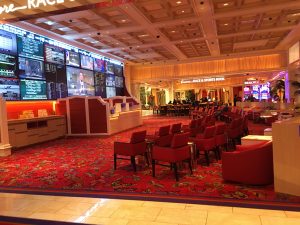 The daily betting lines are exactly what you'll find at the Wynn, and there is no live betting. But, you can quickly open an account and download the Wynn betting app and do everything from your phone. You'll need separate accounts if you want to do sports and horses.
All the competing lines around Las Vegas Blvd. are pretty similar to each other and vary as the action comes in. This is generally the case as well for future's bets, but there are better lines for those off the strip. The strip tends to be less friendly with futures bets because most bettors probably won't shop around for something better. And since the Encore is such a high-class place, they are able to get away with offering lower payouts on their futures than most places.
The sound and picture quality of each TV is good, but they're relatively small and there aren't any giant screens. Approximately two-thirds of this sportsbook is aimed at sports as only a handful of TVs of horse racing are going.
Size and Location
Since this sportsbook is kind of just out in the open, the lighting is nice and bright. There is no formal entrance to it, so it's very laid back in that sense, but it's also near everything else. It's surrounded by bars, table games, or slot machines. During the night the outside noise could definitely be a distraction.
It's also nearby the nightclub Surrender and not too far from the Encore Beach Club either. The Beach Club shouldn't spill too much noise in, but the club could. Either way, it's not so bad since, by the time they're going, the sports betting day is in its last hour or two.
If you park in either the Encore garage or at the part of the Wynn garage that's away from the entrance thus near the Encore entrance, it will be a similar length walk to reach the sportsbook.
Traffic and Viewing Ability
Everything is constructed simply like a square. All the TVs and betting board are clearly visible. Most of the book's visitors are likely to just be dropping by, but there could be some spillover from the Wynn's sportsbooks during popular events like any playoff series, March Madness college basketball, or NFL Sundays.
Drinks at Encore Sportsbook
You can't get a drink in the sportsbooks without a ticket these days, and it costs a lot of money to get them. They're merely a bonus now. It's $150 minimum on sports for a ticket, and $20 on the horses. These rules may generally be enforced but that's not to say they're the end all be all. Being in a more relaxed atmosphere like you would be, we don't think it would be too hard to sweet talk your way into some extra tickets with either the cashier or the cocktail servers since, after all, we think that everyone knows the more people drink the more likely they are to gamble.
Casino at Encore
Like the sportsbook, the casino is also like the Wynn's little brother. Not quite to the same degree as it's got all the same games, but it does occupy less space and is more concentrated. Regardless, you should have no problem finding the game you want, and while some $10 minimum betting limits were available, most of them were $15.
Dining and Bars
Directly behind the sportsbook is a video poker bar which is great because it's a much cheaper way to drink, the only problem is you can't see the sportsbook. Apart from that one, there are several other bars spaced out on the floor along with some upscale lounges.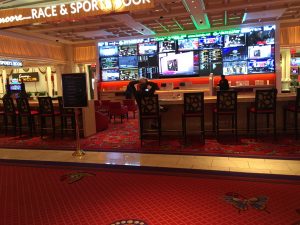 Regarding food options, there isn't too much around. You can't scoop up anything super quick as all those kinds of places are at the Wynn, so the closest and probably best option would be the moderately high-end Chinese place Wazuzu. They are located right next to the poker room and allow takeout orders.
Hotel at Encore
The hotel is no little brother to the Wynn. They've got everything the Wynn has got. Starting with excellent quality standard rooms, the Encore offers great suites and penthouses with great strip views along with a palatial spa and spacious gym.
Encore Sportsbook Rewards
They don't give away too many points for swiping your card. Only 3% towards food comps on all horse racing bets, and a paltry 0.25% on sports bets. But, by swiping your card you do at least guarantee your winning ticket will be paid out as sometimes tickets manage to fall out of people's pockets and then there's nothing they can do about it. This way, at least there is a record of it. Meaning the only way you can't get paid is if someone cashes in your lost ticket in first.
Wrap-Up
Nothing particularly stands out about this sportsbook, but then again nothing about it is worthy of major criticism either. It would be nice if there were some food options you could turn to or a video poker bar you can play and watch from, but other than those it serves all the basic needs. It for sure is absolutely nothing compared to the Wynn's, but it will satisfy anybody looking to just take a break.
Current 2020 Sports Betting Grade: B
Click Here for Our TOP 2023 USA Sports Betting Site!