Owned by Station Casinos, Fiesta Henderson appears along Lake Mead Parkway, right as the 215 beltway ends. Like Las Vegas, Henderson has its share of…weird characters, so this is not a casino that expects to draw many tourists except maybe from those making a quick getaway from Arizona, California, or Utah. But that aside, Fiesta Henderson has managed to put together an above adequate sportsbook.
Fiesta Henderson Sportsbook
Like all the Station Casinos, the lines posted at Fiesta Henderson can also be found on the Station Casinos sports betting app. You'll have to create an account first, and separately for sports and horses, but you can do all this quickly and for free right inside.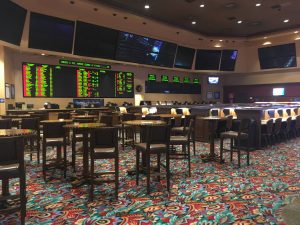 The two largest differences from the app and the sportsbook are the app mandates a much lower betting limit (but this can still be negotiated), and it also has some live betting on it. Live betting is betting on games while they are in progress. Like most sportsbooks, Fiesta Henderson does not offer live betting for any games. It's not offered for every game on the app, but it will be for that day's biggest games and possible a few others.
Size and Location
You don't have to go through the whole casino to get to the sportsbook because it has its own parking area and entrance. There are a number of parking sports reserved exclusively for sports bettors. There is a sign on each spot indicating you can only leave your car there for 15 minutes, but we're guessing this rule is not enforced strictly, especially during the week when it's not that busy.
The sportsbook itself is mostly non-smoking and larger than we expected. Most of the seating are the traditional desk rows that you normally see only in the racebook. The seven rows can hold over 100 people, with each seat having its own small TV. Additional seating is on the far left side of the book, set up with 15 high tables and chairs. The slots are not far away from the sportsbook, but they're not so close that they are easy to overhear.
Traffic and Viewing Ability
The TVs are well placed, and there are over 30 screens running above the betting board. None of them are giant screens, but three of them are big enough that they can be split into four screens.
The betting board is right behind the cashiers. It's large, but small enough that it still has to periodically cycle through all the lines. Since it's not in the center of the sportsbook, it's not easily visible from every seat, but it is from most of them.
Despite its size, we don't think it'll be too busy here with any kind of regularity. It probably gets going during football season and March Madness, but normally we expect it to remain tamely laid back.
Drinks at Fiesta Henderson Sportsbook
For some sportsbook goers, this is the most important question and Fiesta Henderson answers it well. Unlike most books, there is no bet requirement for horse players. Just keep an eye open for cocktail servers coming around in the area. If you are betting sports, a bet of $20 is all it takes to get a drink ticket. If this sounds like a lot, then know that this is as cheap as it gets. Most local sportsbooks only ask for a $20 bet, but the majority of the strip sportsbooks need at least $100. And at a relaxed place like Fiesta Henderson, it's probably not hard to talk your way into extra drink tickets as well.
Casino at Fiesta Henderson
We took a walk around the casino floor and we were happy to see how low the limits were. Roulette and blackjack were only $3, and craps was too even with having 10x odds. Some of the casino's $5 mixed table games were Ultimate Texas Hold'em, 3 Card poker, No Commissions Pai Gow Poker, and Face Up Pai Gow Poker.
Dining and Bars
There aren't any food options inside the sportsbook, but there is a small food court that is only a short walk away. If you prefer something heartier, there's Fuego Steakhouse or Leticia's Cocina.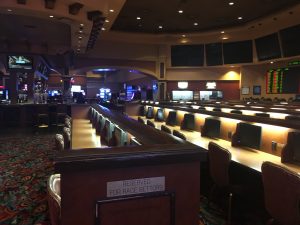 There is a video poker bar right behind the sportsbook. It doesn't exactly face the sportsbook, but it has a bunch of its own TVs. Video poker is great for anyone who wants to drink and watch sports without having to bet on it.
Hotel at Fiesta Henderson
The hotel has over 200 rooms, and the resort fee is $17.99 a night plus tax. All things considered this isn't too mind numbingly expensive. The rooms don't go beyond the normal call of duty. They are all just over 300 square feet and their average nightly rate stays in the $35-$50 range.
A number of promotions are also steadily in place. You'll get 25% off if you stay at least three nights or if you book three weeks in advance, and special packages are also offered if you are traveling from the aforementioned California, Arizona, or Utah.
Fiesta Henderson Sportsbook Rewards
Most bettors probably don't bother swiping their player's cards because the comps are worth very little, but by doing so you do at least ensure that your bet is protected. In other words, if you lose a winning ticket, you still get paid.
For sports, you earn $1 in comps for every 1,000 points you accumulate. Points are accumulated based on how much you stand to win off of each bet you place. An example would be if you bet $100 on a team at even money, then you get 100 points. However, if the line is -500 on a $100 bet, you only get 20 points because you only stand to win $20.
We were told this policy is applied both for sports and horses, but we're not convinced this is true. Cashiers sometimes give misinformation and there wasn't anyone else around to ask, but the racebook almost always offers far better rewards than the sportsbook. We've been to a lot of Station Casinos sportsbooks, and the most consistent response we receive is that the policy frequently changes for racebook comps. So, if you're a horse player and this information is important to you, we advise you ask what the deal is.
Wrap-Up
We enjoyed our visit here. It was easy to get in and out of, there were plenty of TVs and places to sit, and there weren't any nuisances. Nothing about it was particularly exceptional, but if you are a local or a tourist planning to drop in for some sportsbook action, Fiesta Henderson will satisfy.
Current 2020 Sports Betting Grade: B+
Click Here for Our TOP 2023 USA Sports Betting Site!