Owned by Mirage Resorts when it opened in 1993, Treasure Island has been independently owned since 2009. It still serves as a popular tourist spot on the north central side of Las Vegas Blvd, but after closing its standout Sirens of T.I. pirate battle show that took place right on the strip, now it is relatively indistinctive. It is only going to appeal to so many locals, and the sportsbook is part of why.
Treasure Island Sportsbook
It does an adequate job, but Las Vegas is most memorable for how far above adequacy it goes. The sound quality is solid and there is no smoking, but nothing really stands out. In addition to the ten or so normal sized TVs, there is a big screen and a giant screen, and the racebook is divided equally.
As you walk in you will see pamphlets to your left showing all the lines for that day's action as well as those for upcoming events, futures, and whatever props that might be offered. The everyday betting lines for T.I. for any strip casino are always comparable to each other. There is no typical advantage or disadvantage to walking into a big sportsbook or a little one.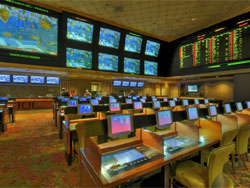 The one thing to keep in mind are the futures lines. The strip never does you any favors with these. Payouts are frequently unfairly low because the books realize most of its bettors are tourists who don't care what they are getting paid as long as they are in action. If you want to find a better deal, you might be able to at an off strip local casino.
Size and Location
Built horizontally, the sportsbook is relatively small. On the right side are rows of 5×7 leather chairs, and to the left are over 70 desk seats with their own TV. No VIP sections.
The sportsbook can be found towards the back of the casino right across from the poker room. Even though it is away from the casino floor you can still overhear some slots.
Traffic and Viewing Ability
We got the sense that hardly about anybody comes here, which made all the cashiers available seem unnecessary. Still, since T.I. is energetic and youthful, it is reasonable to expect big turnouts for March Madness college basketball, NFL Sunday, and all other major playoff events.
The seating is close together so there isn't a ton of walking space, but you have a clear view of everything. The betting board is conveniently spread across high up on the right side wall. There is also another small betting board behind everybody on the high part of the wall, although we can't say we understand why.
Treasure Island also offers the ability to bet on your phone. All you need to do is open an account right inside the sportsbook. It is simple and free, and once you're set just download the T.I. mobile sports betting app you have access to all the same lines right inside the sportsbook. Whether you are on the go or just don't feel like waiting on long lines to bet, the app provides flexibility. The only difference is the maximum bet allowed is substantially lower, but the minimum is as well. Most sportsbooks have an app now, and some of them offer live betting which is betting on games currently in progress. However, T.I.'s does not and neither does the sportsbook.
Drinks at Treasure Island Sportsbook
If you are looking to drink for cheap or close to free you will have to gamble at the slots, the table games, or video poker. The sportsbook used to be an easy inside track to free drinks, but those days are over. Treasure Island asks that you bet $100 on sports for every drink ticket you wish to obtain and $20 for the horses. It seems ridiculous, but clearly, all sportsbooks no matter how big or popular are only interested in treating alcohol as a thrown-in now. Doesn't mean it still can't be worked around though. Do your best to bond quickly with either a cashier or a cocktail server and you should be able to wind up with an extra ticket or two.
Casino at Treasure Island
The casino floor is not enormous, but there are all kinds of slots to play and all the most popular table games. Treasure Island is solidly aesthetic, doesn't reek of smoke, and tailors nicely to the casual gambler making $5 minimum bets available, but most often the limit will be $10.
Its standout game is not a table game, but what they call Stadium Gaming. This machine allows you play Blackjack and Roulette at the same time with live dealers. The minimums are lower, allowing $1 for Blackjack with Royal Match options, and just $3 for Roulette.
Dining and Bars
You will find video poker bars around the casino, but none of them are nearby the sportsbook. There are also other numerous bars, lounges, and reasonably priced restaurants spread around the casino with Gilley's BBQ perhaps being its most known one.
Regarding nearby food, the only distinct option is Richie's Sub Shop which is right next to the poker room, and there is also a CVS adjacent to the sportsbook.
Hotel at Treasure Island
The large hotel displays six types of suites on its home website, but if all you need is the standard room they are very nice and spacious with updated bathrooms. Go to the main site to get the guaranteed best rate, and the hotel amenities include a spa and salon, and a pool with cabanas.
Treasure Island Sportsbook Rewards
Sportsbooks will never be known for their reward points. T.I. gives back nothing for betting sports and only 2% on horses which can be used for food. That said, it is still a good idea to swipe your card every time you bet because this way you have recourse in the event you place a winning bet and then lose the ticket. Just bring your card back and you will still be paid assuming no one already found your ticket and cashed it.
Wrap-Up
Nothing bothered us about this sportsbook. It provided a most watchable atmosphere as it was clean, comfortable, and delivering all the main elements a sportsbook must deliver. However, from the outside Treasure Island looks like it should be impressive on the inside and parts of it are, but the sportsbook is just adequate. And adequate in this town is inadequate because the only real adequate is what is memorable. This sportsbook is not.
Current 2020 Sports Betting Grade: B-
Click Here for Our TOP 2023 USA Sports Betting Site!