Located just a mile west of Las Vegas Blvd. and owned by Caesars Entertainment, The Rio is still home to the World Series of Poker and one of the most popular off strip locations for tourists. It's a nice casino and parking is still free because it is off the strip, but like most Caesars' properties, the Rio it isn't that nice. However, after finishing its renovations it now has itself a very respectable sportsbook.
Rio Sportsbook
The rectangularly built race and sportsbook are evenly split. The sports side has 16 TVs although none of them are especially big, and the same goes for the 18 TVs on the race side. The picture quality was adequate but nothing special, and the sound quality for the main game was just okay which is a bit of a drawback because this sportsbook is always going to be active and probably at capacity during busy games.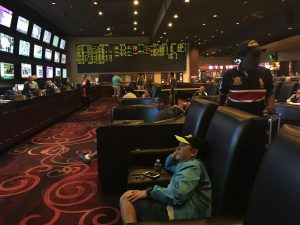 The daily betting lines won't be much different from anything you'd find on the strip or at another sportsbook, but you certainly will get a fairer deal on futures since enough of its crowd will be locals.
If you want to bet without having to go make a trip to a sportsbook, you can open an account for free right inside the sportsbook and download the Caesars Entertainment sports betting app. This will allow you to bet from anywhere in Nevada, but the maximum bet will be a lot less. There currently is no live betting on the app, but Caesars is trying to provide this in the future.
Live betting is betting on games as they are being played. It is still a relatively new type of wager but has quickly grown in popularity. Most sportsbooks don't do it at all over the counter. The Rio doesn't have much to offer either, but you could see it either during a huge game or if the Vegas Gold Knights are playing.
Size and Location
The sportsbook is nearby the Carnival parking garage, and it is also next to the poker room and near the seafood buffet. There are numerous places to sit. The racebook has 3×10 desk rows that each have their own TV. The sports side now has a few rows of really spacious leather chairs with a cup holder, but altogether there are only around 20. Behind those are a bunch of tables with leather seating, and VIP seating is at the front in the form of semi-circle leather booths.
The Rio sportsbook quietly accommodates a lot of people because behind everything listed above is a long counter with more seating and this is where you must go to smoke. Another drawback to the sportsbook is there is no space between it and the casino floor and this allows unwanted noise is able to seep in.
Traffic and Viewing Ability
Since the sportsbook is built so rectangularly and none of the TVs are large, you will have to sit in the center if you want to see everything. The betting board is large and easily visible on the right wall perpendicular to the TVs. The seating is packed in a little tight, but you won't be falling over everybody when trying to walk out.
Drinks at Rio Sportsbook
You have to make a bet to get a drink ticket now in the sportsbook, but the Rio charges less per bet than most strip sportsbooks. $10 for the horses, $50 on sports. Given how high the prices are, drink tickets are just a bonus now, but that doesn't mean it's impossible to smooth talk your way into some extra drink tickets.
Casino at Rio
The large casino floor strategically has the low limit slot machines on the outskirts of the casino away from where the majority of the people will be. That way they'll be enticed to go to where the party is and subsequently play for more money. If you are looking for table games, outside of the most common ones are also a wide selection of mixed games all of which can be played at a $5 minimum. $5 blackjack is also available.
Dining and Bars
Two of the three most important factors to making a great sportsbook is offering nearby food and drink options. The Rio has a sports deli adjacent to it with a lot of seating and you can very comfortably eat while you watch the game. If you prefer something different, Pho Da Nang Vietnamese Kitchen is next to the deli and just a short walk from the sportsbook.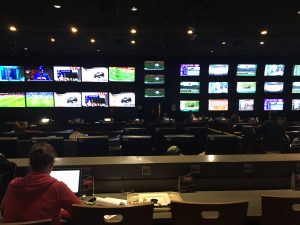 Behind all the various types of seating is a large video poker bar. It cannot see inside the sportsbook too well, but it has a lot of TVs and since video poker is a great way to gamble for comped drinks there is no need to shell out a $50 sports bet. The Rio has several other bars spread around the casino with the iBar and Masquerade Bar as two of its best.
Hotel at Rio
The Rio is one of only a handful of all-suite hotels in Vegas. Discounts are given to first responders, students, teachers, military members, and government employees. Though every room is a suite, its standard suite is really nothing more than just a large regular room. However, you will find very competitive rates that are often well under $100 and sometimes under $50 during summer weekdays. Considering how close it is to the strip this is a tough deal to top.
Rio Sportsbook Rewards
There aren't many rewards to be earned in sportsbooks. Most of them are a bit more generous with the horseplayers, but the Rio only gives you five points in tier credits for every $100 you bet no matter what you are betting on. The main benefit to swiping your card at the sportsbook is so you can track your bet. A tracked bet means if you somehow lose a winning ticket, all you have to do is present your player's card and you will still be paid out.
Wrap-Up
We loved the leather chairs and that there's a number of places you can sit, and we loved that there's a lot of seating in the deli right next to it as well as at the video poker bar behind it. The betting board is properly placed, and we like that you do not have to bet an arm and a leg just to be given a drink ticket. However, since the casino noise is easy to overhear we would like to see them turn up the volume a little bit, and we were hoping to see at least one giant screen TV. But overall these drawbacks are minor because the Rio's newly renovated sportsbook outdoes most of its competitors.
Current 2020 Sports Betting Grade: A-
Click Here for Our TOP 2023 USA Sports Betting Site!