Owned by Station Casinos, there are several Wildfire locations spread around Las Vegas. Wildfire Rancho is located on North Rancho Drive in North Las Vegas. None of the Wildfire casinos are designed to attract tourists. These are all small, low-key venues aimed at locals who presumably prefer to gamble in a quiet environment.
Wildfire Rancho Sportsbook
Wildfire Rancho is really small. There is no hotel and the sportsbook is right there when you walk in. Parking is free, and you'll have no trouble finding a spot right near the entrance.
Most sportsbooks also have a racebook for horse players, but Wildfire Rancho does not. However, since it is a Station Casino, you can bet sports and horses on the Station Casinos betting app. Creating an account can be done right inside the sportsbook. The process is fast and free, but you'll need to create two separate accounts if planning to bet both sports and horses.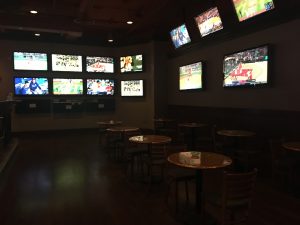 Once you download the app, you'll have every game or race that you would inside the casino, and that includes some options for live betting as well. Live betting is a type of sports bet and has been around for a few years now. It's betting on games while they are in progress. The line is of course based on the original line, what the current score is, and how much time is left. Like most sportsbooks, Wildfire Rancho does not offer live betting over the counter.
Size and Location
Though this sportsbook is small, it does occupy a fairly large percentage of the casino. Some sportsbooks are kept secluded from the noise going on in the casino, but Wildfire Rancho is too small to do that. The music is played at a low volume, but the slot machines are right there. If someone is playing one near you, overhearing the chirping could get irritating.
The betting board is right behind the betting counter and is separate from the seating area. Therefore, you won't be able to just turn your head to see the lines. However, there is a small betting board in the seating area that cycles through lines for futures bets.
Traffic and Viewing Ability
Even for the Super Bowl, we expect traffic here to be relatively tame. Show up during any other day of the week and you just might be the only one there. Seating consists of about eight or ten small round tables with two chairs, plus one row of counter seating. There are 15 small-medium TVs. The picture quality seemed fine, but surprisingly, and unacceptably, there was no sound.
Drinks at Wildfire Rancho Sportsbook
To obtain a drink ticket, you'll have to make a bet of at least $20. That may sound high, but drinks at the sportsbook are just a throw-in at this point. $20 is the lowest bet requirement you'll find at any sportsbook, but, seeing as this book is so small, we're guessing it isn't difficult to charm your way into an extra drink ticket or two.
Casino at Wildfire Rancho
Besides the slot machines and some video poker, there isn't much action in this place. You won't find any table games like blackjack, roulette, or craps. This makes Wildfire Rancho seem like a total dump that only draws local degenerates who don't know what else to do with themselves, and to some extent that's probably true. But, if you're just looking for something fast, simple, and quiet, you might like it here.
Dining and Bars
Right behind the sportsbook seating area is a video poker bar and they have some additional TVs. Some of the seating faces the sportsbook TVs, but you can't really see anything inside. There isn't a nearby food court or any fine dining. Just the Wild Grill which has standard American food.
Wildfire Rancho Sportsbook Rewards
The sportsbook's edge is relatively small, so they do not offer any exciting rewards. Accumulate 1,000 points to earn $1 in comps. But if say you bet $1,000 on a game to win $200, you would only get 200 points.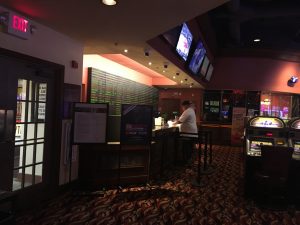 The main motive for using your player's card at the sportsbook is to give you protection. By swiping your card your bet will be tracked, and this prevents you from being left out in the cold if you somehow misplace a winning ticket.
Wrap-Up
We try to be fair in grading sportsbooks by determining what each one is trying to accomplish. We realize Wildfire Rancho isn't looking to knock anyone out, but they still fall short. It's annoying you have to get up and leave your seat every time you want to see a line, and you can't have 15 TVs playing with no sound on any of them. We don't mind that the Wildfire Rancho sportsbook is quiet, but it is headed towards library status and that's too much.
Current 2020 Sports Betting Grade: C-
Click Here for Our TOP 2023 USA Sports Betting Site!