Las Vegas is the sports betting capital of the world. While most sportsbook markets accept 90 percent or more of bets on mobile apps, Las Vegas ones still do a brisk business at the counter. That is because the Las Vegas Strip, and even some downtown and locals casinos, are home to the best sportsbooks in the world.
Circa has the world's largest sportsbook
Circa is the newest downtown Las Vegas casino. It was built on the former Las Vegas Club land at the corner of Main Street and Fremont Street. This was a perfect tribute to Jackie Gaughan's former casino that featured sports memorabilia and a Babe Ruth statue on the corner of Fremont and Main. At 30,000 square feet, Circa is the world's largest sportsbook. Its ticket counter is open 24 hours a day.
The entire west wall of Circa is a television screen. There is recliner, booth, and theater seating on the first floor. There are two stories of video poker bars overlooking it. There are 28 VIP booths and 350 theater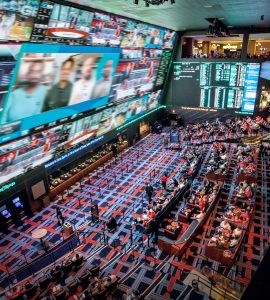 seats. VIP booths and recliners require a minimum spend. The rate depends on the type of action that day. Football weekends are more expensive than summer baseball afternoons. The spend covers food and beverage purchases from several outlets on the property.
The television screens are viewable from the table game pit. Circa also has two bars with video walls.
Circa Sports came out of nowhere in 2019 and is now in the top three of Nevada sportsbooks. There are sportsbook counters at The D and kiosks at Golden Gate in downtown Las Vegas. There are smaller Circa Sports counters at Tuscany and Pass Casino in the locals market. Circa operates mobile betting apps in Illinois, Iowa, Kentucky, and Nevada.
The best feature of Circa Sports is that it accepts any action. Sharp bettors do not need to worry about getting backed off. Limit bettors are permitted to make additional wagers after allowing Circa Sports to move the line. Many lines in the US originate at Circa Sports.
Westgate
For decades before Circa opened, the Superbook at Westgate was the world's largest sportsbook. The difference in size is about one percent. Westgate's sportsbook is over 25,000 square feet, though it still claims to be the largest. The Superbook video wall is almost 4000 square feet. There are 350 seats in the viewing area. There are also fan caves and theater viewing areas.
Ticket windows open at 9am on weekdays and 8am on weekends. Kiosks accept bets 24 hours a day.
If you don't know Westgate by name, that is because the property has a long history under other brands. It was first known as The International. The Superbook was then under the Las Vegas Hilton name. When Hilton revoked its flag on the casino, it became LVH.
Westgate is just off the Las Vegas Strip to the east. It is near Circus Circus and the former Riviera property. There is a Las Vegas Monorail at Westgate for easy access from the center of the Las Vegas Strip.
The Superbook is a mobile betting app in several states. These include Arizona, Colorado, Iowa, Maryland, New Jersey, Ohio, and Tennessee.
Bellagio
Bellagio is the flagship sportsbook of MGM Resorts in Las Vegas. Its sportsbook is about 5600 square feet. The Bellagio sportsbook has a separate section for race bettors. There is VIP seating near the sportsbook bar. Drink service is available. The racebook has 100 seats. There are more than 100 more in the sports viewing area.
The sports betting counters open at 8:30am on weekdays and 8am on weekends. Kiosks open 30 minutes earlier.
The BetMGM sports app is one of the most popular in the United States. It is available in Arizona, Colorado, Washington D.C., Illinois, Indiana, Iowa, Kansas, Kentucky, Louisiana, Maryland, Massachusetts, Michigan, Mississippi, Nevada, New Jersey, New York, Ohio, Pennsylvania, Tennessee, Virginia, West Virginia, and Wyoming. Other Las Vegas BetMGM locations include Aria, Cosmopolitan, Excalibur, Luxor, Mandalay Bay, Mirage, MGM Grand, and Park MGM.
Caesars Palace
The Caesars Palace sportsbook is the largest in the Caesars Entertainment company. It is next to the poker room, which gives those players a great view. There is also a bar that surrounds the exterior of the Caesars Palace sportsbook. The video wall is 143 feet. There are 140 seats and 13 betting counters. The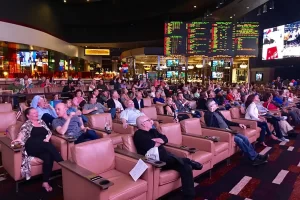 ticket windows open at 8am during the week and 7am on weekends.
Caesars Palace uses the Caesars Sportsbook app. In Nevada, it is the legacy William Hill platform. Different software is used in all other Caesars Sportsbook markets. Those are Arizona, Colorado, Illinois, Indiana, Iowa, Kansas, Kentucky, Louisiana, Maryland, Michigan, Nevada, New Jersey, New York, North Carolina, Ohio, Pennsylvania, Tennessee, Virginia, West Virginia, Washington D.C., and Wyoming. Las Vegas Caesars sportsbooks Cromwell, Downtown Grand, Flamingo, Harrah's, Horseshoe, Linq, Paris, and Planet Hollywood.
Most large national sportsbooks are known for low limits, pushing single game parlays, and backing off players who have any chance of winning. Caesars Sportsbook is an exception to this. Of all regulated large online sportsbooks, Caesars has the best reputation for its business practices. It is not scared to take most large bets from sharp players.
Red Rock Resort
Most Station Casinos sportsbooks are well above average for the Las Vegas locals market. The Wildfires are the only exceptions. Red Rock Resort, located in the far west part of the Las Vegas Valley in Summerlin, is the king of Station Casinos sports betting. Its sportsbook has a separate race side.
All Red Rock Race and Sportsbook seats have a television. The video wall is 96 feet. There are 200 seats in the Red Rock Race and Sportsbook. There is a connected sports bar with VIP seating. Elevated searching is reserved for those making large bets or agreeing to a minimum spend. Most poker room seats can see the sportsbook.
STN Sports is the app used by Station Casinos in Nevada. The other Las Vegas locations that use it are Boulder Station, Green Valley Ranch, Palace Station, Santa Fe Station, and Sunset Station.
Click Here for Our TOP 2023 USA Sports Betting Site!