Nevada legalized sports betting back in 1949, and for many years bettors had to go to the sportsbook every time they wanted to check a line or place a bet. The first sports betting app was released in 2010, but in 2012 is when things really changed. Since then, what used to seem like quite the novelty is now a very popular and simple way to bet sports in Las Vegas. As a broad estimate, the sportsbooks believe that now somewhere between 25 and 50% of the action that comes in is through their apps.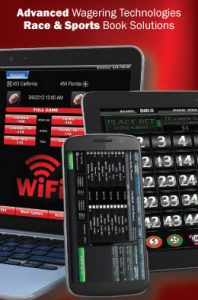 William Hill released its app in Nevada in 2012. Since that time more than ten other apps have been created in Las Vegas, allowing sports bettors an amount of flexibility to shop around for lines and specific wager types comparable to going around casino to casino. Only now instead of having to do a ton of time-consuming legwork, bettors can always find the best price available without having to stand up. Which also means no more waiting in long lines and no more threats of losing a winning ticket.
Current Las Vegas Apps
Though the Lass Vegas online casino landscape is in a constant state of flux, here is who you can choose from and how you may use them. All apps can be downloaded from your phone, are available from your smartphone or tablet, and are supported by Android and iOS.
– Boyd Gaming aka B-Connected (Sports and Horses). Available at Aliante, Cannery, The California, Suncoast, Sam's Town, The Orleans, Gold Coast, Fremont, Main Street, Jokers Wild, Eldorado, and Eastside Cannery.
– Caesars (Sports and Horses). Available at Planet Hollywood, Bally's, Paris, The Cromwell, Flamingo, The LINQ, Rio, Caesar's Palace, and Harrah's.
– PlayMGM. Available at Monte Carlo, Aria, Bellagio, Excalibur, Circus Circus, Luxor, The Mirage, MGM Grand, New York-New York, and Mandalay Bay.
– NV Sports. Available at South Point and Rampart.
– CG Technology. Available at Cosmopolitan, Hard Rock, The Venetian, The Palazzo, Tropicana, The M, Palms, and Silverton.
– Station Casinos (Sports and Horses). Available at El Cortez, Fiesta Henderson, Fiesta Rancho, Greer's, Barley's Casino, Wild Wild West, Wildfire Casinos, Red Rock, Green Valley Ranch, Sunset Station, Texas Station, Boulder Station, Palace Station, and Santa Fe Station.
– Westgate Superbook.
– Wynn.
– William Hill. Available at The D, SLS, Tuscany, Hooters, Plaza, Downtown Grand, Binion's, Four
– Queens, Ellis Island, and Silver Sevens.
Who Can Use the Apps
As per usual you must be 21 to sign up but note that every app uses geolocation software to determine where you are because you may only bet within the state of Nevada. When outside Nevada you can't log in with most of the apps but with NV Sports and William Hill you still can. If you are betting very close to the state line if say you are in Primm or Lake Tahoe, you are also liable to run into some location issues.
The signup process is straightforward and simple although you must go in person. You need to bring a valid photo ID or a social security card and fill out a bunch of paperwork. It all can be processed within 10 or 20 minutes.
Depositing and Withdrawing
Minimum deposits typically start around $100. In some cases, like with Caesars or Westgate Superbook, the minimum is $100 but only $50 for future deposits. Some of the casinos may offer deposit bonuses for your first one. Be sure to ask about that when signing up. Any time you wish to fund your account you must also do it in person.
The exception to these are Station Casinos, PlayMGM, and William Hill. After your initial deposit, Station Casinos will let you reload online. PlayMGM will let you as well, or with the app directly using a prepaid card. With William Hill, your initial deposit must be at a sportsbook, but from then on you can reload at any participating PT's Pubs, Sierra Gold, or 7-Eleven all throughout Nevada, or you can do it online using a Priority Access prepaid card. Unlike the other apps, William Hill also very conveniently accepts deposits for any amount.
When withdrawing you can, of course, take out as much you want, and they too have to be done in person and only the account signee. They do not have to be done at the casino you open the account at.
With Station Casinos and PlayMGM, same as for deposits you may withdraw to your prepaid card, and William Hill who will also mail you a check. Just call customer service at 702-754-1280 and ask for one, but most players like to be given cash at a sportsbook. CG Technology will also cut a check. Call 702-677-3805.
General Betting Limits
As many sportsbooks don't accept wagers less than $10 (although $5 is not unusual), the apps are less strict. William Hill, NV Sports, Station Casinos, and PlayMGM accept $2 and B-Connected takes $1. All the others start at $5.
As the min bets are lowered, so too are the max bets. They vary per player but are usually capped around $3,000 except in Boyd Gaming's case who only allows up to $500. If you are thinking of going bigger than that you'll have to talk to the sportsbook operator and it is best to do so the day you're signing up.
Types of Bets Available
The betting options on the apps are comparable to what you would see in the sportsbook as they are synced up. All your typical point line, moneyline, parlays, parlay cards when available, round robin, teasers, futures, propositions, and matchups are offered. B-Connected and Station Casinos also feature horse racing.
But is live betting offered? Live betting, which is betting on games already in progress has been rapidly gaining popularity the last few years. They have become a standard for online casinos and are heading in that direction for the sportsbooks. On the apps though, some do and some don't. Westgate, NV Sports, B-Connected, Wynn, and Caesars do not currently have it but that is certainly liable to change at some point. As it stands the Golden Nugget, PlayMGM, Station Casinos, CG Technology, and William Hill already have live betting up and running.
Taxes
This side of mobile app betting is, of course, the most major deterrent to betting with them. You could win $100,000 in a year betting inside the casinos and Uncle Sam would have no way of knowing about any of it because the casinos don't make you fill out a form every time you win upwards of $600 on a bet. They can't because how do they know you aren't down $20,000 before you did? It's too much time, effort, and keeping it accurate is just too difficult. That's why the casinos aren't required to track how everybody is doing and the same goes for the table games either.
If you are a big-time sports bettor and are looking for ways to save on taxes, you are probably better off staying away from the betting apps because net winning a lousy $600 is considered taxable income. The sportsbooks do not get involved and will not mail you any forms no matter much you win. All of that is on you. The only thing they will do if you ask is they'll send you a win/loss statement. But regardless there is a paper trail. And in the off chance, you get audited you certainly don't need the headache of paying penalties and interest for a small win, not to mention the doors that can open for much greater headaches as this permits the IRS to review your entire financial history as far back as they want.
The apps seem to be designed for the casual, hobbyist bettors. That's why the minimums are so low. The sportsbooks figure they are going to crush, so they might as well make it easier for their casual customers to give them action. And since most casual bettors don't care if they win or not as they just want to have some entertainment, the apps are a win across the board. The sportsbooks make more money and bettors have a quick and convenient way to have more fun.
Responsible Gaming
This is ultimately the most important matter of all. Gambling is designed to be adrenaline pumping entertainment, but the line between it being that and a full-on addiction can be very thin. Since the app is so easy to use, this naturally increases the likelihood of someone who has the propensity to gamble degenerately to get out of control.
To promote responsible gambling, the sportsbooks provide information to their customers at the sportsbook themselves and on their website including numbers you can call and meetings you can go to regarding problem gambling. There is in-depth information on what it really means to gamble. Meaning that every outcome is always independent of the one before it. As a simple example, just because you toss a coin twice offers no guarantee that it'll land on heads once.
It is also encouraged to educate yourself on every sporting event you place a bet on so as to maximize your chance of winning it. While the sportsbooks expect to realize a huge profit no matter how much good advice they give, they do it with dignity. Understanding it is imperative to keep their customers informed about what they're doing along with many ways to be on the lookout for potential signs of gambling addiction. Like if they do it to block out worry. Or if they will not stop until every dollar is gone, or if they neglect time with their family so they can gamble.
The most important piece that can be offered to help people protect them from themselves is the option of enrolling in the Self-Limit Program. Upon completion of this form, you are voluntarily restricting yourself from being allowed access to any privileges and promotions. When signing up for an app at a sportsbook, inquire to what extent this is offered if it is a concern.