It doesn't get any nicer than the Wynn. This five-star venue chose to stand out with the color red and is a top attraction for the tourists. Since its service, food, and entertainment are all top level, it makes for a prime hotspot for the locals as well. Top to bottom, the Wynn is spectacular and so too is its recently renovated sportsbook which is currently the best in Las Vegas.
Wynn Sportsbook
Where to begin. Well, there's plenty of TVs giant, big, or small, that bend around the sportsbook in a somewhat rounded L-shape. It is balanced for the sports and the horse racing as the races are also on giant screens. There is plenty of leather swivel chair seating all throughout it with end tables in between, and there are around 50 desk booths also with a small TV. The lighting is perfect and the furniture is freshly updated. Behind the chairs are the VIP sections that have sofas and tables. Depending on the day, a two drink minimum or more could be required.
Smoking is allowed but only in the very back rows right as you're about to re-enter the casino. There is no bathroom immediately inside the sportsbook but one is nearby. There are more than ten betting windows for the busy days, and directly above the cashier is another fleet of small TVs.
To the left of the cashier are the pamphlets for that day's action along with upcoming events and futures. They are also enclosed in a glass case. The day to day lines match up with whatever else you'd find, but since you are on the strip, the future lines are likely to be less appealing. Nevertheless, that all varies casino to casino based on what kind of action has been coming in.
Size and Location
The closest entrance to the sportsbook is coming in through the parking garage as the valet is on the other side of the casino. And anywhere you enter in off Las Vegas Blvd. will be an even longer walk. Upon entering the Wynn parking garage doors which are located in the corner, once you go down a short hallway you are officially in the Wynn and the sportsbook is right there.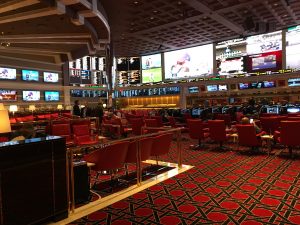 What used to be a large sportsbook now seems even larger. The casino floor is right outside of it, but the sounds of it like the slots and other patrons aren't too bad. Also, right behind it and connected to it is Charlie's Bar and Grill. It's not going to be a quiet sportsbook by any stretch but given everything it has to offer it wouldn't make sense if it was.
Traffic and Viewing Ability
You can count on a packed crowd during every popular event like NFL Sunday, playoffs, or March Madness college basketball, and it's reasonable to think it would draw a fair number of people on most other nights anyway. There's nothing you can't see that you would want to. All of the major sporting events will be shown on the larger sized TVs.
The closest thing to a drawback in this sportsbook would be the main betting board. The lettering is smaller than it should be and since everything is high up on the walls that makes reading it even harder. If you are forced to sit in the back, this could give you some trouble. If you sit closer to the cashier, you'll notice another set of much smaller betting boards on the right-hand side.
You do at least have access to a backup plan it the event you can't read the lines. Create an account in 15 minutes at the cashier and download the Wynn Sports Betting App. If you want to bet the horses you'll have to create a separate account. With the apps you can bet what's in the sportsbook, you just won't be able to bet as much. Presently, in-game betting (betting on games currently in progress) is not offered.
Drinks at Wynn Sportsbook
If you want free or cheap alcohol, betting sports is not the way to do it. Since the books are much stricter on giving away alcohol, you now have to bet $150 on sports to obtain a single drink ticket or $20 on a horse race. It's too bad these expensive requirements have been made, but it can't hurt to try and finesse your way into some extras by developing a good relationship with either the cashier or the cocktail servers.
Since the drink tickets are merely a throw-in at this point, your next best option would be playing video poker. That can be done as there's a video poker bar in between Charlie's and the sportsbook and it faces all the action. Just slip a $20 in, take your time, and you should be able to get at least two drinks out of it.
Casino at Wynn
If you're just looking to gamble on table games, you'll have plenty to choose from. All different kinds are spread out all over the large casino floor. Since you are inside as swanky a joint there is, most of the minimum bets will be $15, but some of them will accept as little as $10.
Dining and Bars
The Wynn delivers on food options for the sportsbook. Charlie's has all the exact sports betting foods you would want. The servers don't come inside the sportsbook to take orders, but you can walk right in, place an order, and someone will bring it to you. Just outside the sportsbook to the immediate left is the Italian restaurant Allegro who will take to go orders, and across the hall from them is the café which is open 24 hours.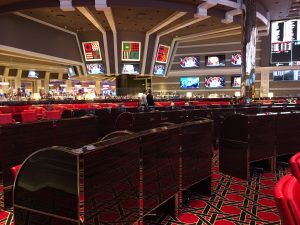 In addition to the nearby video poker bar, there are plenty of other video poker bars and lounges scattered across the Wynn. The buffet is outstanding, and if you're looking for fine dining there are plenty of great places to choose from including SW Steakhouse located downstairs.
Hotel at Wynn
The hotel is at the top with all the others. Its standard rooms are beautiful with great beds and bathrooms, and if you really want to live like a king you will be blown away by the phenomenal suites and penthouses with spectacular views of Las Vegas.
Wynn Sportsbook Rewards
Like just about every sportsbook in town, rewards points are hard to come by. You receive 0.25% for every dollar spent on in sports. i.e., bet $100 and receive $0.25. But the racebook gives you 3%. The other advantage to swiping your player's card per bet is it prevents you from being out of luck in the event you lose a winning ticket. Assuming no one cashed in your lost ticket they can still pay you out.
Wrap-Up
This sportsbook delivers it all. The lettering on the betting boards could be bigger but other than that, the only thing to say is it's great. Everything is clean, comfortable, and viewable. There is plenty of room to sit, you can drink, eat without having to leave the sportsbook, and smoke without excess distraction from the casino floor. This sportsbook had shut down for months, but the renovations were well worth the wait.
Current 2020 Sports Betting Grade: A+
Click Here for Our TOP 2023 USA Sports Betting Site!