Run by Lucky Silver Gaming, Lucky Club Casino is right off the Cheyenne Avenue exit on I-15, in North Las Vegas. The casino's name has changed over five times in its 32 year history. The hotel is fairly small with 118 rooms, and, like most North Las Vegas casinos, Lucky Club only has so much to offer on its gaming floor. The sportsbook, though not so impressive, might be the most appealing part of the entire casino.
Lucky Club Sportsbook
The sportsbook is separately operated by William Hill, and like many of the William Hill sportsbooks in Vegas, there is no action available for horse racing. However, all William Hill sportsbooks specialize in live betting, which is wagering on games after they have begun. At any other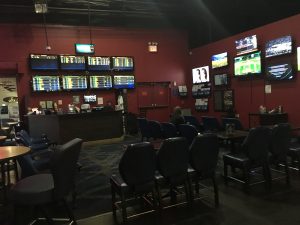 sportsbook, you're lucky if live betting is available for even one game.
You can place your live bets over the counter, or you can do them on the William Hill sports betting app. To use the app, you'll have to create an account first, but this you can do right inside. The process is quick and it's free.
There is only one cashier, and they may not always be present, but there is a kiosk available 24/7 that allows you to check lines, bet, and cash out.
Size and Location
Though the sportsbook is small, compared to the rest of the casino the sportsbook is actually relatively large. You can park outside, and the book is in a corner, a short walk from the right of the main entrance. It's right next to slot machines which is kind of annoying, but there is also a nice video poker bar right nearby as well.
Traffic and Viewing Ability
There are a couple rows of leather chairs along with a handful of round tables and chairs. If you jammed in as many people as possible, you probably couldn't comfortably sit more than 40 people. Though the traffic probably thickens during busy times for the sports bettor, we don't think you'll ever struggle to get a seat in here. There are only eight TVs, they are all small, and the picture and sound quality are nothing memorable either.
The boarding board is spread out over another eight TVs right behind the cashier. You can probably read it from most seats, but not if you sit furthest away.
Drinks at Lucky Club Sportsbook
At most off strip sportsbooks, if you bet at least $20 on a game you'll get at least one complimentary drink ticket. However, there are some William Hill sportsbooks that don't offer any drink tickets and unfortunately this is one of them. It's always a letdown when we find that out. There are a lot of shortcomings we can tolerate at the lower key casino's sportsbooks. We even expect them, but this we can't understand because if for no better reason, it can only be to a sportsbook's advantage to have its bettors getting drunk. It's pennywise, dollar stupid, and inconsiderate since most of the book's business is coming from the city's locals.
Casino at Lucky Club
Besides sports betting, most of Lucky Club's casino action comes as either slot machines or video poker. The only table games going are blackjack and there's only a few available.
Dining and Bars
There is nothing fancy to eat, or anything quick that is right by the sportsbook. But, as advertised outside the casino, the prices for Lucy's Bar & Grill are quite economical.
The previously mentioned video poker bar does not face the sportsbook, but they do have some of their own TVs along with a few more round tables and leather chairs. Since you can't get a drink ticket, video poker at least serves as a viable alternative. With or without a bet on the game, slip a $20 bill into one of the machines at the bar, play slowly, and you'll be able to get a couple drinks out of it.
Hotel at Lucky Club
The hotel's value is above average. For starters, there is no resort fee which is not the case for just about every hotel on or off the strip. The standard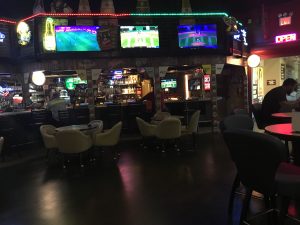 rooms come in at 400 square feet, are updated, include HBO, and pets stay for free.
The standard room rates are advertised to start at $35 a night, but most nights it looks like they'll be at least $50 plus tax, and $200 for the suites. We thought there might be some discount packages for locals, military members, or those visiting from neighboring states, but are were not. Perhaps getting the break on the resort fee is in lieu of that.
Lucky Club Sportsbook Rewards
Comps are always minor at sportsbooks since the book's edge is much smaller than the rest of the casino games. Here you earn one point per dollar wagered, and after earning 5,000 points you get a $5 free play.
The main incentive to swiping your player's card whenever you make a bet is to guarantee yourself to be paid even if you somehow misplace a winning ticket.
Wrap-Up
If not for the no drink ticket policy, we could almost, almost consider this sportsbook adequate. There aren't any visual impairments, the video poker bar is cool, and we figure there will always be room to sit where you want. But between the low number of small screen TVs, the noisy surroundings, and the fact you have to either buy your own drinks, gamble that much more against the house, or just remain sober, we're not in a hurry to come back here.
Current 2020 Sports Betting Grade: C-
Click Here for Our TOP 2023 USA Sports Betting Site!