The El Cortez has been around since 1941, making it one of the oldest properties in Las Vegas. Due to its longevity, it secured itself a spot on the Natural Register of Historic Places in 2013. Formerly owned by gangsters Bugsy Siegel, Meyer Lansky, Gus Greenbaum, and Moe Sedway, the El Cortez is currently owned by Ike Gaming. It is in downtown Vegas, one block east of the Fremont Street canopy. It has only needed to renovate itself three times, having last done so in 2006. And with that, it has one of the better sportsbooks in downtown.
El Cortez Sportsbook
The sportsbook is built like an L. One side faces the horses, the other faces the sports. The sports side has 14 TVs although they're all somewhat small. There are 20 seats in four rows. We recommend you sit in the first two, otherwise, your vision could be blocked by a large column.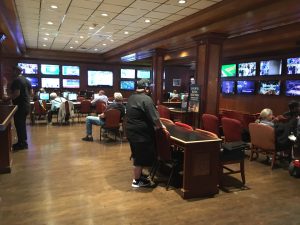 The racebook has 13 TVs of a similar size. Seating is made up of three long desk rows that comfortably hold about 30. To go with them are 18 personal TVs. There is limited smoking in this sportsbook. Only at one end of the racebook seating as you get closer to the casino.
As far as the lines go, the day to day lines are always going to be comparable to whatever is near. The one area you could see a significant difference is the futures. The El Cortez has teamed up with Station Casino to run its sportsbook. With that in mind, there no question its future payouts will comparable to or better than many of the uptown strip sportsbooks.
Size and Location
For a downtown sportsbook, this book's size is a little above average. It's close to one of the corners of the casino, but not completely off the beaten path. Sounds of slot machines and other outside casino noise is able to creep in.
Traffic and Viewing Ability
Since El Cortez is one of few downtown sportsbooks that tailors well to horse racing, it should always be active and will probably be close to capacity during major events. Its patrons will be a mix of locals and tourists who are not looking for the typical wild and crazy Las Vegas experience.
Besides the large annoying column on the sports side, all TVs are easy to see, but you do have to pick which book's events you want to watch because of the L-shaped design. The sports betting board is nice and big with clearing lettering, except it's behind you instead of in front or to the side. Having to turn around and look every time can certainly become a nuisance, but you can always grab a pamphlet by the cashier which shows all of the lines for that day, futures, upcoming events, and any props.
The lines can also be viewed by an opening an account and downloading the STN Sports Mobile app. You register right inside the sportsbook. The process is fast, free, and convenient for those who are either on the go or unable to get their bet down in time.
If you are interested in live betting, which is betting on games after they've begun, it is available both over the counter and on the app. Note that the casino will only have live betting for so many games, typically the biggest ones. The app has a lower bet maximum but will offer live betting for more games.
Drinks at El Cortez Sportsbook
Now that free drink days in the sportsbook are over, finding which books give away drink tickets for the lowest bet size is now a new thing. Many downtown books either don't give away drink tickets or mandate an obnoxiously large bet size. El Cortez keeps it relatively fair, requiring $50 for sports and $25 for horse racing. Bear in mind, these rules can always be bent a little here and there if you can get friendly with either a cashier or cocktail server.
Casino at El Cortez
After renovating, the 45,300 square foot gaming space now has a whole slew of new slot machines. Additionally, it offers 3:2 payouts on all its blackjack tables which includes double deck. Its roulette and double roulette tables have 25 cent chips with $1 minimums, and the El Cortez also specializes in Keno. Other things to note are its 10x odds on craps, and the minimum bet is no more than $5 for any game.
Dining and Bars
There is no food or video poker right nearby, which is too bad because video poker is a great way to get comped drinks while watching the game. The next two best options to the sportsbook for food and drink would be Siegel's 1941 Gameside or Ike's. If you want something quick, there's Naked City Pizza or The Parlour Bar & Lounge.
Hotel at El Cortez
El Cortez provides free shuttle service to the airport. The rooms are all still small per 2020 standards, but the 364 room hotel now has a large variety of updated cabana suites in addition to its regular rooms. Parking is free, but if you're staying at the hotel there is a $16.95 mandatory tax inclusive resort fee. Amenities include Internet and fitness center access.
El Cortez Sportsbook Rewards
Sportsbook rewards are never anything special, but the El Cortez's is relatively generous. For every $500 you bet on sports you get $1 back for food comps, and the same goes by betting $50 on the horses.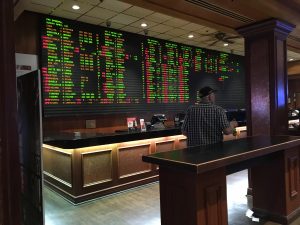 Regardless if you are going to be betting enough to earn any worthwhile comps, we still suggest you swipe your card whenever you bet because this way your bet will be tracked, thus preventing you from being out of luck should you place a winning bet but then misplace the ticket.
Wrap-Up
All things considered, there isn't a whole lot to get especially excited about. The betting board is not where it should be, and there is no food or video poker. But the drink ticket minimums aren't bad and there is ample seating and TVs for each book. If downtown is new to you, you need to lower your standards when it comes to sportsbooks. El Cortez's probably won't leave you with many memories, but it hangs in very well with its competition.
Current 2020 Sports Betting Grade: B-
Click Here for Our TOP 2023 USA Sports Betting Site!