A relatively new addition to Las Vegas, the Palms opened in 2001 and is located just over one mile west of the strip. The Maloof brothers were its original owners, but they have recently sold the Palms to Station Casinos. Due to the Palms' commitment to nightlife, it's one of the most popular off strip locations for tourists. And given its recent sportsbook renovations, it tailors well to locals too.
Palms Sportsbook
A sportsbook that was once tiny, smoky, and pathetic is now totally remodeled, smoke-free, and one of the nicest sportsbooks in town. Even though Station Casinos is now the owner, the sportsbook is still independently run by Cantor Gaming.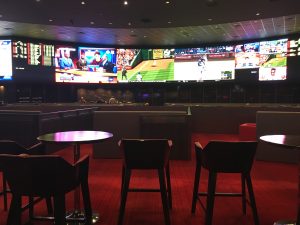 The picture quality of every TV is fantastic. The sports side has eight large TVs including two giant ones that break down into smaller screens during busy periods. The racebook also has eight TVs including two big ones.
The Palms allocates a significant percentage of its space to VIP bettors. The sports section is large and in the back with premium leather chairs and couches, along with some other high tables and chairs. The racebook seating also has a VIP row behind its regular seating.
The regular seating for the entire sportsbook is desk row seating, and each seat is a leather swivel chair with its own TV in front of it. The sportsbook has about 70 seats broken out unevenly in four rows, while the racebook has 16 seats in its few rows.
The day to day lines put out by Cantor Gaming are comparable to whatever else you'd find in town. The daily lines are also displayed on pamphlets which you can pick up by the cashier. These pamphlets also have all the lines on futures, current props, and whatever events are coming up.
Cantor Gaming also has its own sports betting app. To download it, you must first open an account which you can do fast and for free right inside the sportsbook. Once you have, you can bet from anywhere in Nevada and unlike the sportsbook, the app also has live sports betting which is betting on games while they are in progress. This exciting betting style which is still relatively new is only available for a few select games but given its popularity, they could be available for many more games in the near future.
Size and Location
The sportsbook is in one of the casino corners and is right by the entrance to the self-parking lot. We were happy with the design of the sportsbook as there is plenty of space to walk when getting in and out of your seat. What we didn't like is that it's close enough to the casino that you can overhear the chirping of slot machines.
Traffic and Viewing Ability
Since it is off the strip, we expect most of the patrons to be locals. It should be pretty quiet during the day, but like anywhere in Vegas it'll have more of a buzz at night. The only time you should ever have a problem getting a seat is during the really busy events, but even that might be a stretch.
The betting boards are large and can be seen straight ahead between the TVs. Since the TVs bend around the sportsbook they provide a good view from any seat, but since the racebook and sports TVs have enough space between them you may have trouble seeing both at the same time.
Drinks at Palms Sportsbook
We're not sure why, but Cantor Gaming notoriously requires the highest minimum bet just to give you a single drink ticket. At the Palms specifically, the number is $200 on sports and $50 for horses. Most books don't charge much more than $100 for sports and $20 for horses, but for a CG book, this isn't that bad. Either way, you can always try to get in good with either the cashiers or better yet the cocktail servers and talk your way into some free drinks.
Casino at Palms
Despite its fairly large gaming space, the Palms doesn't have too many table games besides the most standard ones. They run crap games with standard odds for $5, but otherwise, its minimums are $10. What is very much worth talking about is its commitment to baccarat. Beyond its normal baccarat section of about ten tables which begin at $25 is its stadium seating virtual baccarat section. Here you'll find 16 machines with a big screen up front, and an actual live dealer running the game. There aren't too many of these in Vegas, so if you're looking to change up the scenery at baccarat, the Palms delivers.
Dining and Bars
Regarding food for the game, there is nothing in or connected to the sportsbook, but there is a large food court a short walk across the casino as you approach the movie theater. There's a handful of other casual restaurants and its fine dining located is called Scotch 80 Prime.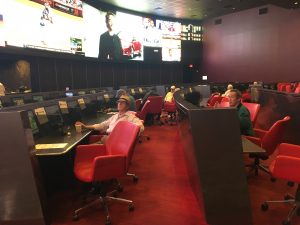 The expensive drink tickets would be far less of an issue if video poker was nearby as this one of the most common ways to gamble for comped drinks. There is a video poker bar that's close and has TVs, but it cannot see inside the sportsbook. Otherwise, there are a couple other bars and lounges, and its nightclubs.
Hotel at Palms
The hotel has over 700 rooms with discounts for AAA and military members, and a shuttle bus to take you to and from the strip. The standard rooms begin at 440 square feet, and since the Palms is off strip weekday room rates are often well under $100. If you are looking for something extra luxurious, the Palms has a wide variety of suites and villas that get as big as large houses. But regardless of how much you're willing to spend their availability is based on whether or not they've been reserved for VIPs.
Palms Sportsbook Rewards
If you are looking to rack up food comps and reward points, the sportsbook provides none of that. The racebook, however, gives back a little. You earn 2% for any win, place, or show bet which you can use towards food, and if you're placing exotic bets you get 5%.
Even though sportsbook comps are always worth little to nothing we still say to swipe your player's card because this gives you free insurance. Meaning if you place a bet that wins and then lose the ticket, all you have to do is bring your player's card and you'll still collect.
Wrap-Up
We enjoyed our visit here and certainly acknowledge it's a very clean and comfortable place to relax and watch a game and it's great for VIPs. However, there really isn't anything about this sportsbook that is especially mind-blowing. Yes, it is beautifully designed, and while we loved the high quality of picture and sound, besides that there's no special reason to come here especially if you are staying on the strip. Alcohol is expensive, and the outside noise is kind of annoying. It's convenient to get in and out of here as well but eh, you wouldn't be missing anything by not showing up.
Current 2020 Sports Betting Grade: B+