There aren't any Arizona Charlie's in Arizona, but there are two in Las Vegas. One is just a couple miles west of the strip, with the other being far east of the strip on Boulder Highway. The eastside location opened in 2001 and is located between Sam's Town and Eastside Cannery. This small local casino is a bit dumpy and ghetto, and its sportsbook doesn't exactly make up for it.
Arizona Charlie's Sportsbook
We're going to start with the worst part, and that's the betting board. It never occurred to us that a sportsbook would even consider having something besides an easy to read, electronic betting board. Well, Arizona Charlie's still has an old school betting board. Meaning all the lines are hand written. It's right behind the cashiers and underneath the TVs, but it's tough to read because it's written in magic marker against a white background.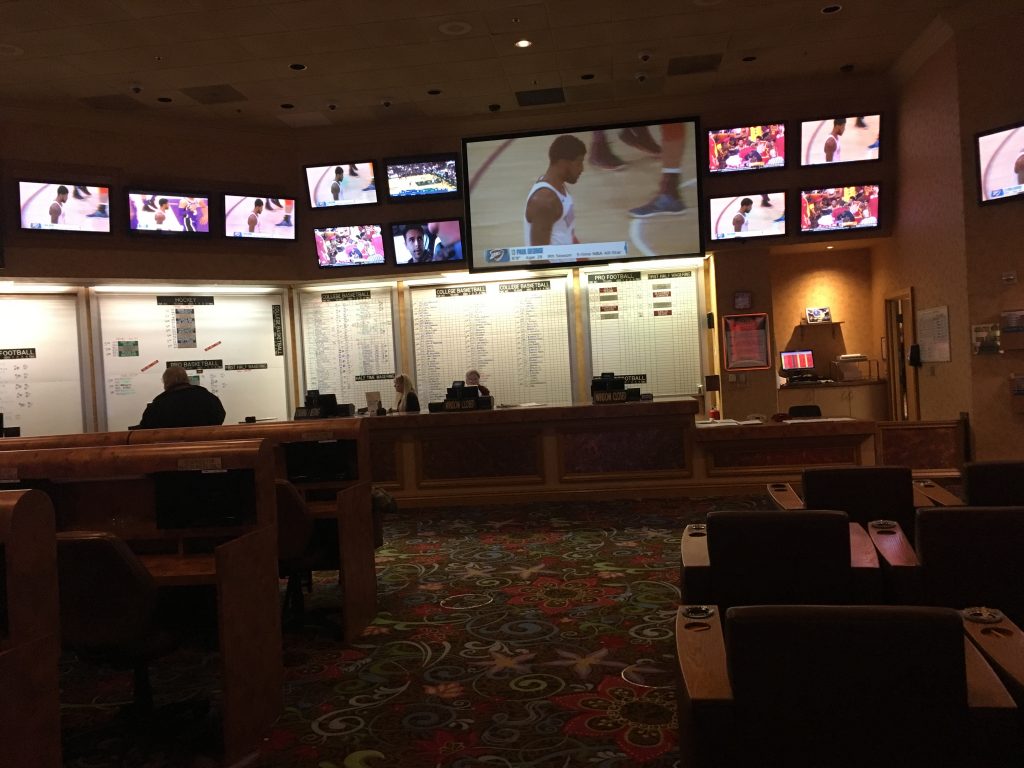 The sportsbook permits smoking and is in one of the casino's corners, but it is still nearby noisy slot machines. Seating consists of four rows of 15 leather club chairs that have cupholders, and there is also a counter row in the back with ten more seats. To the left of the club chairs is the racebook seating. That at least is the standard desk row style. Each seat has its own TV, and there are three rows of eight seats.
Traffic and Viewing Ability
There are 17 small TVs, plus a big screen shown on a projector. Most of them show sports, and the handful that show horse racing are all on the left side, forcing you to turn your head. The sound and picture quality is adequate at best.
On a night by night basis, it should be easy sitting where you want despite the limited capacity. However, since it is for the locals, we figure it to get close to capacity for big games.
Drinks at Arizona Charlie's Sportsbook
Sportsbooks don't give away free drinks anymore. You have to bet a certain amount to obtain a drink ticket. Almost every off strip sportsbook mandates a $20 minimum for sports bettors, and it's usually no more than $5 for the ponies. Well at Arizona Charlie's, it's $25 per ticket no matter what you're betting.
It's true it shouldn't be too difficult to charm your way into an extra ticket or two, but the fact that you don't get a break when betting horses is a joke because the racebook's edge is significantly greater.
Casino at Arizona Charlie's
The smoky casino offers cheap betting for all the standard casino games. Odds are 10x on craps, and you can play blackjack for $3. There is also Single Deck or Double Deck Blackjack, along with Free Bet Blackjack.
There weren't too many mixed table games. The only one that stood out was Pai Gow Poker.
Dining and Bars
If you want something to eat you have to leave the sportsbook, and there was also no video poker bar nearby. A sportsbook having numerous viable food options right by the entrance isn't a sportsbook standard, but somewhere to play video poker is. Video poker is a great way to get comped drinks, and its ideal for those who want to watch games they don't have any action on.
Hotel at Arizona Charlie's
As one would expect the hotel is very cheap, and they incentivize you to get a suite since they are advertised as only being $4 extra than a regular room. Bare in mind though, the suites are just going to be a little larger and with a sofa. However, there is a large RV park that is open all year. Over 200 RVs are available in multiple sizes, and daily, weekly, and monthly rates are available.
Arizona Charlie' Sportsbook Rewards
Swipe your player's card every time you bet, and you'll receive $1 in comps for every $200 you bet on sports. 0.5% may sound like nothing, but this is actually a lot more generous than most sportsbooks. We couldn't get an exact answer on what you earn when betting the horses, but it was estimated the comps pay around 3x the amount.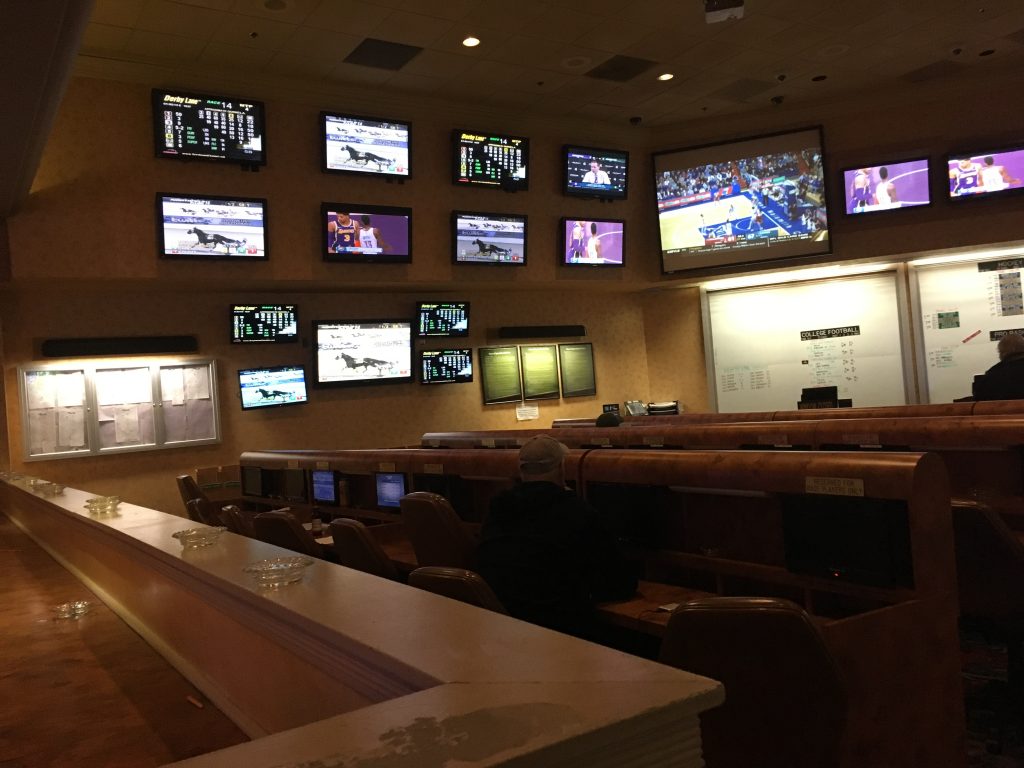 Since the comps are so minor, most bettors don't even think to use their player's card. The only real value to swiping is so your bet can be tracked. Meaning if you lose a winning ticket, you'll still get paid.
Wrap-Up
We want to be fair in assessing each sportsbook. We know when we go off strip we probably aren't going to be blown away, but there are a few things that have to be there, and one of those things is an electronic betting board you can see from your seat.
This is a small sportsbook, and they make no effort to get you in there. If anything, it seems like they're trying to keep people out. The hard to read, hand-written betting board is unacceptable, and the rest of the sportsbook offers nothing distinguishable to make up for it.
Current 2020 Sports Betting Grade: D
Click Here for Our TOP 2023 USA Sports Betting Site!