Located in Summerlin which is on the far west side of Las Vegas and north, Red Rock is one of the top two local casinos in town and is the cream of the crop of Station Casinos. While it draws relatively few, tourists make their way out here too if they are looking to get away from the strip madness and/or if they want to stay nearby Red Rock Canyon. Whatever reason anyone decides to go here, the sportsbook makes Red Rock Casino that much more appealing.
Red Rock Sportsbook
Red Rock has recently upgraded its TV quality and they are amazing with great sound. They include big screens which can also be a giant screen for games like the Super Bowl, and below those are a fleet of small TVs if you are sitting close. Some additional TVs are also on the side and high up on the wall, but they're not that easy to see.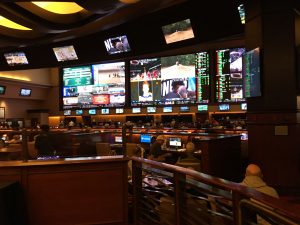 The racebook occupies around 1/3 of the sportsbook, and pamphlets for its day's action can be found on the far left. Near those is a glass case displaying whatever current sports betting specials are going on (like for the March Madness tournament) and the rest of the sportsbook's pamphlets are on the opposite side by the cashier. In addition to what's happening that day, they also have lines for upcoming events, futures, and whatever props that might be available.
Station Casinos are not known for offering better day to day lines than any of the strip casinos, but you certainly might find better payouts here regarding futures because many more of the bettors are local. The strip casinos get away with offering such measly payouts for their futures because they know their tourist bettors either just don't know any better or are simply glad to have any action. That said, futures payouts by Station Casinos or any local joint aren't always substantially higher than the strip's if they are at all.
Size and Location
This book is huge with plenty of cashiers for busy days, and other than the Westgate which is a very short drive from the strip, Red Rock is easily the biggest off strip sportsbook. To access it, it is a short walk from the valet or you will see it right as you walk through the main entrance next to the poker room. It is right outside the casino, but far enough away that you don't overhear constant chirping from slot machines.
There is plenty of seating and various kinds. On the right side at the front are rows of 3×7 spacious leather club chairs. Behind them are some high stools and chairs along with some standing counter space. The large VIP section is in the back and also equipped with all leather chairs and roundtables. There is so much racebook seating it spills into the sportsbook and makes up most of Red Rock sportsbook's regular seating, providing rows of over 100 desks each with their own TV. There is a bathroom nearby and smoking is allowed, but only on the right side in the sports section.
Traffic and Viewing Ability
Being a popular venue, this sportsbook will certainly fill up for all major playoff games, NFL Sunday, and March Madness college hoops. The book may be large with plenty of seating space, but there is not a ton of room to walk. On a busy day, people are kind of falling over each other.
Since the sportsbook is built horizontally, if you are sitting on one of the sides you will not be able to see everything, but if you are in the middle you have a perfect view of everything. The betting boards are narrow with rotating lines and are straight ahead of the big screen TVs.
Since sports betting lines can get annoyingly long, Red Rock also offers the option of opening an account quickly and for free, allowing you to download the Station Casinos sports betting app. One app controls all the horse and sports betting, but separate accounts are needed for each one. With the app, you have access to all the usual lines, but the minimum and maximum bets allowed are substantially lower.
The app and Red Rock also offer live betting which is wagering on games that have already started. It is only available for select games but given how quickly live betting has grown in popularity in just a few years its expansion could happen sooner before later.
Drinks at Red Rock Sportsbook
To drink at the sportsbook, all you used to had to do was show up but now you have to bet. Most strip casinos require at least $50 for sports to obtain one drink ticket and most of them are much higher than that. But, since Red Rock is far from the strip it is much friendlier.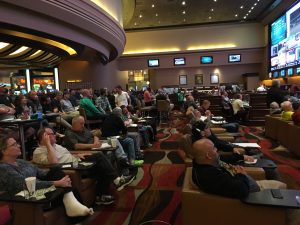 Twenty dollars will get you a ticket for sports, and any bet will get you one in the racebook. Since the requirements are already low, one can figure if you are nice to either the cashiers or the cocktail servers that charming your way into some extra tickets should be that much easier.
Casino at Red Rock
The casino floor is large and includes plenty of slots as well as bingo. Five dollar double deck blackjack is guaranteed, and $5 minimum bets are also generally available for all the standard casino games you're used to seeing. Red Rock has also introduced a new version of blackjack they call Zappit which allows bettors to swap their hand out for two new cards when dealt 15, 16, 17, or 18.
Dining and Bars
Behind the sportsbook's VIP section is also a large video poker bar that faces away and towards the action. Numerous other bars are spread around including a Yardhouse.
No great sportsbook is without some nearby chow. Connected to the sportsbook is the Gridiron Grill, and there is also a large food court, but you must leave the sportsbook. Red Rock also features a wide variety of other restaurants ranging from low-end pricing to high.
Hotel at Red Rock
The resort and spa are excellent offering a wide variety of luxurious rooms. Its pool also has cabanas and food and beverage service. Like many other local and Station casinos, Red Rock has a movie theater as well as a bowling alley.
Red Rock Sportsbook Rewards
Most of your reward points are going to be earned either on the table games or by the slots. Nevertheless, Red Rock sportsbook gives back one tier credit for every $1 bet in the sportsbook and 20 credits for every $1 on the horses which you can use towards comps. Bear in mind though it is still advisable to swipe your player's card every time you bet so that your bet is recorded. This way, should you manage to lose a winning ticket, all you have to do is bring your player's card to the book and you will still be paid.
Wrap-Up
Red Rock delivers its locals a fine sports betting experience. It can get slightly overcrowded, but other than that it has got it all. Great viewing ability and TVs, plenty of room to sit, friendly on drinks, and is centrally located. Whether you are visiting or living in Las Vegas and want a great place to watch sports but would like a break from all the strip madness, Red Rock is a sure-fire winner.
Current 2020 Sports Betting Grade: A
Click Here for Our TOP 2023 USA Sports Betting Site!