Operating since 1988 and owned by Golden Entertainment, Arizona Charlie's on Decatur Blvd. is one of two properties in Las Vegas and Henderson. Although Decatur Blvd. is just a few miles west of the strip, this aging casino is geared toward the city's local population. Like all establishments that are on the edges of the Las Vegas Blvd., Arizona Charlie's is liable to attract some wonky characters. The sportsbook itself also had some wonkiness but overall, it was okay.
Arizona Charlie's Sportsbook
Most sportsbooks are dark with high ceilings, but this one is decorated in white, light grey, and has a low ceiling. Arizona Charlie's sportsbook is run by William Hill, so that means live betting is widely offered. Live betting is betting on games while they are in progress. This is a nice plus because most sportsbooks either don't offer it or only have it on select games. You can also do your live betting on the William Hill sports betting app. To download and use app, all you have to do is create a free William Hill account right inside the book.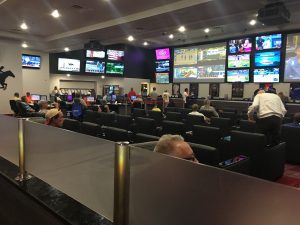 In our experience with other William Hill sportsbooks, we're used to seeing signs posted around stating that you have to create an account if you plan to make any pre-game or live bets above a certain amount. We didn't this time, but if you make any live bets over $500 or pre-game bets over $1,000, you might be forced to open an account.
Size and Location
When you walk in from the free parking lot, this relatively small race and sportsbook is located all the way on the left. The sportsbook seating has a few high tables and chairs on the right side. Towards the middle are 7×5 rows of black premium leather club chairs, and in the back are several leather and spacious restaurant style semi-circle booths.
The racebook seating is on the left. There are only four rows of desk row space. Each seat has its own TV but it can only accommodate up to 16 people.
Traffic and Viewing Ability
The energy from the other patrons was pretty high when we went in, and the low ceiling made it even noisier. It's hard to say if this will happen every day, but we figure this sportsbook will be active during the week and busy when action really picks up during football season and March Madness. If there's going to be noise inside the sportsbook, it might as well come from who is in it rather than overhearing the chirping of slot machines. The sportsbook entrance is right near the slots, but they can't be heard.
The sports betting boards are posted across a few TVs which are on the side wall. The lines have to cycle through, and you can't really see them if you are sitting towards the back. On that same wall are six medium sized TVs with good sound. Straight ahead are nine more TVs including a giant screen. However, the giant screen is just a projector and its picture quality is below average.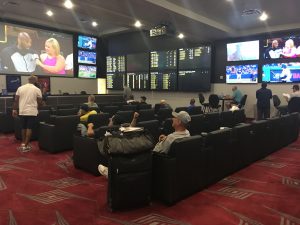 The racebook TVs are presented the same way. There are several medium sized TVs on its side wall, a bunch directly in front of you, and a big projector screen with subpar picture quality.
Drinks at Arizona Charlie's Sportsbook
This was the biggest letdown. In every sportsbook, drinks can only be gotten now with a drink ticket and you have to make a bet to get one. That part is fine. What isn't fine is the $100 minimum bet requirement. Arizona Charlie's is an off strip casino. It's not as dumpy on the inside as it looks on the outside, but just about every local casino gives you drink tickets when you bet in the vicinity of $20. While most of them do not, some sportsbooks on the strip have bit minimums well under $100. We do not understand why Arizona Charlie's requires so much. Our only guess is too many weirdos were getting smashed in there off of cheap beats and it forced them to raise the bar, literally.
Arizona Charlie's racebook drink policy was also very odd. It's always a lot cheaper if you're betting the horses and some places don't have a minimum at all, but here, all they told us was, "it depends". It depends on what? The answer wasn't really clear apart from you won't get a ticket if you make only a bet of a dollar or two. Basically, getting drink tickets depends on how well you can schmooze with the betting clerk. Since there is no set number, it's up to you to make it happen.
Casino at Arizona Charlie's
You can find minimums of $4 at roulette and 5x odds on craps. Blackjack pays 3-2 and $5 minimums are offered, but this is standard for a local casino. Some of its mixed table games include Pai Gow Poker, but overall its variety was a bit scarce.
Dining and Bars
Foodwise, there is nothing in the sportsbook. There's a small sportsbook close to it, but you have to leave to get there. You won't find anything especially fancy here, but if you want something a bit more high end there is Ron's Steakhouse.
Video poker bars are great for those who just want to watch the game without betting it, but unfortunately there isn't one right by the sportsbook.
Hotel at Arizona Charlie's
The hotel has well over 200 rooms, and its nightly resort fee is relatively low at $18 + tax. Since this isn't a huge hotel there aren't any extra fancy suites. The rooms are modern in size and presentation, and they are usually priced around $50 during the week before doubling on the weekends. Arizona Charlie's also offers different sales to group bookings, corporate bookings, sports teams, family reunions, and military reunions.
Arizona Charlie's Sportsbook Rewards
With there being no food comps, there aren't many benefits to reap in the sportsbook. The main one is having your bet tracked so that you'll still be paid should you misplace a winning ticket. However, you do earn one point for every dollar you bet, and after accumulating 5,000 points you receive a $5 free play.
Wrap-Up
The betting board is not easy to read from wherever you're sitting, the bet minimum for a drink ticket is way too high, and the picture quality on the big projector screens are not up to speed. That aside, this book gets the job done. The seats are modern and it's nice that they have live betting. If you don't care about drinking during the game and don't have to frequently know what the lines are, Arizona Charlie's won't let you down.
Current 2020 Sports Betting Grade: C+
Click Here for Our TOP 2023 USA Sports Betting Site!