From the outside Excalibur looks like a castle, making it one of the more standout looking casinos in Las Vegas. It was created for the tourists and is located on the south side of the strip. It isn't quite in the center of the action, but it has a connecting tram to the Luxor and Mandalay Bay. It uses the theme of medieval times. However, its sportsbook is more modern.
Excalibur Sportsbook
Simply put, Excalibur's sportsbook is adequate. There is a bathroom inside and there are many TVs spread across along with numerous places to sit. The racebook has 15 TVs none of which are big screen. Its seating accommodates up to 20 all of which have a desk and an additional TV. The sportsbook has 12 TVs plus four big screens which can be combined into one or two giant screens for a big event like the Super Bowl.
The sportsbook and racebook are basically together, but the sportsbook side has five rows of nine leather chairs. Behind those are a handful of more round tables and chairs, and at the very back are the high tables which are the only place smoking is permitted.
On the right side are eight or so cashiers and next to them are all the pamphlets for that day's betting action along with upcoming events, futures, and whatever props currently offered. The daily lines at Excalibur will be similar to whatever else is on the strip. It's the futures that usually have a discrepancy.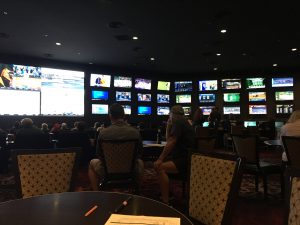 Strip sportsbooks typically do not pay out very well for futures since they know most of its bettors are tourists who are more interested in action than getting the best deal. If you insist on the most optimal payout you will have to venture out to either local casinos or your best bet might be the Westgate which is a short distance east of the strip. In addition to sports and racing, Excalibur also has a Keno board.
Size and Location
This sportsbook is of a modest size and sits adjacent to its very small poker room. It can be found near the escalator to its large food court and mall. It's located in one of the corners but does not get away from the casino action. Excalibur is smokier than most casinos and since the sound quality was nothing special you can still hear the chirping of slots and whatever else unless you are sitting right up front.
Traffic and Viewing Ability
It was very crowded the day we went in, but it was also a Friday with the March Madness basketball tournament heating up. It is only during times like these, NFL Sundays, or any big playoff event we would ever expect it to have many people.
We like that this sportsbook is built more vertically than horizontally. This allows a solid view of any TV no matter where you are sitting. The betting board is large with that day's lines constantly on display. This is nice since smaller betting boards do not always show the line you are in interested in. It is right behind the cashiers and is easily visible from wherever you are sitting.
Since waiting on sportsbook lines can take a long time, you also have the option of opening an account right inside and downloading the PlayMGM app. Creating a count is fast and simple, and once you have the app you can bet on everything like normal. The maximum bet allowed is substantially lowered, but the minimum bet is also much less.
If you are into live betting, which is betting on games already in progress then you will need the app. PlayMGM has live lines on every game, but live betting is not yet available over the counter. However, since live betting is growing in popularity, it is expected to be available at strip sportsbooks sooner before later.
Drinks at Excalibur Sportsbook
Drinking for free at the sportsbook went from very easy to very hard seemingly overnight. At this point, drinks are just a bonus for bettors as it is required to bet a substantial amount just to obtain a single drink voucher. A $100 is required for sports, $10 for the ponies, and $10 for Keno. It is a disappointing policy change, but it isn't the law. Do your best to build a fast and friendly relationship with either a cashier or a cocktail server and you should be able to coax your way into some extra drinks.
Casino at Excalibur
Like any strip casino, Excalibur's is large with over 100 table games spread around and over 1,000 slot machines as well. The varieties of each are what any gambler would expect. Most minimum bets at the table games will be $10, but $5 can be found and are probably even more findable during the odder hours when action may be dying down.
Dining and Bars
Maybe the biggest drawback of all was there are basically no nearby food options. There is a Starbucks and that's it. Excalibur offers a wide variety of restaurants and has a big food court too, but it doesn't do the sports bettor any good being so far away. Even if you aren't betting, usually you like to get something to eat during the game and a sole coffee shop is seldom the optimal solution.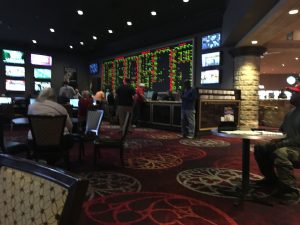 Other drinking options aren't so flexible either. There is a small video poker bar next to the sportsbook. It has four TVs to go with it, but you can only partially see the sportsbook. Otherwise, around the casino, there will be plenty of other bars and numerous lounges to choose from with or without video poker.
Hotel at Excalibur
The standard rooms at Excalibur do its job, but they don't blow you away with their size or bathrooms. If you upgrade to either a suite or a penthouse that's a different story, but otherwise there is nothing to get excited about. But, since you usually get what you pay for if you are looking to conserve spending on where you sleep you will certainly be satisfied. The hotel also has a gym, pool, and spa.
Excalibur Sportsbook Rewards
The best way to rack up comps and reward points is by playing slots or table games. The sportsbook gives back very little and there is no reason to believe that will ever change. Many sportsbooks offer no rewards and Excalibur only gives back $1 in comps for every $600 bet. As is also usually the case, the comps for the racebook are much friendlier, and here you get $1 back for every $25 wagered.
With or without the low comp rewards, it is still a good idea to swipe your card every time you bet because that records it to your account. Meaning should you misplace a winning ticket, all you have to do is present your player's card and you will still be paid.
Wrap-Up
The pros are noticeably good, and the cons are noticeably bad. There is little to get by way of food and drink and the faint smell of smoke serves no one. It is a little noisier than we would like, but everything is easy to see and there are enough comfortable places to sit. There is no reason to go out of your way to watch a game here, but if you are staying at Excalibur you will be happy enough with this sportsbook.
Current 2020 Sports Betting Grade: B-
Click Here for Our TOP 2023 USA Sports Betting Site!