In business since 1986, the Gold Coast is located just west of Las Vegas Blvd next to Rio, and is owned by Boyd Gaming. The Gold Coast is in a prime location, but despite that, its characteristics are very much like many of the locals casinos spread around town.
There isn't much about it you can really call exceptional, so it ends up serving as one of the most economical places tourists can go to without having to be far from the strip. We wouldn't go as far to say that we recommend betting at their sportsbook, but if you are staying at the hotel it is certainly adequate.
Gold Coast Sportsbook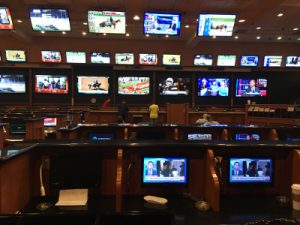 This relatively large sportsbook allows smoking and tailors well to horse bettors as there are many TVs showing the races and most of the seating are the desk row style with their own TV. Altogether there are about 70 desk seats spaced out into 5 rows. There's nothing special about the chairs though; they aren't made of premium leather nor do they swivel like you might find at some of the top race and sportsbooks.
There is no VIP seating, so if you want to sit more comfortably you will have to get on the right side of the sportsbook where there are some spacious leather club chairs in rows of 5×4. These also have a small desk that accommodate right handed bettors.
There are 17 TVs behind the large cashier going above and across it. Three of them are large (but not that large) and show the races, and four others have sports. There is an additional row of nine small TVs that sit above the main seating area. While the sound quality is good, the picture quality is just okay and since the screens aren't huge we recommend sitting as close as possible to them.
Size and Location
The sportsbook can hold well over 100 people between its seating and standing room and it is built horizontally. Many sportsbooks are situated either in a corner of the casino or at least off the beaten path, but the Gold Coast's sportsbook is right in the middle of everything. Many table games are right behind it, so it's always going to be rather noisy – regardless of whether the sportsbook is crowded or not.
Traffic and Viewing Ability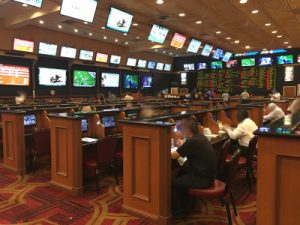 Even though the book is built horizontally, it is shaped enough like a square that none of the TVs are especially hard to view, no matter where you are sitting. Since the Gold Coast is right next to the Las Vegas strip, the sportsbook is going to be actively regularly as there is going to be a consistent mix of tourists and locals, and we for sure expect it to be at capacity during to the busiest events of year.
The space is wide open, so you don't have to worry about bumping into people or crossing in front of you as they try to get in and out. The betting board is large, can be easily seen from anywhere, and is located on the right side of the sportsbook.
Pamphlets showing the lines for that day can be picked up at the cashier, and here is where you will also find the prices for upcoming events, futures, and any props that might be going.
If you would rather not bother with any of this, you can also open an account for free right inside the sportsbook and download the Boyd Gaming sports betting app. With the app you can make a bet from anywhere in Nevada, and the lines will be the same. All of the many Las Vegas sports betting apps allow a much smaller maximum bet, but Boyd Gaming's app is especially smaller. So, if you are planning to bet into the thousands we suggest you use another app or request them to raise your limits.
One of the most common questions sports bettors want to know how are if you can place live bets. These are bets placed while the game is already in progress. It is a very exciting and still relatively new way to bet, and more and more casinos are looking for ways to implement it. You can do some live betting both inside the Gold Coast and on the app, but the availability is limited to just the really huge games.
Drinks at Gold Coast Sportsbook
Since you can't just show up to the sportsbook anymore and drink for free all day, drinking bettors now have to do some research to find who will require the smallest bet size per drink ticket. $25 is the number for sports and $20 for the horses. Both of these numbers might sound high (and relatively they are), but for sports bettors $25 is about as good as it gets. Many books in Las Vegas require at least $100 per bet and more than just a few demand much more than that. Be reminded though, this is not to say you won't be able to talk your way into an extra ticket or two if you can get friendly with a cashier or cocktail server.
The $20 requirement for the horses is peculiarly high. Since the book offers up a lot to accommodate the horse players, you'd think they wouldn't charge so much to get a drink ticket. Many strip racebooks also charge $20, but plenty of them also give you a voucher for betting just $5 or $10. If the deal is exceptional on sports, why isn't it on horses?
Casino at Gold Coast
The casino floor gives its players a nice variety. In addition to the $5 minimum bets on blackjack and craps, roulette is just a $3 minimum when betting the inside. The Gold Coast also has many baccarat tables, plenty of slots, keno, bingo, and a few other mixed table games, most of which can be played for $5.
Dining and Bars
A characteristic of a great sportsbook is having a video poker bar that faces all the action. This way if you just want to drink while you casually watch the game and socialize, you can do so without placing a bet. Unfortunately, the Gold Coast does not offer this, and its food options are not in close proximity. The closest you get to in-game munchies are at the hot dog and popcorn stand which is at the back of the book.
Regarding other food and drink, there are several bars around the casino that have video poker, and since the Gold Coast is not about snazzy and glamor the drinks will be reasonably priced. The signature eatery is the Chinese restaurant Ping Pang Pong. This used to be one of Las Vegas' best kept secrets, but now it is one of the most popular Asian cuisines in town. It isn't overly cheap, but the prices are very fair considering the quality and how much food you get, plus the selection is huge.
Hotel at Gold Coast
The hotel has over 700 rooms and the resort fee is $24 which is a lot less than what it costs on the strip. The rooms are not meant to blow you away. The standard rooms are just 360 square feet and don't provide anything more than the basics. That's fine though, because the prices are always going to be good and you can get shuttle service to and from the strip.
Discounts are also given to AAA, seniors, and military members. The one thing we caution you to stay away from are the suites because the increase in luxury does not line up at all with the price increase.
Gold Coast Sportsbook Rewards
The house's edge in the race and sportsbook is a lot smaller than what it is with the table games and slots, but you can still earn food comp rewards in the sportsbook. You get one point for every $12 you bet on horses with 20 points equaling $5. The sports rewards are a joke but that is the norm. The Gold Coast gives you one point for every $2,500 wagered.
The main purpose for swiping your player's card at the sportsbook especially if you are only going to bet sports is having the record of your bet. It is not rare for somebody to receive their betting ticket and them somehow lose it whether they get intoxicated or not, so by swiping you protect yourself from this.
Gold Coast Conclusion
We certainly didn't mind spending some time in this sportsbook. We were able to do just about everything what we wanted, but it is all something of a poor man's variety. There are a lot of TVs, but they are small, and the picture quality isn't great. There is a lot of seats but those aren't special either. You can place live bets, but only on very few events. There is a betting app, but it doesn't serve when you wish to go heavy.
There is food, but they're really just snacks. Drink vouchers on sports are inexpensive, but we couldn't play video poker. We know nobody goes out of their way to watch a game here unless they are a VIP player, but if you are into sports and are staying at this hotel, the sportsbook offers just enough to satisfy.
Current 2020 Sports Betting Grade: B-
Click Here for Our TOP 2023 USA Sports Betting Site!