Located in the southeast, Green Valley Ranch is part of the chain of Station Casinos. It stands alone and is surrounded by an outdoor mall. It is one of Henderson's premier local casinos, but since it provides shuttle service to and from the strip, it allows for would be tourists that want to enjoy what makes Las Vegas famous while also being able to get far away from it. This sportsbook used to be smoky with fuzzy picture quality. Adequate at best. But having been recently renovated, now it competes with all the top sportsbooks.
Green Valley Ranch Sportsbook
The good news it's not quite as smoky anymore. You can still light up, but no cigars or pipes and only on the right side in the sports section. Like all of Green Valley Ranch, the sportsbook is dimly lit. It is evenly split between sports and horse racing, and the TV picture quality is top level. The sports side has two giant screen TVs, but during busy times they can be split down. Below them are some small TVs for those sitting up close, and there are also four additional ones high up on the side wall. Pamphlets showing those day's lines, futures, upcoming events, and any props are right up by the cashier and on the side.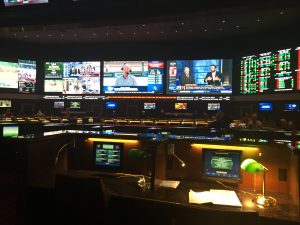 The racebook tailors very well to its players displaying six TVs including a large screen. Its pamphlets are also up front, and the racebook also has its own set of cashiers.
Since this is a local joint, the daily sports betting lines certainly won't be any more expensive than the strip, but Station Casinos have never been known for producing especially friendly lines. Regarding futures, you should be able to find better deals here as local casinos realize most of its bettors aren't willing to settle for stingy payouts just to stay in action the way many tourist bettors are.
Size and Location
This large sportsbook will comfortably seat over 200 people. On the right side are 6×6 rows of leather club chairs with a small desk. To their left are eight high tables and chairs, and behind those is a leather bench that stretches the entire length of the sportsbook. Towards the front is a bunch of rows of desk seating that all have their own TV. The sports side occurs in rows of 3×11, the racing said 6×16, and at the very front are 30 additional chairs spread along the whole book.
If you're entering GVR at the bottom of the movie theater, the sportsbook is all the way in the back, past the poker room, and to the left. It's behind a big video poker bar, so it's conveniently away from casino noise. If you're trying to get in and out fast, all self-parking and valet take you right to it.
Traffic and Viewing Ability
GVR is consistently active and will definitely fill up during huge events, but the crowd is not the super loud party type, and it has plenty of cashiers to accommodate. Its betting board is large with clear lettering. It is on the right side and angled inward making it very easy to read. This book isn't built as a perfect square, but it's symmetrical enough that you have a solid view no matter where you're sitting.
The VIP section is large and distinctly secluded, set up behind all the regular seating. The desk row seating is 2×12 with a leather swivel chair, and behind those are five large semicircle booths with a TV.
If you don't feel like getting up to bet or can't get to the book in time, you can also open an account for free and download the Station sports betting app. Sportsbook apps are pretty standard now, but for Station casinos, you will need separate accounts if you want to bet sports and horses. Once you're on board you have access to all the lines. The minimum and maximum bet requirements are much smaller, but the sportsbook app also features live betting. Live betting is a popular and relatively new recent type of bet that lets you bet on games at many junctures after they have started. The GVR sportsbook also offers live betting, but never for more than one big game and not necessarily every day. The app though gives you the option for most games.
Drinks at Green Valley Ranch Sportsbook
Drinks are no longer totally free inside the sportsbook. You'll have to bet to get a drink ticket, but GVR only requires $20 for sports and $5 for horses. Comparatively speaking, this is nothing compared to the strip as it often requires upwards of $100 and even gets as high as $500 at some places. Since even $20 isn't super cheap, to try and get some extra ones we recommend trying to establish a rapport with the cashiers and/or the cocktail servers. These rules are enforced, but no one is being watched like a hawk.
Casino at Green Valley Ranch
Green Valley Ranch brings a solid casino floor with plenty of new slots along with a keno book. The table game selection isn't spectacular, but it's got all the basic games and 10x odds on craps. Single and double deck blackjack is available, and $5 minimum bets are the norm.
Dining and Bars
There is a diverse selection of restaurants to go with a food court, but you'll have to leave the sportsbook to go to any of them. However, The Turf Grill is adjacent to the sportsbook and easy access. There is plenty of seating, but it doesn't provide a great view of the book.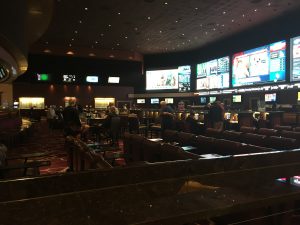 If video poker is what you crave while you watch sports and drink, there is a large sports bar right behind the book. The seating either has your back to the sportsbook or does not provide a great view looking inside, but that's okay as there are many TVs going all around this spherical bar. In addition to the sports bar, there are numerous other bars and lounges scattered offering any combination of seclusion, video poker, and a large wine and cocktail selection.
Hotel at Green Valley Ranch
Green Valley Ranch is a moderately small hotel, but there are hundreds of rooms within and a spa, and GVR also has a movie theater and arcade. We were a little surprised to see how close the average nightly rate is to those on the strip, but you do get what you pay for, and discounts are also offered to residents of Arizona, Utah, and California.
Green Valley Ranch Sportsbook Rewards
Swiping your player's card is always recommended because it tracks your bet. That way if you lose a winning ticket you will still be paid. Like any sportsbook, the rewards here are not so rewarding although they can be also be applied towards the hotel instead of just food. 1,000 points equal $1, but if you bet $1,000 on a game to win $200, you only get 200 points. The racebook rewards frequently change, but they are posted on the side wall right next to the bathroom.
Wrap-Up
We were impressed by the renovations as there really aren't any significant drawbacks. Plenty of seating, you can see everything clearly, there's food and video poker nearby, drinks don't cost an arm and a leg, getting in and out is easy, and the service was friendly. It's a bit far to travel from if you're staying on the strip, but if you're a local or are just looking to venture out to see what the strip's neighbors are like, this is an excellent selection.
Current 2020 Sports Betting Grade: A
Click Here for Our TOP 2023 USA Sports Betting Site!