Titled the Superbook, Westgate's sportsbook meets its hype. Formerly known as the Las Vegas Hilton, Westgate has totally remodeled itself and is without question the cream of the crop for sports and horse bettors in Las Vegas. Located on the northeast side of town and just a short drive from the strip, the Superbook mainly serves locals and presumably avid sports betting tourists.
Westgate Sportsbook
It's kind of mind-blowing when you walk in. What used to be a smoky dump is now a smoke-free and beautiful sports bettor's paradise. If you do wish to smoke, off to the side near its bathroom is a private room for smokers. Included are around ten TVs with around 20 spacious chairs along with a couple high tables and chairs.
Regarding the main sportsbook which is built horizontally, well over 100 spacious leather chairs with armrests stretch out in four long rows. Behind those is an extensive VIP section which stretches on just as long which have leather couches in addition to the chairs.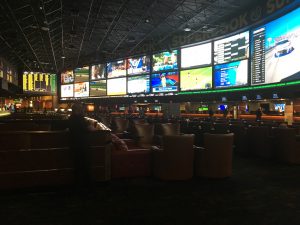 As you head towards the back of the sportsbook, you will find a large video poker bar facing all the action, and behind those are plenty more high tables and chairs. Altogether, you can easily fit hundreds of people in here.
As the Superbook has always been the lighting is on the dark side, but the picture quality of all their TVs are great as is the sound quality. On the sports side, which occupies most of this sportsbook, there are a dozen large TVs slightly bend around plus one giant screen. Even though the racebook only takes up a small percentage of the sportsbook, it is still large featuring six large TVs. In addition, behind every cashier is another small TV, so that even when walking up to bet you never have to take your eyes off the action.
Racebook seating consists of four rows of 14 seats, each of which has their own HD TV, lamp, leather swivel chair, and granite countertops. Westgate goes so above and beyond the standard, their racebook even has a couple rows for VIP bettors.
Underneath the racebook TVs are all the pamphlets for that day's action, and the racebook also has its own row of betting windows. However, if you are planning to bet sports too, you can place horse bets at any of the sports windows as well.
The pamphlets for that day's sports betting action is located on the opposite side, and they also include lines for futures, upcoming events, and whatever props that may be available. Props are the Superbook's most distinct trait as far as betting goes, especially for the Super Bowl. Every sportsbook comes out with a long list of props for the biggest game of the year, but theirs are nothing compared to the Superbook which provides a thick packet with hundreds of choices. If you are planning to bet Super Bowl props the day of the game, get there bright and early as there will surely eventually be a line out the door and around the corner.
There also exist other extensive hypothetical prop examples for an MLB season. You can find over/unders on wins for each individual team at all sportsbooks, but the Superbook also has over/unders on a variety of stats for pitchers and hitters. Like complete games, saves, triples, stolen bases, and so on. It doesn't stop there though. There are many more over/unders props for total wins by a whole fleet of starting pitchers, home runs by sluggers, and hit totals by some of the league's best overall hitters. Since these props are offered for baseball, it seems safe to assume similar props are offered for the NFL, NBA, and NHL. The Superbook is also running a contest for the baseball season. All contestants are competing for who will accurately pick the most over/unders on team wins.
As far as the day to day betting lines go, Westgate's will at least match up with any strip sportsbook. If they are charging less juice I wouldn't expect it to be by very much, so I wouldn't necessarily go out of my way to come here if that is all you are interested in. However, if you are betting futures and don't want to settle for a poor payout like most strip sportsbooks make you, then the Superbook is your spot. A couple quick examples of this are the New York Mets are 15/1 to win the World Series just about everywhere on the strip during March spring training, but at the Superbook, they are almost double at 25/1. When the Baltimore Ravens won the Super Bowl in the 2012-2013 season, mid-season they were 10/1 to win it all at many strip sportsbooks, but also 25/1 at the Superbook.
It's pretty crazy to know if you just went slightly out of your way you could have received 2.5x on your money, but that is how it is with a lot of things. The more convenient something is the more money it will cost. Buying items online are cheaper because you have to wait a few days to get them as opposed to buying them at the store. You can go a few miles down the street to get a half gallon of milk for one price, or you can go across the street to the gas station and pay double. It's just a matter of how important the right price is to you. Strip books pay out so little because they know most of their bettors are tourists who are happy just to have any action when they leave, thus they probably won't care what the payout is. They are essentially daring tourists to go out of their way off the strip in search of a better deal and expend what little time they are probably spending in Las Vegas.
Size and Location
The Superbook is massive and has always easily been the largest sportsbook in Las Vegas. If you are coming through the free self-parking garage or valeting at the front entrance, you will find the sportsbook at the back of this otherwise relatively small casino. Since the Westgate is on the edge of the strip, meaning where things are a bit seedier, it is not recommended you walk to it. If you are renting a car, take the back roads using Joe Brown and park at the Superbook's own private parking lot. Once you walk in you are already there, and you will see some pool tables as well.
Considering how large this sportsbook is, it was surprising to see they had relatively few cashiers. Despite the low cashier count, you can be certain they will all be open on busy days.
Westgate now has a poker room which connects to the sportsbook at the back. Adjacent to that is a few slot machines, but there is no outside casino noise to overhear.
Traffic and Viewing Ability
There is no doubt this place is going to fill up on every NFL Sunday or during any other major event like March Madness college basketball. Otherwise, you will have no problem getting a seat. Since it is more of a local place, I expect that sitting in the VIP section during off-peak hours won't be a problem. Since the Las Vegas Hilton's location is kind of shady, the Westgate still draws in some of Vegas' funkier characters, but never mind them. They are just part of good old Sin City's charm.
Another really great thing about the Superbook is that because all the TVs are large screens and they slightly curve around, no matter where you sit you have a solid look at every TV. The one slight issue is the betting board. It is large but on the far right side. If you are sitting in or close to the racebook, the lettering is a little hard to read. On the far left side, there is another betting board, but that only shows futures lines.
If you either don't want to get up to read the lines or bet, you can download Westgate's sports betting app. Opening an account is fast and free, and once you do you've got access to all the lines. The only difference is as sports betting apps are common, so too is the fact that minimum and maximum bets allowed are substantially lower.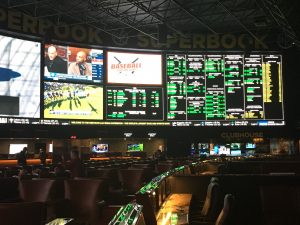 Westgate's Superbook also offers live betting both on the app and inside the casino. Live betting is betting on games currently in progress. The number of games you can bet live on are generally limited to only the most popular game(s) going, but Westgate is currently only one of a handful of casinos that offer live betting over the counter. However, given how quickly live betting has become popular these last few years, its availability is expected to spread which could also mean the Superbook will offer it on more games.
Drinks at Westgate Sportsbook
It used to be very easy to get free drinks at sportsbooks, especially when Westgate was still the Las Vegas Hilton. Now every sportsbook requires you make a substantial bet to receive a drink ticket. The Superbook asks $50 for sports and $30 for the horses. A rather odd combination because $30 is among the highest for the ponies and $50 is among the cheapest for sports. Still, since this is not an overly glamor and glitzy casino, it's pretty laid back in there. Establish some type of rapport with either a cashier or one of the elderly cocktail waitresses and it shouldn't be too hard to talk your way into some extra tickets.
Casino at Westgate
The casino has also been redone and no longer reeks of smoke too. They haven't expanded any as Westgate's primary attraction is the Superbook. It's a small casino floor, but there are still plenty of slots along with all your typical table games. Being that this casino is off strip serving locals and tourists, $5 minimum bets are easy to find.
Dining and Bars
A great sportsbook has great food options. If you are planning to spend a few hours or all day in here, the Superbook delivers the eats. Behind all the seating in one location is Cordovano Joe's New York Style Pizza, Draft Sports Bar & Grill which has a wide selection of beer, and Nacho Tacos Authentic Mexican. There is plenty of seating and it faces the sportsbook. If you want to chow down and take a break completely, Westgate's buffet connects to the Superbook by the racebook.
Around the rest of the Westgate are many other restaurants that serve a wide variety of food. Along with the two bars inside the Superbook, there are several others in the Westgate including one for its pool.
Hotel at Westgate
What used to be a dud of a hotel is now a completely legit resort. Its standard rooms are fully updated with comfortable beds with modern furniture and bathrooms. After those are an array of other suites villas some of which provide great views of Las Vegas. Its amenities include a pool and cabanas, spa, tennis courts, golf, and a fitness center. Since it is off the strip, Westgate definitely serves as a hotspot for finding good deals and if all you care about it is betting sports it is well worth staying here.
Westgate Sportsbook Rewards
The Superbook has just recently added a rewards program for bettors using their player's card. Like every other sportsbook, the offers are not overly generous, but you can use them flexibly towards food, drink, or anything within the resort. For the horses, you receive $1 in comps for every $50 you bet, and $1 for every $300 in sports.
If you know you won't be betting enough to earn any worthwhile comps or you just don't feel like getting a player's card, it is still a good idea you do because swiping your card means your bet can be tracked. Meaning if you place a winning bet and then lose the ticket, just bring your player's card to the cashier and you will still collect your winnings.
Wrap-Up
Wow, what a knockout. The Superbook was already great despite its dumpiness because there was so much you could do, but now it is a total 5-star experience. We already rated the Wynn one of the top sportsbooks in Las Vegas. And while it remains the best one on the strip, the Superbook is the best one in town. The Westgate made it its first priority and it delivers on all cylinders. Tons of comfortable seating, accommodates smokers, huge TVs with great sound, you can see everything, drinks are not hard to come by, plenty to eat, flexible use of reward points, no outside noise, plenty of VIP for race and sports bettors, so many props, the best lines for futures betting, contests, and its own free parking lot. There is literally nothing you can ask for that it doesn't have in spades. We will probably just go here from now on.
Current 2020 Sports Betting Grade: A++
Click Here for Our TOP 2023 USA Sports Betting Site!