Located off of East Sunset road in Henderson, this Wildfire casino is a small, sort of drop-in casino for the city's locals. There is no hotel and there aren't any table games. All it is slot machines, video poker, alcohol, and bowling. However, since Wildfire is owned by Station Casinos it also features a sportsbook.
Wildfire Casino and Lanes Sportsbook
This sportsbook is for sports betting only. There is no horse racing. In addition to the traditional over the counter betting, Wildfire's lines are also available on the Station Casinos sports betting app. To download the app, you must create an account which is a quick and free service you can do right inside. If you want to bet horses, you'll have to create a separate account at a sportsbook that has a racebook.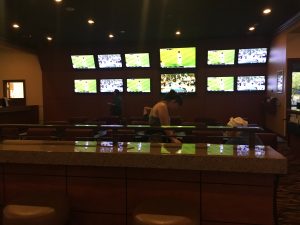 The betting limits on the app are smaller, but it does feature some live betting which is betting on games that are currently in progress. Wildfire doesn't usually have live betting. The only times you would see it are during select games like the playoffs or during football season.
Size and Location
This is a small book that can probably hold 45 people at the absolute max. It is right by a video poker bar and is a short walk from anywhere you park outside.
Traffic and Viewing Ability
Seating starts with three rows of leather club chairs with a few round tables and chairs behind those. On the outer half of the sportsbook seating is some counter seating with stools and several more round tables and chairs.
There are 12 small-medium TVs. Because this is a small sportsbook, we didn't miss the fact there were no big screens. The sound quality is good, but the music playing overhead was louder than it needed to be. Slot machines are also right in the middle of everything, so that could get annoying if someone happens to be playing. The betting board is nice and big, and is all the way on the left of the sportsbook behind the cashier.
Expect this sportsbook to be pretty low key most days of the week. We're guessing it only gets so busy even during the biggest events of the year.
Drinks at Wildfire Casino and Lanes Sportsbook
Being that this sportsbook is very calm and laid back, it's a good place to quietly relax and have a drink. The minimum bet requirement to get a drink is $20 which is as cheap as it gets at any local casino. There was a sign posted saying you cannot get more than two drinks per visit to the counter, and that you cannot get more than four drinks for the day. Maybe, maybe not. At a joint like this, we'll take the under on how often that policy is enforced.
Dining and Bars
Video poker is the next best way to get drinks for sport watchers who didn't care to bet. There is a video poker bar right behind the sportsbook. It can see inside the book, but this probably won't be necessary as the bar has plenty of its own TVs going around. There isn't too much to eat here. Just the Wild Grill which is all standard American food.
Wildfire Casino and Lanes Sportsbook Rewards
Comps are always pretty tame in sportsbooks. The only real motive to swiping your card at one is to ensure that your bet is tracked. That way if you somehow lose a winning ticket, you'll still get paid out.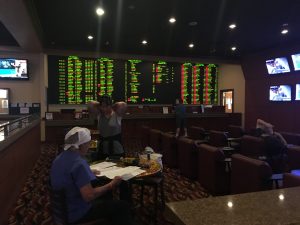 But something is better than nothing, and 1,000 points equals one comp dollar. Points are run up based on how much you would win off of a straight bet, not how much you bet. So, if you take a moneyline of -500 and bet $1,000 on it, you would only get 200 points because this bet can only win you $200.
Wrap-Up
We know we're not getting much any time we walk into a Wildfire sportsbook. Our only hope is that whatever is offered is presented properly. Altogether, there weren't any letdowns at Wildfire Casino and Lanes. It's easy to get a seat, you'll probably be able to watch whatever game you want if it isn't already being shown, drink tickets are cheap, the betting board is easily visible, and the sound is good. If you just want to hang out and take it easy for the game, you really can't go wrong here.
Current 2020 Sports Betting Grade: B+
Click Here for Our TOP 2023 USA Sports Betting Site!