Owned by Silver Nugget gaming, Silver Nugget Casino is located on Las Vegas Blvd., but well into the heart of North Las Vegas. Silver Nugget has been open since 1964, and from the outside it looks every bit of it. It's in an old unattractive area, and many of its patrons give you a seedy vibe.
There's no hotel here. Just a small casino, and a small sportsbook.
Silver Nugget Sportsbook
Silver Nugget doesn't provide its own unique sportsbook, theirs is run by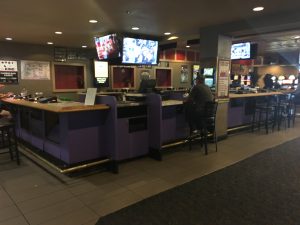 William Hill. You see a lot of William Hill sportsbooks in old and small casinos. You can't bet on horse racing here, but the most notable thing about any William Hill sportsbook are the many options it offers for live betting. Live betting is betting on games while they are in progress. Most major sportsbooks offer little to no live betting, only on their app.
William Hill also has an app. To use it, first you have to create an account. You can do this right inside, and the process is fast and free.
Size and Location
The sportsbook is very small. You can find it in the back of the casino, right next to a video poker bar. The ceiling is low and the room is bright, but the energy of this sportsbook was surprisingly awake. We don't expect much from anything in North Las Vegas, and we were also glad we couldn't hear much distractive casino noise.
Traffic and Viewing Ability
Like most William Hill sportsbooks, this one has a 24/7 kiosk that allows you to check lines, place bets, and cash out. This sportsbook is really more of a drop-in, however, there are a few round tables and chairs. Nine TVs, including one big screen make up the sportsbook front to back. The picture quality was fine, and the sound quality for the main game was also pretty good. We figure more people will show up during busier times like football season and March Madness, but for the most part there isn't going to be too much happening here.
The worst part was the betting board. The cashier is out of sight around a corner, and that's where the betting board is too. You cannot see the lines, so, unless you are using the app, that means you have to get up every time you want to see one.
Drinks at Silver Nugget Sportsbook
We were pretty disappointed to learn you cannot get any drink tickets. We realize this isn't a big time sportsbook, but since they went through the trouble of providing a seating area and some TVs, can you at least kick in drink ticket for placing a bet? Come on guys.
Casino at Silver Nugget
Other than slot machines, there is almost no table game action here. When we first walked in, we didn't even notice there were two blackjack tables right by the entrance. Neither table was open, but it's safe to assume the minimum bet is no greater than $5.
Dining and Bars
There isn't any food right nearby, but there is a grill eatery with standard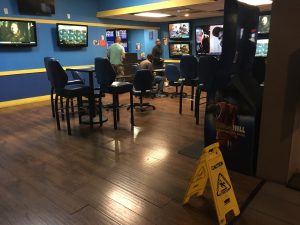 American food at very fair prices. The aforementioned video poker bar can't see inside the sportsbook, but it does have some of its own TVs.
Since the sportsbook won't accommodate you with any drink tickets, you at least have the video poker bar to fall back on.
Silver Nugget Sportsbook Rewards
We advise you swipe your player's card whenever you bet because it protects you. By having your bet tracked, you will still get paid out if you manage to lose a winning ticket.
The comps are nothing special, they are never at sportsbooks. You earn one point for every dollar you bet, and after accumulating 5,000 points you get a $5 free play.
Wrap-Up
Silver Nugget managed to provide a comfortable place to hang out and watch a game. It doesn't feel like the landfill it looks like with the bright lights and picture and sound quality. However, it falls short with its inconveniently placed betting board and stingy drink policy. If you don't care about drinking or keeping up with lines on multiple games then this won't be an issue, but if you do, we suggest you look elsewhere.
Current 2020 Sports Betting Grade: C-
Click Here for Our TOP 2023 USA Sports Betting Site!