Smack in the middle of all the Las Vegas strip madness, the Bellagio is as big example as any as why Las Vegas is what it is. It was built for the tourists, but seeing as how many top-level amenities it has to offer it brings in plenty of local business as well. It is a glamorous and upscale facility but balances out beautifully with the perfect level of class. There's nothing not to like about it, and that certainly extends to its sportsbook.
Bellagio Sportsbook
It's a great place to watch a game, especially if it's one of those day's main events like Monday Night Football. There are multiple giant TV screens with great picture quality, and below them are a fleet of smaller TVs. Should there be numerous important games happening at once, the giant screens will each be split into four. The race book is divided just about equally, also featuring giant screens.
Size and Location
It's not the biggest sportsbook in town, but it is certainly one of them. To access the sportsbook, it can be done most easily with a short walk by entering through the North Valet entrance off Flamingo road. Should you enter in through the main entrance, you'll have to walk across the casino. And should you park in the garage you'll have to walk across the entire venue, passing the stellar conservatory and hotel lobby first.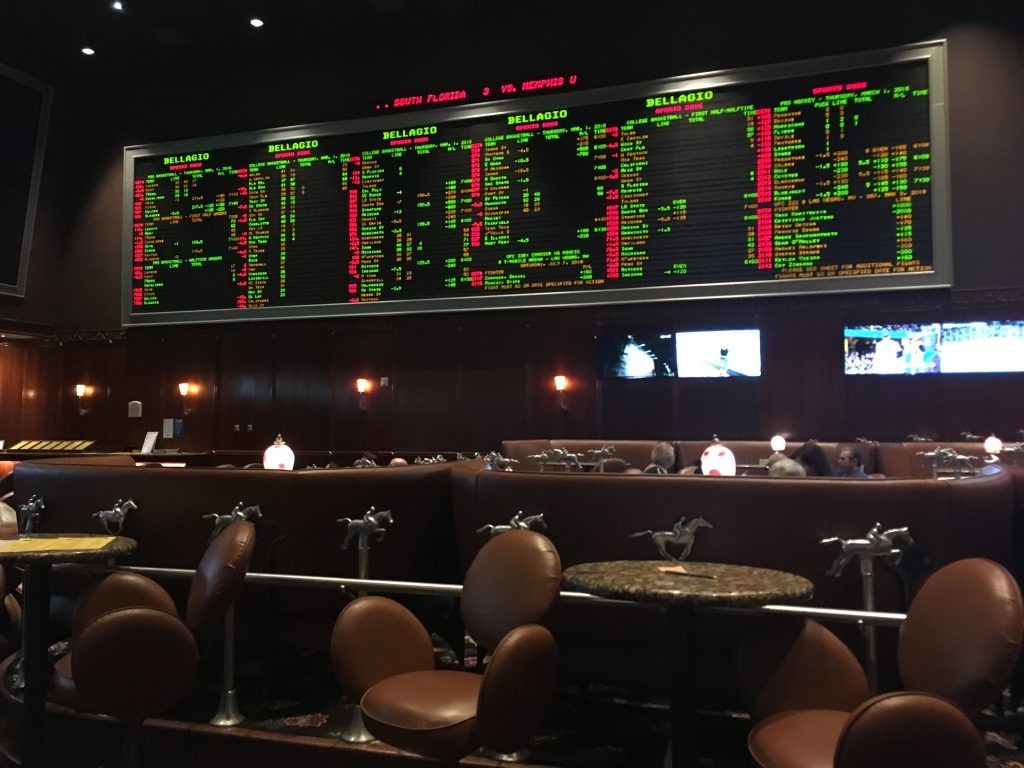 The fact it's a bit of a walk from two of the three entrances is a good thing though because it's away from everything else. It can be found right past the poker room and begins by its high limit section. As high limit gambling likes to limit noisy distractions, the sportsbook location is great since because it is in the corner, thus not overflowed by the constant chirping of slot machines. This keeps its patrons away from the smoking that is allowed on the casino floor, and the Bellagio sportsbook is now totally smoke free. Not even E-Cigarettes are permitted.
Traffic and Viewing Ability
There is plenty of seating. The left side is the racebook and there are three rows of about 11 desks and they each have a small TV. Since the other TVs are gigantic, you can still comfortably watch a main day sporting event from the racebook.
In the center are multiple sections of sofas and club chairs. These are all reserved seating, but that only applies during its busiest times. There is a nice big table in the middle of each section, some of which have their own TV screen built in facing upward. In between the center and right side seating are some tables and swivel chairs, and the right side seating consists of around 40 leather reclining chairs spaced out in about five rows. Behind the recliners is a VIP section. There is always seating space there on a quieter night, but if you sit there you must purchase a drink.
At the top of the far right side wall is one big horizontal betting board, conveniently showing all the action for that day. This is nice because many books have smaller boards that have to periodically rotate the betting menu. There's always more than enough staff on hand, but on the busiest days, there are up to 10 cashiers. And if you don't feel like getting up, you can always create an account. It takes about 15 to 20 minutes to fill out and process your paperwork. After that, you just download the sports betting app called PlayMGM. The app has smaller betting limits but features all the same betting choices as well as live betting on every game, which is betting on games already in progress. The Bellagio itself does not have live betting but is aiming to have it soon.
Directly below the betting board are pamphlets for all the sports and horse racing, listing out those day's lines as well as those for future's and other upcoming events. Each future pamphlet is also enclosed inside a glass case if you don't feel like taking one.
You don't have to walk to a bathroom as there is one on the racebook side. If are you looking for video poker, there is a sports bar facing sportsbook that forms an L going around it back towards the casino. There are plenty of TVs in the bar and the chairs are on a swivel.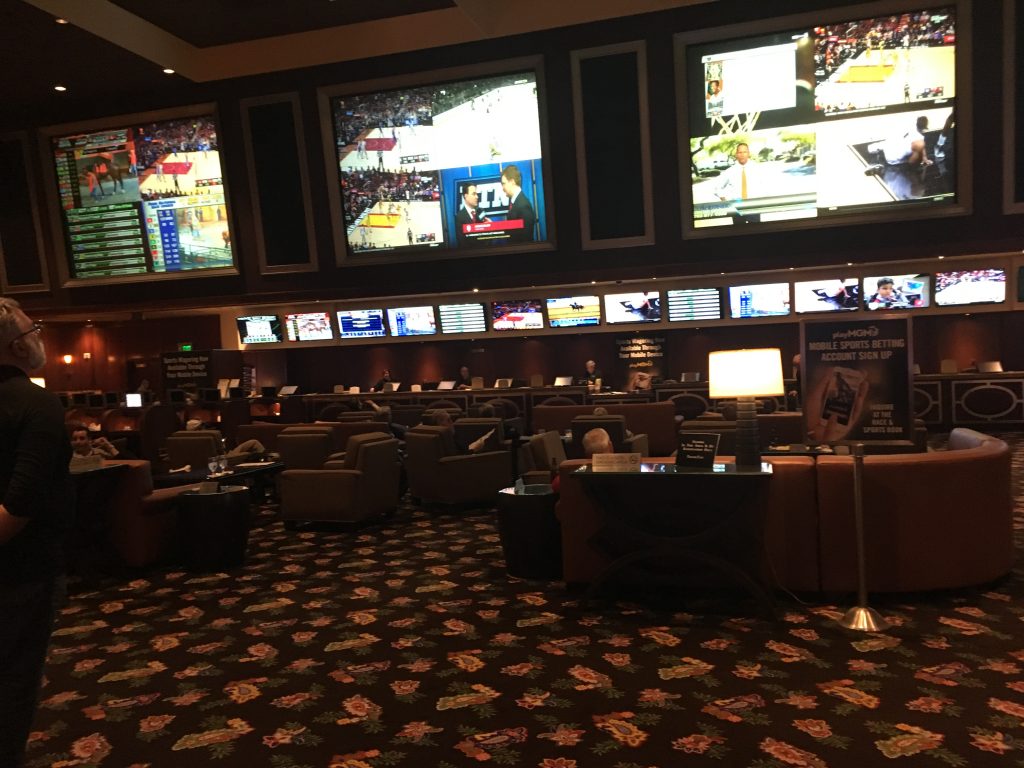 No sportsbook is ever jammed up on a night by night basis. Only during major playoff games, NFL Sundays, or the March Madness college basketball tournament does the Bellagio sportsbook start overflowing with patrons. You'll have to plan ahead on these days and show up extra early if you're serious about getting a seat.
As the Bellagio is a top tourist attraction, not every betting line is a fair deal. The day by day lines are comparable to what you see around town, but it's the futures that are a joke. Just as one example, when the Ravens recently won the Super Bowl, midseason they were 10/1 at the Bellagio, but 25/1 at the Las Vegas Hilton (now Westgate). The payouts are so poor because tourists showing up for 2-4 nights are not going to spend much time shopping for lines. They just want to get some action on a future's bet and will accept whatever payout is offered.
Since poker is another huge attraction at the Bellagio, one of the sportsbook's main drawbacks is for seven weeks in the months of June and July during the World Series of Poker, the seating in the right side of the sportsbook is taken out and replaced with poker tables which almost means now you have to contend with the constant chirping sound of chip shuffling.
Drinks at Bellagio Sportsbook
Cocktail waitresses come around frequently as there is always at least a decent crowd in there, but the Bellagio is tame on giving away free drinks. To obtain drink tickets, the minimum horse bet is $10 and the minimum sports wager size is $125. But that's not to say any of that is etched in stone.
If you can quickly establish some type of rapport with the cashier and/or the waitress, it shouldn't be too hard to talk your way into an extra drink or two. The era of free drinks isn't over, you just have to work a little harder to get them.
Casino at Bellagio
There are a ton of slots and many types of table games spread throughout the casino. The higher limit tables are closer to the cashier, but they can also be found in more secluded areas. Since the Bellagio is one of Vegas' flashiest attractions for tourists, minimum bets are seldom if ever below $10.
Dining and Bars
All throughout the Bellagio are numerous bars and restaurants. They are scattered about very well as wherever you are, you are not too far from the next one. Most of the bars have video poker. The bars and the restaurants at Bellagio as a whole are all relatively expensive, but you can file that under you get what you pay for. The food is delicious with tons of variety. The very nicest restaurants are located near its high-end shopping mall, while the more baseline ones and buffet are spread out. The recently renovated Snacks which is open 24 hours.
Snacks are also the only real food venue conducive to sports betting. There is no food court. But snacks have all your standard sports betting munchies, and while it's only a short walk to it you have to leave the sportsbook.
Hotel at Bellagio
The Bellagio's hotel is one of many reasons why it is widely known as one of the swankiest places in town. Featuring multiple towers along with a Grade A pool, gym, and spa, the hotel sports thousands of rooms. Ranging from the very comfortable and modern standard room to some of the most outstanding penthouses, the hotel is sure to satisfy.
Bellagio Sportsbook Rewards
Unfortunately, the sportsbook offers no rewards of any kind towards your player's card for any type of bet. However, it's still a good idea to have them swipe it anyway for all your bets because this at least has the bet on file. That way, should you somehow misplace a winning sports ticket, as long as no one finds it and cashes it in before you get back to the cashier, you can still be paid out.
Wrap-Up
With all its great attributes, the drawbacks that occur here and there go unnoticed. You seldom have to worry about getting a seat, noise and smoke are also usually not a factor, and everything you want to look at can be seen very easily. As the path of least resistance is always ideal for getting things done efficiently, the Bellagio sportsbook delivers everything you want to create an effortless experience.
Current 2020 Sports Betting Grade: A
Click Here for Our TOP 2023 USA Sports Betting Site!