When most recreational sports bettors consider going on a gambling vacation to Nevada to test their luck, they usually think of going to the popular towns known as Reno or Las Vegas. However, one of the hidden gems of Nevada can be found in the town of Laughlin, which has a slew of brick and mortar sportsbooks lined up along the beautiful Colorado River on the Nevada-Arizona border.
Laughlin is heavily advertised as a family destination where outdoor family activities such as picnicking, fishing, playing sports, or bicycling are welcomed and encouraged. This is just one of the many features that set Laughlin apart from Las Vegas which is more of an adult version of Disneyland. Feel free to follow along with the rest of this article to find out more about what sports bettors can expect to find in Laughlin and how it compares to other destinations.
Sportsbook Locations
There are a total of 10 different land-based sportsbooks to take advantage of in the town of Laughlin, and nine of them are in very close proximity to each other. This is a rather large number of sportsbooks for such a small town since even a large gambling mecca such as Reno only has 14 total sportsbooks to choose from.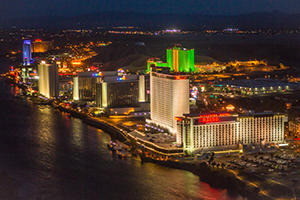 The only sportsbook that is not located near all of the others is the Avi Resort & Casino, but this one also lies next to the Colorado River and is not that far away if you are driving. Below is a list of all of the sportsbook locations that exist in the town of Laughlin, Nevada:
Avi Resort & Casino
Aquarius Casino Resort
Colorado Belle Casino & Resort
Edgewater Hotel Casino & Resort
Golden Nugget Laughlin
Harrah's Laughlin
Laughlin River Lodge
Pioneer Hotel & Gambling Hall
Regency Casino Laughlin
Tropicana Laughlin
Types of Sports Betting in Laughlin Casinos
Whatever types of sports bets you are accustomed to making in Las Vegas sportsbooks will also be available at all of the sportsbooks in Laughlin. These books are all governed by the same rules and regulations set by the Nevada Gaming Commission which means the sky is the limit when it comes to the types of bets you can make. Some examples of the types of bets you will be allowed to make in these sportsbooks include parlays, game totals, game lines, teaser bets, pleaser bets, prop bets, round robin bets, future bets, and the list goes on!
Drinks and Sportsbook Atmosphere in Laughlin
In our opinion, one of the best atmospheres you can find in Laughlin is at the Aquarius Sportsbook. This room is Laughlin's first totally non-smoking venue which is amazing for those who like to breathe clean air while they are cheering on their favorite teams. They also feature two giant projection screens and twenty different 65-inch televisions to make sure you don't miss out on any of the action.
When it comes to getting free drinks, the sportsbooks in Laughlin are much like those in Las Vegas due to the fact that you must place some bets first before you qualify. In the Aquarius sportsbook mentioned above, you will need to wager at least $20 per horserace or at least $100 per sporting event in order to qualify for a free drink.
Markets Available for Betting in Laughlin
Due to the fact that the sportsbooks in Laughlin are governed by the same Gaming Commission as those in Vegas, you will find the same betting markets in both places. This means that all major sports such as MLB, NBA, NFL, and NHL will all be found here in addition to many other obscure sporting events that include tennis, cycling, golf, e-sports, rugby, and Canadian football. Some venues such as the Aquarius Casino and Harrah's Laughlin Casino even offer a racebook that will allow you to bet on horse racing. The main takeaway here is that you will be very hard-pressed to come up with a sporting event that is not available for wagering in the sportsbooks of Laughlin.
Mobile Sports Betting in Laughlin
As long as you are located in the state of Nevada, you will be able to download any of the available sports betting apps that are made available by Laughlin sportsbooks. The most popular of these apps is definitely the William Hill app since they offer a wide variety of betting options and there are over 100 different locations that will allow you to make a deposit with real cash. These locations include bars, special kiosks, and even 7-11 stores!
Another popular mobile app for sports betting in Laughlin is the Golden Nugget app which is known for having some of the fairest odds in all of Nevada. The minimum wager that you can place is set at $5 for this app which is great for recreational players who don't necessarily need to bet large to have a good time. Once you are ready to withdraw funds from the app, you simply need to visit the brick and mortar Golden Nugget sportsbook and your money will be waiting for you.
Click Here for Our TOP 2023 USA Sports Betting Site!