Sports betting in Illinois, like it was in most other states, always seemed like nothing more than a nice idea. Even though there were plenty of proponents who would have liked to see sports betting legalized and regulated, Federal Law made that impossible. That all changed in 2018, and Illinois' sports betting landscape has materialized and grown into a force to be reckoned with. As one of the few Midwestern states with legal sports betting, Illinois is slowly turning into a new sports betting mecca.
The following will introduce you to how and why you can bet on sports, where you can bet on sports, and everything else you might want to know about sports betting in Illinois.
Illinois Sports Betting History
The history of sports betting in Illinois is not very expansive simply due to the fact that sports betting never existed legally before 2018. Casino-style gambling first made an appearance during the early 1990s, but sports betting was never even considered. Just like in most of the rest of the country, sports betting was never able to exist due to a preexistent Federal Law known as the Professional and Amateur Sports Protection Act, which was passed in 1992.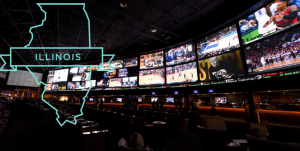 In essence, what this act did was make sports betting illegal everywhere in the United States with the exception of Las Vegas and a few other, very specific, locations.
The Overturning of PASPA
Unlike what happened in other states, Illinois lawmakers really never attempted to create a legal, intrastate sports betting network. In New Jersey, for example, lawmakers passed legislation that would have made sports betting legal within the Garden State. Despite believing that the issue of sports betting was a state's rights issue, the state of New Jersey was immediately challenged in court by US professional sports leagues, as well as the National Collegiate Athletic Association (NCAA).
This court battle, though only involving the state of New Jersey, is what paved the way for legal and regulated sports betting in Illinois. The reason for this is because even though lower courts agreed with the professional sporting leagues that PASPA made sports betting illegal on the Federal level, New Jersey continued to challenge each and every decision. After a few unsuccessful challenges, the issue was finally brought to the highest court in the land, the Supreme Court of the United States.
Not only was it a shock that the Supreme Court was willing to hear the case, it was even more shocking that the Supreme Court overturned every lower court's decisions and sided with New Jersey. The Supreme Court ruled that the 1992 Professional and Amateur Sports Protection Act was Unconstitutional and was therefore struck down.
Sports Betting Makes Its Way to Illinois
Even though the striking down of PASPA made legal and regulated sports betting a possibility for the whole of the United States, it did not mean that sports betting was immediately legal. What it really meant was that each individual state could decide for itself whether or not sports betting would be a legal and regulated activity.
In Illinois, not much time was wasted and lawmakers immediately got to work drafting gambling expansion legislation that would create the legal framework for regulated sports betting. PASPA was struck down in May of 2018, and by early January the next year the Sports Wagering Act was passed.
The Sports Wagering Act being passed was surprising mostly because of how aggressive it was in comparison to similar bills from states like Pennsylvania, which approached sports betting slowly and cautiously. It allowed for the state's 10 casinos, three racetracks, and seven sports venues to apply for licenses to offer sports betting. Once the first physical sportsbook licenses were given out, a waiting period of 18 months would have to be endured before online-only operators would be granted online sports betting licenses. Three online-only sportsbooks would be allowed to be established. In addition, all of the aforementioned physical sports betting locations would also be able to offer online and mobile wagering.
Where to Bet on Sports in Illinois
Illinois is interesting because it went from having zero approved sports betting locations to well over 10 in what seemed like the blink of an eye.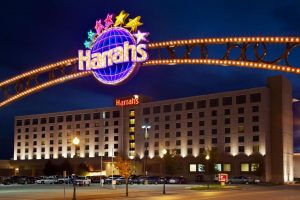 The following is a listing of all the locations that are currently approved to offer sports betting:
-Argosy Casino Alton
-Casino Queen
-Harrah's Joliet Casino & Hotel
-Harrah's Metropolis Casino & Hotel
-Grand Victoria Casino
-Hollywood Casino Aurora
-Hollywood Casino Jolieet
-Jumer's Casino & Hotel
-Rivers Casino (Des Plaines)
-Par-A-Dice Hotel Casino
Types of Sports Betting in Illinois
The only limits placed on sports betting in Illinois are those that restrict bettors from placing wagers on collegiate sporting events involving teams from Illinois. For example, the Illinois Fighting Illini football team will not be able to be wagered upon nor against during the NCAA football season. The same goes for any and all Illinois-based collegiate (and high school) sports teams.
As far as specific bet types are concerned, there is no limit in Illinois. Bettors will be greeted with standard betting options including moneyline, spread, and totals (over/unders), as well as the same types of bets for segments of a game or competition (ie. Quarters, halves, innings, etc.).
Player and team props are available, and so too are live, in game betting markets. With that being said, you will notice that player and team props are typically reserved for more high-profile matches and events. Obscure soccer matches from Europe may not always feature player props, but you can rest-assured that there will be an abundance of prop bets for any and all events taking place within the United States' major sports leagues.
Who Can Bet on Sports in Illinois?
So long as you can prove that you are over the age of 21, you are able to bet on sports in Illinois at any and all approved locations.
Mobile and Online Sports Betting
Online and mobile sports betting is allowable under Illinois state law, however no licenses have yet been granted. All physical sportsbooks within the state will be permitted to apply for an online sportsbook license, and so too will three online-only operators that have yet to be named.
Something unique about online sports betting in Illinois is that all prospective bettors will need to visit a physical sports betting location in order to set up their online sports betting account. The purpose of the visit is to ensure that those who are betting online are of at least 21 years of age. Other states simply require the last four digits of a prospective player's Social Security number to be provided to sign up for online betting, but Illinois lawmakers did not think that this would be an effective way of preventing underage gamblers from making their way online.
Regulated by the Illinois Gaming Board
The Illinois Gaming Board, which has been regulating and overseeing the gambling industry since the 1990s, is tasked with regulating the sports betting industry in Illinois. There was some talk of creating an independent agency that would be tasked with regulation, however that never came to fruition.
Click Here for Our TOP 2023 USA Sports Betting Site!