Mississippi is a state that has a well-established reputation for gambling action dating all the way back to when the European settlers and the Native Americans would bet on card games, horse racing or other games of chance. Once the year 1990 rolled around centuries later, the Mississippi Gaming Control Act was passed which allowed towns on the coast to operate riverboat casinos. Just a couple of years after that, the first casinos in Mississippi were built but sports betting was still not allowed in these establishments.
It wasn't until August 1st, 2018 that the very first sports bets were made in the Beau Rivage Casino and Gold Strike Casino, with 18 other casinos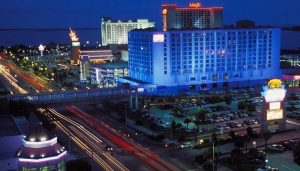 following suit by the end of the month. There is now a long list of options for those who wish to wager on a sporting event in the great state of Mississippi so join us through the rest of this article while we examine these locations and what they are all about.
Sportsbook Locations
If you are having trouble finding a sportsbook in the great state of Mississippi in order to make a wager on a sporting event, then you are clearly not looking hard enough. All of the 26 sports betting locations at your disposal (including tribal casinos) are listed below along with the city they are located in:
1st Jackpot Casino – Robinsonville, MS
Ameristar Casino Hotel – Vicksburg, MS
Beau Rivage Resort & Casino – Biloxi, MS
Bok Homa Casino (Tribal) – Heidelberg, MS
Boomtown Casino – Biloxi, MS
Fitz Casino Hotel – Robinsonville, MS
Gold Strike Casino Resort – Robinsonville, MS
Golden Moon Hotel and Casino (Tribal) – Philadelphia, MS
Golden Nugget – Biloxi, MS
Hard Rock Hotel and Casino – Biloxi, MS
Harrah's Gulf Coast – Biloxi, MS
Hollywood Casino Gulf Coast – Bay Saint Louis, MS
Hollywood Casino Tunica – Robinsonville, MS
Horseshoe Casino & Hotel – Robinsonville, MS
IP Casino Resort Spa – Biloxi, MS
Island View Casino Resort – Gulfport, MS
Magnolia Bluffs Casino – Natchez, MS
Palace Casino Resort – Biloxi, MS
Pearl River Resort (Tribal) – Philadelphia, MS
Riverwalk Casino and Hotel – Vicksburg, MS
Sam's Town Hotel and Casino – Robinsonville, MS
Scarlett Pearl Casino Resort – D'Iberville, MS
Silver Slipper Casino – Bay St. Louis, MS
Silver Star Casino (Tribal) – Philadelphia, MS
Treasure Bat Casino and Hotel – Biloxi, MS
WaterView Casino and Hotel – Vicksburg, MS
Types of Sports Betting in Mississippi Casinos
There are currently no restrictions on the types of sports bets that Mississippi casinos are allowed to offer. That means that you will be able to make all of your favorite bets types in these casinos such as moneyline bets, spread bets, totals bets, parlay bets, teaser bets, prop bets, futures bets, and any other types of bets that you can think of.
Drinks and Sportsbook Atmosphere in Mississippi
Our favorite sportsbook atmosphere in all of Mississippi has to be at the Beau Rivage Casino which was developed by Las Vegas real estate mogul Steve Wynn. This sportsbook brings a special Las Vegas flair to the Mississippi coastline with dozens of HDTV's, an enormous video wall, extremely comfortable seating, and 35 video poker machines. Next to the sportsbook, you will also find a VIP lounge area that will serve you high-quality meals, seasonal draft beers, and a wide assortment of wine and cocktails.
However, if earning free drinks is your idea of a good time then a Mississippi sportsbook is probably not the best place for you to go. Every single one of these establishments, whether non-alcoholic or not, refuses to offer any drink comps to sports bettors no matter how much you wager at once.
Markets Available for Betting in Mississippi
The sportsbooks of Mississippi will allow you to make bets in a wide variety of major sports markets such as football, hockey, basketball, baseball, soccer, golf, tennis, auto racing, rugby, boxing, MMA, cycling, and even cricket! This covers a lot of the basic markets that most people wish to bet on but you will not find much in the way of political betting markets or e-sports betting markets here. Sportsbooks in Mississippi are also strictly prohibited from offering bets on amateur athletic events such as high school sports.
Mobile Sports Betting in Mississippi
While there are mobile apps available for some sportsbooks in Mississippi, such as Pearl River Resort and Bok Homa Casino, there is a strange caveat involved for those who wish to make wagers on them. In order to use these mobile sportsbook apps, you must be physically located inside of the brick-and-mortar casino that you wish to place your bet with. This reduces some of the appeal of having a mobile app in the first place since you still have to leave your house to make your bets.
They attempted to fix this silly restrictive law in February of 2019, but the bill died without even receiving a hearing. Nonetheless, it is good to see that they are actively trying to fix this situation and our guess is that it will be resolved within a year or two.
Click Here for Our TOP 2023 USA Sports Betting Site!