Formerly known as the Lady Luck from 1964, the property closed for renovations in 2006 and finally reopened as the Downtown Grand in October 2013. Naturally, it has the most modern feel and look of all the downtown properties, and to go with its boutique style hotel is an attractive but very limited sportsbook.
Downtown Grand Sportsbook
One of many downtown sportsbooks run by William Hill, the Downtown Grand shows and takes bets on sports only. The closest you get to horse racing is this virtual race option right by the cashier. A TV screen shows horse racing lines. After bets are in, a race occurs with CGI looking graphics and the result is completely random. It's like watching eSports except the outcome is determined by a computer instead of humans. It's pretty mindless, but who says mindless entertainment cannot be magnificent?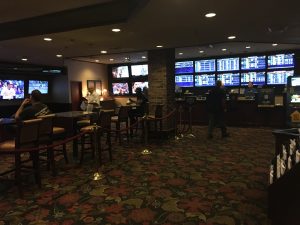 The sportsbook is rather small and horizontally built. There are 20 TVs with very good picture quality, but the sound for the main game featured is just average. The seating setup is mainly informal with seven round tables and chairs scattered around with a few wider chairs up front.
Since this is a William Hill sportsbook, there is no advantage to betting at the Downtown Grand specifically as its daily and future lines will be the same as any William Hill book. In addition to the betting board, you can find all the lines on any event present or upcoming on the pamphlets by the cashier.
Size and Location
The non-smoking sportsbook is small and located down a hallway away from the gaming floor. However, it is near a music bar which is loud enough to cause a distraction. Despite how small it was the tables said you must be a hotel guest or place a $50 bet to sit at them, but it didn't seem like this was strictly enforced.
Traffic and Viewing Ability
Since this is more of a "hip" casino and especially since there is no horse racing, we expect tourists to be in here with a mix of locals. The book is small enough that you should be able to see every TV but is built rectangularly enough that you can't if you aren't sitting in the middle.
We liked the energy of this sportsbook. Its dark lighting and sharp picture quality made for a talkative environment, so we expect this sportsbook to always be active and full during busy games.
The betting board is a bunch of TVs located behind the cashier which is all the way on the left side of the sportsbook perpendicular to the TVs. If you're sitting close to it you should be able to read it, but otherwise, you have to get up and we found that annoying.
To counter that, you can open an account inside and download the William Hill sports betting app. It's a fast and free process and is very convenient for the frequent bettor.
If you want to do live betting, which is betting on games after they have started you can do it on the app or over the counter. It isn't available for every last game, but it usually is for all the major sports. Regardless of the downloading the app, you are required to have a William Hill account if you are going to bet at least $2,000 before any game starts or at least $500 for any live bet.
Drinks at Downtown Grand Sportsbook
The biggest drawback to the sportsbook is not only are there no drink tickets available, you're also not allowed to bring in any food. It left us wondering what is the point of having the tables if there's no food or beverage you're allowed to put on it? It's ludicrous to have people come into your sportsbook to presumably spend several hours in and not permit them to eat or drink.
Casino at Downtown Grand
Among one of the larger gaming floors in downtown is an adequate selection of table games which you can play for $5, and their slots were voted best in 2016 for downtown slots by Strictly Slots Magazine. The most distinct part about Downtown Grand is that it is the home to eSports. In the Bar & Game Lounge video game tournament players and casual players can play and hang out over fast casual food and drink. It would be nice if the sportsbook offered that too.
Dining and Bars
This sportsbook is as separate from its casino floor and activities as any sportsbook we've seen. Not only can you not bring food into the sportsbook, there is nothing immediately nearby either and the same goes for video poker. It's too bad because there's a bunch of cool bars and places to eat, but their availability to the sports bettor is a tease.
Hotel at Downtown Grand
The Downtown Grand is not directly on the action-packed Fremont Street, but since it's a short walk to get there this hotel is of great value during the week where rates are often $40 or less. Its rooms are all beautifully updated, and the boutique hotel makes a lot of eclectic choices with strong colors and artsy furniture. The standard room is 350 square feet and the largest of its several suites is 1,150 square feet.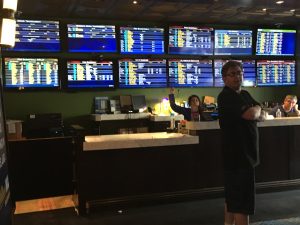 The hotel's largest standout is the Citrus Grand Pool Deck rooftop pool party. This sort of thing seems out of place since it's so inconsistent with downtown's reputation, nevertheless it gives downtown Las Vegas some diversity and a reason for the millennial partyers to head its way.
Downtown Grand Sportsbook Rewards
Each dollar wagered is worth point, and you must accumulate 5,000 points before earning yourself a single $5 free play. Throw in the fact there are no food comps, and this sportsbook doesn't have any rewards worth getting excited over. Regardless of that, we still say swipe your card for each bet because then your bet will be tracked, thus preventing you from being left with nothing in case you misplace a winning ticket.
Wrap-Up
This sportsbook was quite a letdown because it has the potential to be much better. We like the informal seating set up and the picture quality, but the fact you can't eat or drink anything inside is ridiculous. Eating and drinking is a big part of what makes watching and betting sports fun. Eliminating that completely is like telling a kid on Halloween you can go door to door in your costume, but you can't have any candy.
Current 2020 Sports Betting Grade: C-
Click Here for Our TOP 2023 USA Sports Betting Site!