Open since 1995, the Hard Rock is in a peculiar location. It is only about a mile east of the strip, but all areas this close to the strip are a bit sketchy. You wouldn't know it from the inside though because the Hard Rock is really nice. Given how close and far it is from the center of Vegas tourists will still be its main attraction, but locals will stop by here too and its newly renovated sportsbook is partly why.
Hard Rock Sportsbook
Run by Cantor Gaming, the sports side has nine large TVs including a giant screen, while the racebook has five TVs and one big one. The Hard Rock sportsbook is beautifully designed, which is why it was surprising their TVs' picture quality was a little below average. For instance, we thought the Mets were in a 0-0 game until we squinted and could see they were losing 9-0. The sound quality for the main game was also a problem. There weren't many people in there, but the Hard Rock's casino music was still drowning out the broadcast.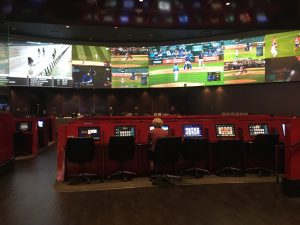 Smoking is not allowed inside the sportsbook itself, but there is a video poker bar adjacently connected with tables and chairs that do allow it. You can always take a seat in this bar, but it does not face the sportsbook and is only open on weekends or during big games.
You don't have to go inside the Hard Rock to place a bet. All you have to do is open a free account which you can do quickly right inside and download the Cantor Gaming sports betting app. Once you have it, all the lines are at your fingertips and the app also has some live betting. Live betting is wagering on games after they started. You can't do this inside most sportsbooks including this one, but the app will at least have it on select games.
Size and Location
If you park in the garage, the sportsbook will appear right as you complete the long hallway walk and enter the casino floor. It's off to the side but is still right near the action. Even with it having its own entrance, it should still be easy to overhear noise when the casino gets busy.
The seating design is great. Sports has desk row seating of 5×8 and each seat has their own TV to go with their premium leather swivel chair. The racebook has the same seating design in rows of 3×6.
There is VIP seating as well although they were a little oddly located. Seating is six very wide leather chairs and is tucked away almost too privately in the back right corner.
Traffic and Viewing Ability
We loved this sportsbook's design so much because there is plenty of walking space, but it is also small enough and built vertically enough so that you have a great view of everything no matter where you are sitting. The betting boards are also perfectly placed as there is one on each side of the book, but if you don't feel like looking up to read it you can always grab a pamphlet by the cashier. In addition to that day's lines, the pamphlets will also have lines for futures, upcoming events, and any current props.
It was pretty inactive during the day, and we figure that to be the case during most weekdays. It probably doesn't get especially busy at night either, but we expect that it would during really big events.
Drinks at Hard Rock Sportsbook
Getting drink tickets is perhaps this sportsbook's biggest drawback. We accept that you have to bet in order to drink, but $150 on the horses and $300 on sports is ridiculous. These requirements are about what the going rate is at any Cantor Gaming sportsbook but seeing that the Hard Rock is off strip we thought maybe they'd be a little friendlier. Still, it can never hurt to be extra nice to the cashiers or cocktail servers because you never know, maybe they'll hook you up with an extra ticket or two.
Casino at Hard Rock
The gaming floor is small but is nice and fun to walk around in. It has a high limit section and plenty of blackjack tables, but beyond all the most typical casino games there weren't that many to choose from. We weren't expecting to be blown away with ten mixed games, but the limited variety was a disappointment, and they don't make up for it by having $5 minimum bets on its normal games.
Dining and Bars
The Hard Rock has a nice selection of restaurants and places to grab a quick bite, but you have to leave the sportsbook to get to any of them.
In addition to the nearby video poker bar that is usually closed, there are several other video poker bars spread around the casino. It's too bad none of them are near the sportsbook considering how high you have to bet to get a drink ticket.
Hotel at Hard Rock
The hotel has over 1,500 rooms. They start at 460 square feet and get up to 700. All the rooms are modern, and the Hard Rock makes a point to inform their rooms have oversized bathrooms. Most weekdays you can get them for under $100 before they double on the weekends.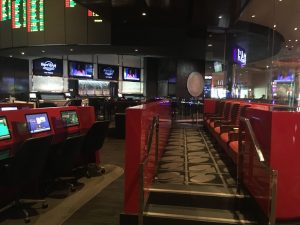 If you're planning to party hard and privately, the Hard Rock has around 30 types of suites and villas. They start at 900 square feet and get into several thousand. To find out pricing you'll have to call, but availability can never be promised as these types of rooms are often reserved for VIPs.
Hard Rock Sportsbook Rewards
Since the sportsbook's edge is relatively small compared to the rest of the gaming floor, there aren't any comps or reward points to earn, but there are for horses. You receive back 2% on any win, place, or show bet which you can use for food, and you get 5% back when you place an exotic bet.
Comps are always what comes to people's mind when they gamble, but in the sportsbook, we advise swiping your player's card whenever you bet no matter what the comps are. When you do this your bet is tracked. This protects you from being out whatever your winning ticket was worth if you managed to misplace it.
Wrap-Up
All the Cantor Gaming sportsbooks are pretty solid. And while we're not about to call this one a disappointment, its shortcomings keep it from being an elite sportsbook. Its size and setup are perfect, but the picture and sound quality were lacking, casino noise creeps in, it's way too much money to get a drink ticket, and there's no nearby food or daily video poker to make up for it. If you just want to sit down and watch, you'll probably enjoy yourself because it's really comfortable. But if you care about having all the other things at your disposal then we think you should go elsewhere.
Current 2020 Sports Betting Grade: B
Click Here for Our TOP 2023 USA Sports Betting Site!