It's probably just us, but we feel like we never hear anybody talk about the Monte Carlo. Don't get us wrong, this is a wonderful piece of Las Vegas excellence. Built in 1996 and owned by MGM Resorts International, it delivers on every level. And since the opening of its neighbor the T-Mobile Arena, Monte Carlo is smack in the middle of things which is why they are now expanding. Their sportsbook is non-traditional, but we liked it a lot.
Monte Carlo Sportsbook
The Moneyline Bar and Sportsbook is more of a big-time sports bar than anything else. But the cashier is right at the entrance, so it's simple to just walk in, bet, and walk out. There is a big screen TV right across from the cashier along with the pamphlets showing all of that day's action including the lines for upcoming events, futures, and whatever props they might have.
The day to day lines won't be any better or worse than another book's for some special reason. Whenever lines come out, they are all pretty similar. The one possibly big difference is for the futures. Your best shot at getting a possible great futures payout is at an off strip local casino since those betting on the strip are mainly tourists and not concerned about the payout.
Right as you go inside Moneyline there is a pool table and plenty more great sound and picture quality TVs including some big screens that spread across the entire bar which bends around like an L. Other seating includes restaurant-style booths and some wide length benches and tables.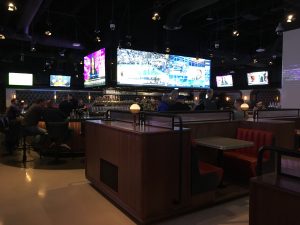 Since this is a bar, no smoking is allowed and there is a bathroom right inside. Unfortunately, there is no horse racing shown or any wagering available for it, but you can still open an account quickly and easily at the cashier, so you may download the PlayMGM sports betting app. The maximum bet allowed is drastically less, but so too is the minimum bet. With the app, you have access to every game including the horses, and it also features live betting on every game. Live betting is betting on games already in progress. You cannot do this over the counter, but since it has become a popular form of betting MGM Resorts is planning on making it available at all of their books sooner before later.
Size and Location
Moneyline's seclusion is great as it is completely away from all casino noise. The bar is big and is located in the middle of the casino. It isn't particularly close to the table games at Monte Carlo has a lot of walking space, but it's easy to find.
Traffic and Viewing Ability
Since Moneyline is secluded, it will be quiet when there isn't anything major going on, but we would expect this place to fill up by mid-afternoon when every game is going and especially during popular events like NFL Sunday or March Madness. Since not every TV is big and this is not traditional theater style sportsbook seating, finding the game you want to see could be an issue if you show up to a packed crowd. Otherwise, with all the seating and TVs, you got everything right in front of you.
As the cashier is at the front of Moneyline before you enter the bar, so too is the betting board. That means you have to get up every time you want to check the line, so this gives you a good reason to either download the app or just keep a pamphlet with you. Just note that lines can change during the day, so make sure you're getting the price you want when you bet.
Drinks at Monte Carlo Sportsbook
It used to be easy to drink for free in traditional sportsbooks, but those days have passed. Now you have to make a large bet just to receive a single drink ticket. We figured since this is a bar there won't be any, but I was pleasantly surprised to learn if you do bet $100 you still receive a free drink. There are no any cocktail servers, but if you can get in good with the cashier you never know maybe he'll give you some extra ones.
Casino at Monte Carlo
The casino floor is large and has got plenty of slots and all the games you would want, but otherwise, there is nothing too exceptional about it. Expect minimum bets to stay at $10 and Monte Carlo does a good job at controlling the smoke.
Dining and Bars
Moneyline also has plenty of video poker facing the TVs which is another great way to get cheaper drinks. If you want to get something to eat there is no food service menu, but the takeout Moneyline Deli is right inside.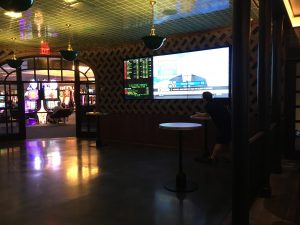 Their menu is not especially broad but it's better than nothing as many books force you to leave entirely to grab food. Outside of Moneyline are numerous other outdoor bars like Diablo's Cantina and back inside are some fine restaurants, but the deli is really the only food option.
Hotel at Monte Carlo
Keep an eye open for good deals as Monte Carlo occasionally practically gives away their rooms. And given their solid centralized location on the south side of Las Vegas Blvd., Monte Carlo could make for a great value. Their standard rooms are spacious with modern bathrooms, and if you want to go big check out their suites and penthouses. Their amenities do not include a spa, but there is a fitness center.
Monte Carlo Rewards
Earning food comps and tier credits is most efficiently done at slots and table games by far. Sportsbooks rarely give you anything and Moneyline gives you nothing. Nevertheless, it is sensible to swipe your card when you bet anyway because now your bet is tracked. Meaning if you manage to place a winning bet and lose the ticket, just bring your player's card and you will still collect your winnings.
Wrap-Up
Horse racing is neglected here, but we never got the impression exclusive horse players wanted to do their work in a sports bar anyway. We wouldn't mind having a few more food choices and it's too bad you can't see the betting board from the inside, but my guess is it wouldn't bother anybody that much to get up to bet. Overall, this is a well designed, exciting, and creative environment for a sportsbook. We think you'll have a good time here.
Current 2020 Sports Betting Grade: A-
Click Here for Our TOP 2023 USA Sports Betting Site!