Formerly known as Sundance and then Fitzgerald's, The D has been the new name since 2012. Maintaining its luck of the Irish theme, this shiny remodeled casino is one of the more energetic spots on Fremont Street and is the tallest building in downtown Las Vegas. It will mainly attract tourists but given how much locals like to stay off the strip they too will show up regularly. Except the sportsbook won't be why.
The D Sportsbook
We were unpleasantly surprised at what a letdown this sportsbook was. Run by William Hill, The D does not handle any horse racing, and none of the eight normal sized TVs produced any sound. Seating provided eight chairs up front with a couple high tables and chairs behind it.
Many of Las Vegas' sportsbooks are independent and set their own lines, but since William Hill operates a bunch of them, that means the lines are the same no matter which location you are at. The daily lines are shown on the betting boards behind the cashier. You can also pick up a pamphlet that'll show them along with the lines for futures, upcoming events, and whatever props.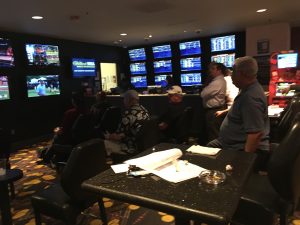 You can also see the lines by opening a William Hill sports betting account and then downloading the app. This is all simple and free, and from there you can bet all the same lines shown in the sportsbook, and you can do this anywhere within Nevada boundaries.
Live betting is also featured both in the sportsbook and on the app. Live betting is a popular new betting form that is in high demand. It entails betting on games already in progress. The D sportsbook gives you a number of live betting options, and the app gives you many more.
Normally you don't need an account to place bets, but with William Hill you do if you plan to bet at least $500 for live bets and $2,000 for pre-game bets.
Size and Location
The sportsbook allows smoking as it occupies a small space. It can be found next to the keno lounge on the second floor right in the middle of the casino. Since it's surrounded by everything, it's very noisy. The most annoying part is overhearing the silly but popular Sigma Derby simulated horse races going on right behind it.
Traffic and Viewing Ability
We know there is no way anybody goes out of their way to watch a game here. That said because there's such little seating it can still fill up on any day, but we doubt it always fills up even when there's a big game going. You can see all the TVs just fine, that's why it's a shame they don't make any noise.
The betting board is posted on a bunch of TVs behind the cashier. Depending on how close you're sitting to the cashier and how good your vision is, you might not have to get up to read the lines. This is the closest we got to giving this sportsbook a compliment.
Drinks at The D Sportsbook
Drinks always used to be free in the sportsbooks, but now you have to bet a certain amount just to get a drink ticket. The D requires a steep $200 per drink ticket, making them a mere throw-in. If you really want more tickets or any ticket, try to get friendly with the cashiers and/or the cocktail servers. These new rules are only enforced so strictly.
Casino at The D
The two-floor casino offers over 1,000 slot machines and a variety of table games. All blackjack games pay 3:2 and 10x odds are offered on craps. $5 minimum bets are always available, and The D's top attraction on its gaming floor is the Dancing Dealers. If you like to watch beautiful women dance especially while you gamble, then be sure to stop by The D.
Dining and Bars
Video poker is one of the best ways to play for comped drinks. There's plenty of it at The D including right next to the sportsbook, but you cannot see inside. The D's other two main bars are the Long Bar on the Vue Bar which is on the patio.
You can get some chili dogs at the American Coney Island, but there are no food options right near the sportsbook. If you're interested in fine dining, Joe Vicari's Andiamo Italian Steakhouse is one of Las Vegas' best-kept secrets.
Hotel at The D
The updated hotel has over 600 rooms many of which are suites. They also have a pool and 24-hour fitness center.
The D Sportsbook Rewards
Like every sportsbook, The D doesn't have much to offer by way of rewards as there are no food comps.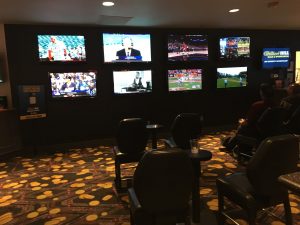 All you can earn is a $5 free play for every 5,000 points you accumulate. Points are accumulated by dollars wagered. $10 = 10 points.
This may make swiping your William Hill player's card seem almost pointless, but it's a good idea to still do it because then your bet will be tracked. Meaning in the event you place a bet, win, and then discover you lost your ticket, you will still be paid.
Wrap-Up
The D really is one of the most fun places to go to downtown. After the Golden Nugget which has completely remodeled itself, The D is the spot. However, we're reviewing the sportsbook. And it is by far the most disappointing part of the entire casino. No effort has been put into it. There are no big screen TVs. You can't drink, eat, or get away from the smoke. You can hear a fake horse race going on behind you, but you can't hear a single telecast from any of the games. What are they going to do next, shut the TVs off?
Current 2020 Sports Betting Grade: D-
Click Here for Our TOP 2023 USA Sports Betting Site!