Anchoring the south side of Las Vegas Blvd., MGM Grand is one of the most well-known hotspots on the strip. Unlike MGM Resorts International's other top name properties, MGM Grand isn't so glamorous or glitzy. It's a bit dark, smoky, and overall possesses something of a rowdy, almost corrupt energy what with all the high price PPV boxing matches it has hosted. In spite of all that, it takes a big step forward once you enter its great sportsbook.
MGM Grand Sportsbook
This sportsbook is divided pretty close to even for both the sports side and the racebook side. There are around 30 sports TVs including two big screens and 20 TVs including one big screen for the horses. It is a completely smoke-free area as even E-Cigarettes are disallowed. Like all of MGM Grand, the lighting is slightly dim.
In terms of the daily lines, MGM's will be similar to any other property. They are not consistently geared towards making a favorable line for the favorite or the dog. Futures though is a different story. Strip bettors are generally tourists who are not willing to go out of their way to find the best payout because having action after they leave is enough. If you do not want to settle for a measly payout that is certainly a long-term losing proposition, try your luck at a local off strip casino but know their lines aren't guaranteed to significantly better.
MGM Grand now also has the PlayMGM sports betting app. You can open an account inside the sportsbook. It's fast, easy, and once you are ready to go you can download the app and access every line. The minimum bet is smaller, but the maximum bet allowed is drastically smaller. If you are interested in live betting, PlayMGM has a live line for every game. Live betting is betting on games that are already in progress. You cannot do this at the sportsbook just yet, but it is anticipated that it will be available in the near future.
Size and Location
This is one of the bigger sportsbooks around and built horizontally. As you enter, by the long desk of cashiers that has up to 16 you will see all the pamphlets for that day's sports action along with all other upcoming events, futures, and whatever props. On the other side of the cashier are the racebook's pamphlets.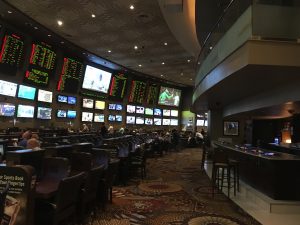 There are lots of places to sit in the sportsbook beginning with four rows totaling 65 leather club chairs that include a desk writing area, however, it only accommodates righties. Mixed in also are a couple leather loveseats and up front in the middle are some VIP leather couches, but anyone can sit there when it isn't busy. Behind all the leather are a handful of high stools and tables. The racebook features three rows of 40 desk booths that have their own tv.
To access the sportsbook, the closest entrance on foot is using the bridge sitting above Las Vegas Blvd. directly across from New York-New York. If you are driving, valeting by the main entrance is the quicker option as the garage is on the opposite side of the sportsbook. Whichever you use, walk across the casino and it's located slightly past the poker room but before the Centrifuge bar. The casino floor is right there but the book is built just far enough away that no chirping from slot machines is easily overheard.
Traffic and Viewing Ability
Since this sportsbook is very accommodating and in a huge casino, expect it to get busy especially during popular events like NFL Sunday, March Madness college basketball, or any big playoff game. No matter how big any book is if you do not show up early to events like these it could be hard to get a seat.
Even when it's jammed pack it's still not uncomfortable as there is plenty of walking space between the front row and the cashier, and the back row and the wall. The betting board is large and stretches all the way across. The sound quality is strong, and if you are seated in the middle you will have a good view of every TV. If not seated in the middle, the view is still strong no matter where you're sitting since even the back row is relatively close to the TVs.
Drinks at MGM Grand Sportsbook
Unfortunately, the days of obtaining easy drinks in the sportsbook have passed. The only way to get one now is with a drink ticket for which you must place a hefty bet. It's not too demanding for the racebook as they only require $10 per ticket, but it is $100 for sports. That may sound ridiculously high but that is actually one of the better deals in town.
Still, there is no law in trying to get friendly with any of the cashiers or cocktail servers who might be kind enough to throw you an extra ticket or two. If you are not in the mood for any of this, you can always slip a $20 bill in the video poker bar located in the back of the sportsbook and play it slow. Just note that if you do, your back will be to the TVs.
Casino at MGM Grand
The casino floor is huge and one of the largest casino floors in Las Vegas. You will find well over 2,000 slot machines along with over 100 table games. The betting limits are going to stay in the minimum area of $10 or $15. The only time you might ever see $5 is during the wee hours of the morning.
Dining and Bars
A great sportsbook offers food options and MGM Grand knows that. Adjacent to the racebook is a deli that also has Nathan's hot dogs. There is plenty of seating there if you want to take a break, and next to the deli is the bathroom along with a Bonanno's pizzeria.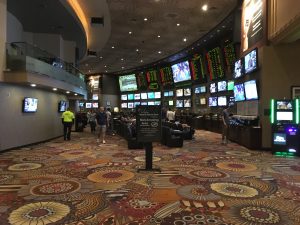 Directly across from the sportsbook is TAP, a great sports bar with great food and a ton of TVs including big screens. Around the rest of the casino are many other video poker bars, lounges, and restaurants along with a food court located in a section called The District.
Hotel at MGM Grand
If you need somewhere to sleep, MGM Grand has the biggest hotel in the United States. Its standard rooms are spacious with updated bathrooms, and it only gets more stunning with its junior and queen suites. If you really want to go all out, check out their separate VIP hotel called Skylofts where every room is the size of a large house.
MGM Grand Sportsbook Rewards
Rewards towards your player's card are typically hard to come by in the sportsbook. There are no points accumulated for betting sports, but you do receive back 2% towards food comps for all horse bets that are win, place, or show, and 3% for all exotic bets like Trifectas. Despite the limited incentive to swipe your card, you still might as well because now at least your bet is being tracked. Meaning if you lose a winning betting ticket, just bring your card and they will still pay you out assuming a scavenger hasn't already cashed your ticket.
Wrap-Up
There is only so much to say about this sportsbook because top to bottom, it does it all and passes with flying colors. It is comfortable, spacious, and has an uncomplicated view of everything. Drinks are relatively cheap by Vegas' new sportsbook standards, there is plenty to eat, and despite MGM being a loud casino, the noise doesn't creep in and cause a distraction. We highly recommend it.
Current 2020 Sports Betting Grade: A
Click Here for Our TOP 2023 USA Sports Betting Site!