Open since 2000, the Suncoast is currently owned by Boyd Gaming. Located far out in the southwest and across from the outdoor mall called Tivoli Village, it serves as one of the newer casinos tailored to the locals. The Suncoast sportsbook hadn't been too memorable for a long time, but we were happy with its recent renovations.
Suncoast Sportsbook
What used to be a small amenity is now one of the Suncoast's highlights. Everything in the race and sportsbook can also be found on the B Connected sports betting app. Before downloading the app, first you need to create an account which can be done for free over the counter. The betting limits are substantially lower on the app, but it does offer some live betting options for sports bettors. Live betting is betting on games while they are in progress. Like most sportsbooks, the Suncoast does not offer this in person.
Size and Location
The renovated and now large sportsbook has an easy access walkway pathed from the parking garage. Since it's not secluded from the rest of the casino you can overhear the music coming from above and the slot machines right behind it, but this wasn't especially distracting.
Traffic and Viewing Ability
This sportsbook is certainly attracting more people than it used to, and it'll probably be jumping during football season and March Madness, but you can still count on there being plenty of room. The main sportsbook seating is limited to just three rows of five premium leather club chairs. Together they face one large easy to read betting board. Surrounding the betting board are eight medium sized TVs and no large screens. If you turn your head to the left, you will find a dozen more comparably sized TVs.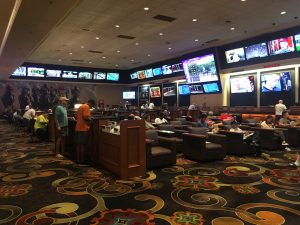 Most sportsbooks have all the chairs facing the same direction, but here the racebook seating is perpendicular to the sportsbook. The racebook seating now constitutes most of the Suncoast sportsbook, using the traditional desk row seats with their own TV. The desk rows have beautiful brand new granite countertops and can hold 120 people in the six rows. Together they face another 20 TVs and that includes one big screen. The picture quality on every TV was fine, but there was no sound coming from any of them. There weren't any "important" games going when we checked in, so while we don't think the sportsbook will remain soundless all day, there should always be something that is being broadcasted.
Drinks at Suncoast Sportsbook
If you want to drink while you watch the game, you'll have to make a bet. Once you do, the clerk will hand you a drink ticket. In the sportsbook, $25 gets you one ticket and $50 gets you two. It's expensive because drinks are just a throw-in these days, but this is actually a good deal. Most strip sportsbooks mandate minimums of at least $100.
We were happy to see the racebook doesn't give out drink tickets because they still have the cocktail servers making the rounds like nothing has changed. This is very friendly compared to most racebooks on or off the strip as most of them require a bet of at least $10.
Casino at Suncoast
Beyond your typical roulette and crap games, the sizable casino floor at the Suncoast offers multiple variations of blackjack. In addition to the standard six deck shoe you can play Single Deck, $5 Double Deck, Bonus Spin Blackjack, and Super Fun Blackjack. Some of its other mixed table games are Face Up Progressive Pai Gow, Fortune Progressive Pai Gow, Dragon Baccarat, Progressive 3 Card Poker, and Ultimate Texas Hold'em. As is always the case for local casinos, $5 minimums are easy to find.
Dining and Bars
There are no food setups right inside the sportsbook, but a short walk from it are a Subway and a bagel and pastry shop. If you are into fine dining, there's SC Prime Steakhouse & Bar, or Salvatore's, which is Salvadoran and Italian.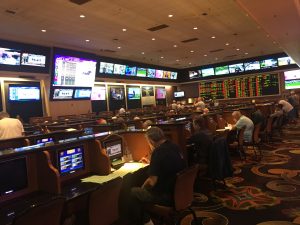 We always love when there's a video poker bar facing the sportsbook. Plenty of people don't need to bet on a game to get into it, but they still would like to drink while they watch, and video of poker is perfect for this.
There's a really nice race and sports lounge behind the sportsbook. It can't see well into the sportsbook, but the bar has plenty of TVs going around it and the lounge seating has lots of modern tables and chairs. In the lounge you can also light up a cigar, something you cannot do in the sportsbook.
Hotel at Suncoast
Bad news first. The resort fee is $28.24 a night including the tax. This is closer to what the strip hotels charge than we had hoped. The rooms start at 550 square feet and their luxury suites get over 2,500. The lowest priced room rate is usually around $80 during the week before doubling or tripling on weekends. Check their website to see if any promotional packages are offered that week, and Discounts are always available for seniors, military members, and AAA members.
Suncoast Sportsbook Rewards
We had ourselves quite a time trying to understand how the comp and rewards system worked. Even the manager couldn't competently explain it. But if we grasped it correctly, it goes like this: for every $600 you bet in the sportsbook, you get one point. Then, divide however many points you've accumulated by 600, multiply that number by 100, and that equals the dollar amount.
Example, if you've spread out $6,000 worth of bets, you have ten points. Ten divided by 600, multiplied by 100 equals $1.67. As you can see, sportsbook comps are pretty pointless to try and run up. The main advantage to swiping your card at the betting counter is so that your bet is tracked. That way if you lose your ticket, you will still get paid if you win.
The comps in the racebook are much friendlier since the racebook has a much greater edge. Here you earn one point for every $12 you bet, and after accumulating 20 points you now have $5 in comps. To simplify that, you get $5 back for every $240 you bet.
Wrap-Up
We would have liked to see at least one big screen TVs in the sportsbook, but if the Suncoast wants to primarily aim its business at the horse players then so be it. Either way, they have a nice sportsbook now. It's comfortable, clean, and easy to get in and out of without having to walk through the whole casino.
Current 2020 Sports Betting Grade: B+
Click Here for Our TOP 2023 USA Sports Betting Site!