Silverton Casino in Las Vegas is only a few miles south of the main tourist action on Las Vegas Blvd. Near the South Point casino, Silverton will primarily serve to Las Vegas' locals.
It isn't quite as glitzy as what the tourists are smitten by but make no mistake, Silverton is not some local dump. It's a solid venue themed as a camping lodge with plenty of space to walk around, a nice selection of restaurants, and of course, a race and sportsbook.
Silverton Sportsbook
Whether you're just dropping in to make a quick bet or are planning to hang out a while, garage parking is optimal for this sportsbook as it is the first thing you see when you enter the casino. Run by Cantor Gaming, the sharp colored red carpet and desk countertops will catch your eye whether you're betting or not.
Size and Location
As is the case with many local casinos, it's not especially big. There are 3 rows of about 9 desk seats that each have a TV which also feature other casino games. The set up is in line with what many other Cantor Gaming and William Hill books have. It is there to serve the purpose of offering bets, and that is about it.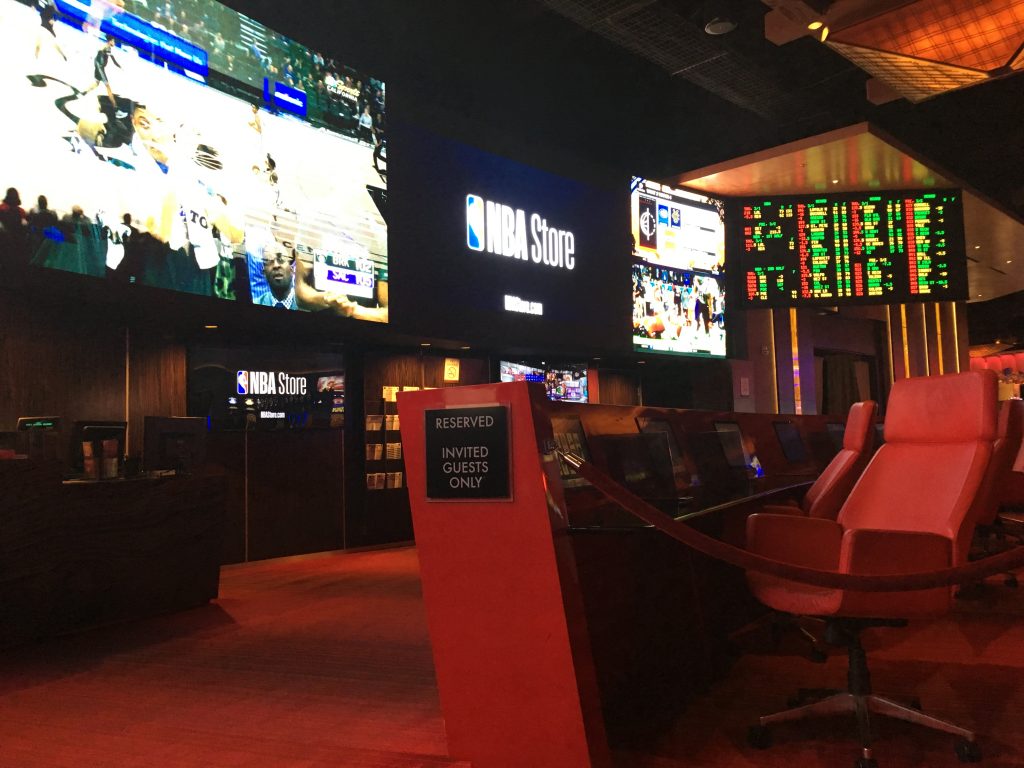 The Silverton sportsbook is located in the farthest area from the Bass Pro Shops and main casino entrance. If you walk straight past all the table games, all of the slot sections, and the main bar, once you continue on to the end of the casino, you will find the sportsbook near the parking garage. If you don't look for the book while in Silverton, there is a good chance that you wouldn't see it at all.
Traffic and Viewing Ability
Since there are plenty of local casinos with far bigger sportsbooks, this sportsbook is not likely to attract a slew of bettors that sit there all day every day. You can expect a lot of people to be coming and going, with its busiest times occurring on NFL Sundays and during big playoff games. But other than that figure it will be a laid back environment. The lines themselves are comparable to most lines around town. The smaller the sportsbook, the less likely they are to make a really expensive line on the favorite to try and rip people off.
There are only up to five cashier windows to bet at which are directly below the great quality picture TVs which nicely run in a straight horizontal line. On each end are two moderately small betting boards that change about every 20 seconds since they do not display all the available bets at once.
Adjacent to the betting windows you'll find the pamphlets for all horse racing, future's betting, and other upcoming events. If you don't feel like getting up to look at those or bet at the window, you can always create an account on CG Technology's mobile app and just bet from your phone or tablet. The betting limits are stricter, but they have everything you would normally bet on including live betting, which is betting on games already in progress.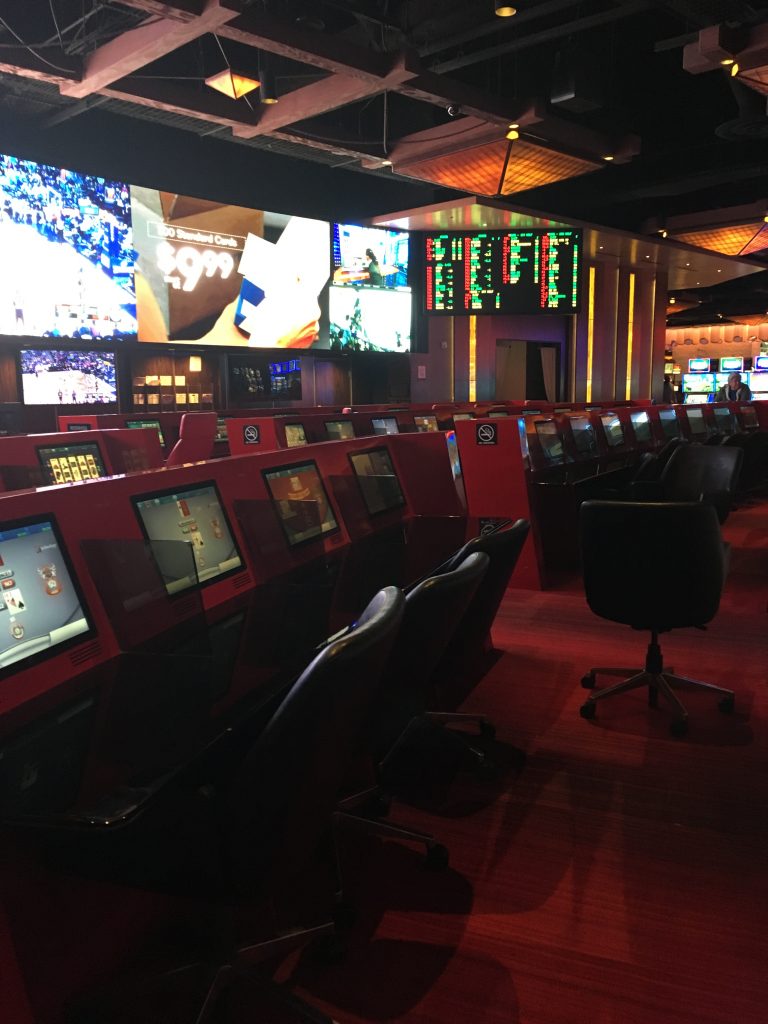 Most players sit in the individually seated booths at the book. There are a few dozen total seats, the majority of which tend to be unoccupied. Each of the booths have a computer screen where you can use a Cantor Gaming account to play a variety of casino games.
There is no general seating or otherwise open area for players to watch the games beyond the individual booths. If you are with a large group, Silverton's sportsbook would not be an ideal option. Each seat is relatively closed off from the next seat, so it is not a very open environment.
The staff at Silverton were courteous in providing any information requested, including details on the player reward program. There is usually more attendants available than needed, so you shouldn't have a tough time placing your wager.
The lighting isn't noticeable and is on the darker side. It's fairly noisy as there are slot machines right behind it, which are also by the bathroom. Smoking is not allowed within the red carpet confines of the sportsbook, but since it's small and the slots are right there, you are liable to catch some secondhand smoke.
Drinks at Silverton Sportsbook
The policy for free drinks at the Silverton sportsbook is in line with what you will find at other CG Technology sportsbooks. They tend to be slightly on the tighter side, but being friendly with the cashier will usually be enough to earn you a few drink tickets.
There is a waitress who will walk through the book and is available for drink orders. Exchange your ticket when you place the order and you will be set. The tickets can also be used at the bars in Silverton as well and are valid for beer, well drinks, soda, or water.
Casino at Silverton
Silverton has around a dozen table games with low minimums and reasonable rules. Since they are a locals casino, they need to be competitive, but you won't find high limit games or multiple craps games running.
For the most part, Silverton is built on slots and video poker. As a small time table games player or sports bettor, Silverton will suffice, but serious sports or table games players will find superior options elsewhere.
Dining and Bars
There is no nearby food court or any eatery that allows you to still watch all the games. The closest food joint is a Johnny Rockets. Next to that is a Starbucks and a Wuhu Noodle Chinese place.
As a whole, the dining and bar options are not terribly friendly for sports bettors. Silverton primarily focuses on locals, with a further emphasis on slots and low limit table games, so you won't find large groups of sports bettors at the bars.
Hotel at Silverton
The hotel at Silverton is small, especially by Las Vegas standards. It is just four floors and the rooms are fairly standard.
While it is located just off the highway, the majority of guests are only there to play, so the hotel is not a priority. The hotel is located within the casino, not to be confused with the larger building next door, which is an independent hotel called The Berkeley, Las Vegas.
Silverton Sportsbook Rewards
You can't rack up points on your player's card to use toward food comps for sports bets at Silvertonm. It's not a bad idea to swipe it anyway though because with your player's card number entered in, a winning ticket can be traced and paid out in the event you lose it.
If you are betting the horses you receive 3% on all your "Win, Place, or Show" bets and 5% on any exotic bets. These include the likes of trifectas, superfectas, etc. Players who use the CG app may be eligible for different bonuses or rewards.
Wrap-Up
As a whole, this sportsbook is good, not great. The parking is convenient and it's relaxing to sit in, but between the noise, smoke, strictness for obtaining drink tickets, and not much to do without leaving the sportsbook, this would never be my go to.
If you want to place a bet and CG has a solid line, Silverton is a great place to stop by. If you want an exciting atmosphere or to watch several games at once, this book is not for you as it is a small locals casino, through and through.
Current 2020 Sports Betting Grade: B
Click Here for Our TOP 2023 USA Sports Betting Site!