Open since 1995, this casino which was built for the locals is up in North Las Vegas. It has undergone multiple renovations over the years, including some in 2018. But like most of the Station Casinos, Texas Station is not overly impressive despite its satisfactory sportsbook.
Texas Station Sportsbook
Horizontally built, perhaps the most distinguishing characteristic inside Texas Station's race and sportsbook was the high number of premium leather club chairs. There were about 75 of them stretched across five rows. This is a nice little perk considering most sportsbooks do not have more than 15 or 20 chairs this comfortable.
If you really settle into your seat and don't feel like getting up to make a bet, that's okay because you can still wager from the Station Casinos sports betting app. If you are into betting both sports and the ponies, you'll need to have separate accounts. But, creating each one is a simple, free process, and it can be done right inside. The only potential drawback is the betting limits are a lot lower unless you get permission from the house to bet bigger.
The app will also feature some live betting options. Live betting is betting on games that are already in progress, and it is still among the newest and more exciting types of bets you can make. We think live betting will one day be a regular thing inside the casinos, but for now it's still pretty hard to come by. Texas Station does offer it, but only rarely for select games. In most cases it would be for the Vegas Golden Knights, a football Game of the Week on a Sunday, Monday or Thursday, or a decisive postseason Game 7.
Size and Location
Getting to this not too big and not too small sportsbook is only a brief walk from the nearby outdoor parking lot. It is also near the slot machines which had us concerned at first, but we didn't overhear that much noise.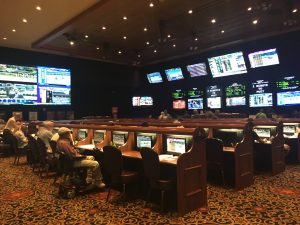 Behind the club chairs is some counter row seating. To the left of the chairs, which is the center of the sportsbook are some high tables and chairs. The left side is the racebook which has the standard desk row seats with their own TV. Altogether, the desk rows can fit 80 people in their five rows of 16.
Traffic and Viewing Ability
The action was fairly busy when we walked in, but not too crazy. It usually won't be at a local casino unless it's during football season or March Madness.
There was one big screen TV each for the race and sportsbook. The racebook's was on its side wall, and the sportsbook's can still show multiple games if there isn't a huge one going at the time. In between each big screen TV were about 14 more medium sized screens. Seven for sports and seven for horses.
The biggest issue was the betting board. We like that it was one big board and also that it was right in the middle, but it was hard to read. The cashiers are up front like they usually are, and the small lettered betting board is behind them. Even if you are sitting close it's still not that easy to read and this is a nuisance that provides that much more incentive to use the app.
Drinks at Texas Station Sportsbook
Texas Station is about as friendly as it gets these days regarding drink tickets. If you are betting the horses, you don't even need one. The cocktail servers come around like they did in the good old days of free sportsbook alcohol.
If betting sports, you need to bet at least $20 to get a drink ticket. That may sound like a lot, but you have to consider two things: the sportsbook's edge is relatively small, and $20 is also as low as it gets. Go to any strip sportsbook and you will most likely have to bet at least $100 just to get one voucher. $20 is the going rate at most local sportsbooks, but not all of them. The bet minimums are enforced, but only so strictly. There's no law against try to sweet talk your way into some extra tickets, so we advise you bring your best smile for the betting clerks and servers.
Casino at Texas Station
The crap games at Texas Station have 10x odds and also offer the new Fire Bet side wager. In addition to roulette and Pai Gow Poker, Texas Station's biggest table advertisement is its 24/7 $5 Blackjack tables. We don't want to minimize their offering, but to be perfectly frank $5 minimums are standardly available for most, if not all of the table games at any local casino.
Dining and Bars
If you aren't going to bet sports, video poker is the next best way to obtain some complimentary drink. There is a video poker bar right next to the sportsbook. It can't see anything inside of it, but it does have plenty of its own TVs. Regarding chow, there is a food court at close range, but you have to leave the sportsbook to go there. If something heartier is what you seek, your best choice in a Texas themed casino is probably going to be Beaumont's Southern Kitchen.
Hotel at Texas Station
This 200 room hotel charges a nightly resort fee of $22.59 after tax. This is a little expensive considering it's just a 3 star hotel, but hardly a surprise as just about every hotel in Las Vegas has a resort fee. Various discounts are always being promoted. You can save 10% by staying at least two nights Sunday thru Thursday, 20% if you book three weeks in advance, and 30% if you book at least three nights. They also have bed and breakfast packages, family packages, and dinner and movie packages for their theater right inside.
Texas Station Sportsbook Rewards
Betting sports is not the way to get yourself comps, but you do get $1 for every 1,000 points you earn, and you can put it towards food or your room. Point accumulation goes by how much money you would win, not by how much you bet. An example would be if you bet $1,000 on a team that is so heavily favored to win that the net win payout is only $200, you would only get 200 points.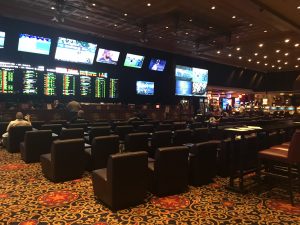 We were told the comp system frequently changes for the horse players, so it's best just to ask what it is when you show up. But what we do know is the racebook always comps much more generously as their edge is significantly larger.
Whether you are betting sports or horses, regardless of comps we still recommend you swipe your card whenever you bet because this will provide you with protection. Your bet will be tracked, so you are still guaranteed your payout in the event you lose a winning ticket.
Wrap-Up
Other than the hard-to-read betting board, this sportsbook works. Nothing is especially exceptional, but nothing is really missing either. It's not too crowded, it's not too noisy, there are ample comfortable chairs, and their drink policy is more than fair. We wouldn't mind if it could have been built more balanced and less horizontally so that you can see everything from everywhere, but sportsbooks of this size don't usually do that.
Current 2020 Sports Betting Grade: B+
Click Here for Our TOP 2023 USA Sports Betting Site!