As centrally located as it gets, the Flamingo is still a fun old-school place to be in. You can feel its gangster history as you walk around, plus that X Burlesque show is still there. Flamingo will not blow you away with its aesthetics but that's part of its charm as tourists will make up most of its visitors. The crowd seems to be a mix of younger and middle-aged and it delivers its services adequately. As for the sportsbook, we suppose it could be worse, but it is not very impressive.
Flamingo Sportsbook
Something that makes sportsbooks exciting are the giant or at least big screen TVs you get to watch the game on. That alone is a treat which the Flamingo does not give as every TV in there is living room-sized or smaller. The picture quality and sound are fine, but when you go to a sportsbook you want it to feel somewhat like a movie theater. To the right, is the racebook whose plenty of TVs aren't any bigger, and the racebook also includes around 20 desk seats each with their own TV.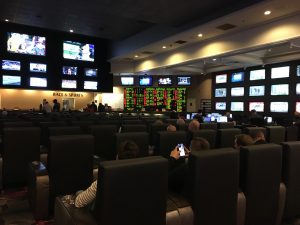 As far as the day to day betting lines go, they are comparable to everything else in town. If you are looking to bet futures, your best bet will be found at local casinos off the strip since the ones on the strip know its bettors are mainly tourists that won't be picky about the payout. In addition to the betting board, the day to day sports lines and horses along with upcoming events, futures, and whatever props can be found on pamphlets right next to the cashier.
Size and Location
The sportsbook is somewhat tucked away, but it is still noisy as it located right near a few slots and a few table games. If you park in the garage you will be entering the casino from the lobby and you will see the sportsbook right away. If you walk in off Las Vegas Blvd., you will have to go towards the back. Surprisingly, the sportsbook is also practically on the opposite end of its poker room. Usually, they are next to each other.
Seating wise it is more vertical than horizontal, so if you sit towards the front this will at least drown out some of the outer noise. Altogether there are about 70 spacious leather chairs and there are up to eight betting windows.
Traffic and Viewing Ability
Our guess is most people in the sportsbook are staying at the hotel since you have to go a little out of your way to find it. Since this sportsbook is less than fantastic, most days there should be plenty of seating space. But, just about any sportsbook will be close to full capacity during a special event like a playoff game or any NFL Sunday. The betting board is conveniently located next to the cashier in between the racebook and sportsbook TVs. Since it is not especially wide, the lines will have to rotate but it can be easily seen from any seat.
Another way to look at the betting board is by downloading the Caesar's Entertainment sports betting app. To use the app you must open an account at the cashier. This process is simple and quick, and once you are ready you can bet away like normal. The only differences being the minimum bet is smaller and the maximum bet is way smaller.
If you are interested in live betting, which is betting on games already in progress it is not available just yet at the Flamingo or on the app. But, with its popularity becoming very big lately especially with the Internet casinos, live betting could become a household term for Las Vegas sportsbooks sooner before later.
Drinks at Flamingo Sportsbook
In the last few years, it has become much harder to drink for free in the sportsbook. Almost everybody requires you give a significant amount of action reducing the drinks to being a mere bonus. Most sportsbooks require bets upwards of $50 (as high as $300) on sports for a single drink ticket, but the Flamingo lets you off at $40 no matter what you are betting on.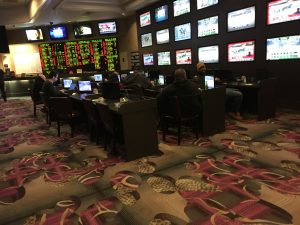 It's unfortunate, but if you are friendly and can acquaint yourself with either the cashiers or the cocktail servers, it should not be too difficult to end up with an extra drink ticket or two especially in a laid-back environment like this one.
Casino at Flamingo
The casino floor is spread out and there are plenty of table games and slots. Since the Flamingo mainly draws those looking to get value for their dollar, finding a table minimum bet of $5 for most games should be easy.
Dining and Bars
There is a big food court, but you have to leave the sportsbook to go there. Otherwise, there aren't too many food options to turn to. Most of their restaurants are casual dining but there is some a bit more upscale. There are numerous bars spread around the casino including video poker, but there is no video poker bar near the sportsbook.
Hotel at Flamingo
It may be an old hotel, but the rooms are solid and many of them stay with the theme of pink with their walls. The furniture is modern, the bathrooms are updated, and some of them have wood floors along with a great view of the strip. You can also usually get a good rate. Combine that with its central location and easy access to The LINQ promenade, and this hotel ends up being one of the better values on the strip.
Flamingo Sportsbook Rewards
Swiping your player's card every time you bet protects you in case you lose a winning ticket. With your card showing a record of your bet, you will still be paid assuming no one found your ticket and cashed it themselves. Regarding rewards, the sportsbook offers very little compared to slots and table games. You get one tier credit for every $20 bet on sports, and one for every $4 bet on horses.
Wrap-Up
This was a very simple sportsbook with less to say about it than most. There isn't much offered, nor is there anything gapingly terrible about it. It is like the definition of average. If you don't mind average, then you'll be happy here. It shouldn't get too much worse at other books, but it gets a whole lot better than the Flamingo.
Current 2020 Sports Betting Grade: C
Click Here for Our TOP 2023 USA Sports Betting Site!