Harrah's, along with every property owned by Caesar's Entertainment is not especially mind-blowing. It is safe to say that it is at the top of the Tier 2 casinos if you are judging by Vegas' standards. There isn't so much to complain about. It's just mainly for tourists trying to get as much bang for their buck. It is in a great location on the strip and it has everything you need. It gets the job done very well, and its sportsbook was better than we expected.
Harrah's Sportsbook
It's a comfortable and fun place to watch a game in this moderately dark setting. If you are there for the horses, know now that none of the chairs face the racebook. There are plenty of TVs as they bend around the sportsbook like an L, but the racebook is all on the right side and all their TVs are smaller.
Seating wise there are three rows of five leather recliners and next to those are three rows of eight leather club chairs. Behind the chairs are VIP semi-circle booths that can see the racebook without turning your head. There are no desk space seats that have their own TV. Smoking is allowed but only on the right side where the bars are.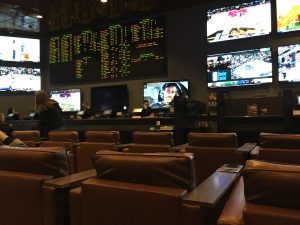 Depending on how busy it is there are about five or six betting cashiers. Directly next to them you'll find pamphlets containing that day's betting lines along with upcoming events, futures, and whatever props. The lines themselves match up comparably with the rest of the strip's sportsbooks. The main differences in lines usually come from futures. Those best lines are mainly in local casinos all around the city as the strip casinos are largely frequented by tourists willing to take a weaker payout since all they care about is having some action once they leave.
Size and Location
It's a medium-sized sportsbook and since there isn't much seating, to begin with, it'll be difficult to get a seat during any popular betting event like NFL Sundays. Its location is in the middle of the casino but off to the side of the casino. It's not tucked away like many books are, it's just not out in the open and only a short walk from the poker room. Slot machines are right outside of it, so you can overhear that, but its distraction is pretty mild.
Your fastest option to access the sportsbook would be to valet your car, but it's a short walk through the casino if you use the garage. If you enter in off the strip that will also only be a short walk.
Traffic and Viewing Ability
If you are just watching sports you can see any TV from any seat. Conveniently there is one large central betting board on the left side posting all the lines. Since it is not overrun with seating to pack in as many as possible, there is room to walk around without having to worry about people crossing directly in front of you.
In addition to the sportsbook, you can bet on all games at Harrah's by downloading the Caesar's Entertainment app. First you open an account at the sportsbook which only takes ten or 20 minutes, and after that, all the same, bets are in the palm of your hand. The only difference is you can't bet as much as you would inside the sportsbook, but the minimum bet is also lower.
If you are looking for live betting, which is betting on games already in progress you won't find it in the app or over the counter. It's a work in progress though, and it could become an option everywhere in the not too distant future. However, Harrah's sportsbook does offer one unique variety of live betting specifically for the Vegas Golden Knights, the city's newly beloved professional hockey team.
Drinks at Harrah's Sportsbook
Alcohol is this sportsbook's standout offering. Every sportsbook in town has now tightened up significantly on its drink policy as they all greedily require you bet a substantial amount (cheapest case scenario $50 on sports) just to obtain a single drink ticket. It's quite the turnoff that drink tickets have merely become bonuses to betting big, but at Harrah's, any bet size under $50 still earns you a drink ticket and should you go above $50, you get two. Given how flexible they already are, it's probably very easy to talk your way into getting more than two tickets if you bet over the $50 requirement, or more than one if you bet under.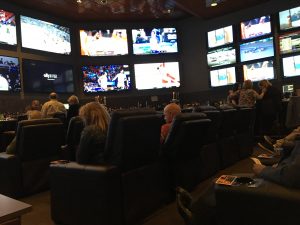 A lot of sportsbooks also have either a video poker bar near the sportsbook or in the very back facing it. Harrah's has one right inside. It begins just to the right of the cashiers and is closest to the TVs. Slip a $20 in and you should have no problem getting yourself a few drinks out of it by taking your time.
Casino at Harrah's
Harrah's seems to attract a slightly older crowd. It's not a huge casino floor but it's got all the games you would expect. If you are looking to have a good time without having to reach too far into your pocket, many of the available games can be played at a minimum of $5.
Dining and Bars
Apart from the video poker bar, there are numerous other bars dispersed around Harrah's. Most of the food is of a casual dining or food court variety, but it's all satisfactory. The only disappointing bit about them is none of them is a close walk to the sportsbook. They allow you to drink like a fish no problem, but where are the munchies?
Hotel at Harrah's
Unless you are going to the suites or the penthouses, Harrah's rooms won't do more than merely satisfy. The standard rooms are well, standard, but that's okay because you can usually get a solid rate and consider it's right in the thick of Las Vegas Blvd., it can be a great value.
Harrah's Sportsbook Rewards
Sportsbooks are not known for their generous frequent player rewards and Harrah's is no exception. Still, you may as well swipe whenever you bet since you get 1 tier credit for every $20 you bet on sports or 5 credits for the horses. Plus, by swiping your card you give yourself some insurance in case you misplace a winning betting ticket. Since the bet number will be on record you will still receive your payout assuming a scavenger didn't find it and cash in your ticket.
Wrap-Up
It's a pleasant and comfortable atmosphere. They don't wow you with too much with space or aesthetics, but other than no nearby food there isn't anything well worth picking on. The lenience on the drinks is the best thing going for it. This has become a big complaint from recreational bettors most recently, and Harrah's answers that complaint by making it easy for its customers who are usually going to be tourists to have a good time. Hopefully, we'll see more sportsbooks follow suit in the near future by dialing back some of their drink ticket strictness as well.
Current 2020 Sports Betting Grade: B+
Click Here for Our TOP 2023 USA Sports Betting Site!