It may not be the very top shelf magnificence of Las Vegas anymore, but The Mirage has lost none of its excellence. Centrally located on the strip, this hotspot tourist destination is not going to go quietly in the night and its great sportsbook is just one reason why.
Mirage Sportsbook
Similar to the setup of the Bellagio and Mandalay Bay, The Mirage's sportsbook is a complete non-smoking area. There are plenty of cashiers to accommodate on busy days, and there is a ton of seating for the sports and racebook alike. There are multiple giant screen TVs, a few other large ones, and 20 smaller ones below it.
On the left side, by the sportsbook's bathroom, are all the pamphlets for that day's horse and sports action along with upcoming sports events, futures, and whatever props that might be going. You will also find all this information enclosed in a glass case.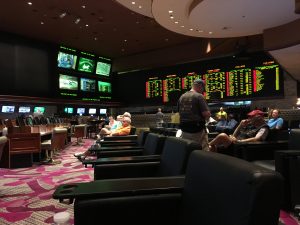 The day to day betting lines themselves are not going to be any better or worse than another sportsbook's for a particular reason. Spreads and moneylines always vary a little bit based on what the sportsbooks expect and what action comes in, but in general, they are on the same page.
Futures betting is where a discrepancy could exist. These payouts are never too friendly on the strip since most of the bettors are tourists and either don't know or don't care what the appropriate payout should be because they just want to have a sweat for when they leave. If you want to make sure you are getting an optimal futures payout, you will have to go out of your way to some of the local casinos and even that is not a guarantee to be substantially better.
Size and Location
This book is huge and there is a ton of seating. The racing side holds 48 desk seats in rows each with their own TV. Behind those dozens of spacious leather chairs and an armrest. There are some couches on the back and off to the right side are some massive additional couches that are almost farcically enormous. Like a throne. At the front of the sportsbook and off to the right are several more rows of high tables and chairs.
That's not all. Behind the throne looking couches on the far right of the sportsbook are 4×4 ascending rows of more long leather couches. This looked like it could be a VIP area, but that is found to the left of this section towards the back. The VIP section has a clear look at everything, but since it was made up of many round tables and chairs, it would appear its patrons are probably less in it for the sports than other VIP books.
To access the sportsbook, it is in the back behind the California Pizza Kitchen and a short walk from the poker room. Whether you are coming off the strip, self-parking, or valeting, the walk will be about the same. Since it is fairly tucked away and away from the casino, there isn't too much to overhear regarding slots and everything else.
Traffic and Viewing Ability
Being how big this sportsbook is, there is basically nothing you can't see unless you are all the way to the side. The betting board is on the side directly above the 4×4 ascending rows. It is huge and always keeps every current line available which is nice because many sportsbooks' betting boards rotate every 15-20 seconds.
On most nights you will have no problem getting a seat, but if you are showing up for big playoff events, NFL Sunday, or March Madness college basketball it will behoove you to show up early because people are going to flock to a sportsbook like this.
Since lines can get long no matter how many cashiers there are if you don't feel like waiting for them there is another option available. Open an account right inside the book for free and download the PlayMGM betting app. This allows you access to all the same bets, the only difference being the maximum bet allowed and minimum bet required is substantially lower.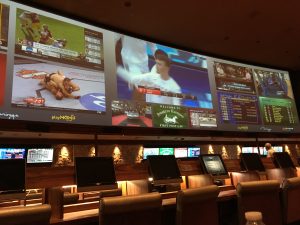 The main reason to download the app is if you are interested in live betting, which is betting on games currently in progress. You cannot bet on games live at The Mirage, but every game is there in the app. Given how popular live betting has become in just a few years, it is expected to be available at the sportsbook this year.
Drinks at Mirage Sportsbook
The main and perhaps only drawback to this sportsbook is its drink policy. It wasn't so long ago that drinking for free was easy, now you must bet a substantial amount to obtain a ticket. Many books require about $50-$150 for betting sports, but The Mirage demands a most exorbitant $500. They are clearly just a throw-in at this point, but that is not to say you have no shot at talking your way into an extra ticket or two if you can establish a rapport with either a cashier or better yet a cocktail waitress.
Obtaining drink tickets for horse racing is also on the expensive side as it compares to other books, but at least is only $20 per ticket.
Casino at Mirage
The casino floor is large and spread out. It has got all your favorite games and ton of slots. If you are looking to bet conservatively, The Mirage cannot abide as $10 is the absolute minimum bet to be expected at every game. The only time you might ever see $5 is well into the night when action is drying up.
Dining and Bars
Since drinking inside the sportsbook is difficult, video poker bars are the next best option. There is a big one right outside the sportsbook. It is not facing the action, but there are plenty of small TVs going around it.
Otherwise, other bars and lounges are spread all around, along with plenty of fine dining. If you are looking to eat while watching the game, there is nothing immediately nearby that you can just pick up and come right back. The main options are the California Pizza Kitchen and right beside that is The Carnegie Deli.
Hotel at Mirage
The hotel is huge sporting more than 3,000 rooms, and the hype of this hotel lives up to its billing. The standard rooms are spacious, and the bathrooms are first class. If you are looking to dial things up a notch, you will not be let down by any of its suites or penthouses. The hotel also includes a pool, a topless pool, spa, fitness center, and golf course.
Mirage Sportsbook Rewards
Racking up points and comps on your player's card is primarily done at the slots and table games, and at The Mirage that is exclusively the case. You earn nothing by betting sports or the horses, but this is not as bad as it sounds as most books give little to nothing on both anyway. Still, it is a good habit to swipe your card every time you bet because that way your bet is tracked. Meaning if you somehow lose a winning ticket, just present your card and you will still be paid, assuming no one found your ticket.
Wrap-Up
We wouldn't mind having to bet an arm and a leg just to get one lousy drink, but otherwise, there is nothing to complain about here. There is plenty of comfortable seating, good sound, and picture quality, and there are no outside distractions. For such a huge area, this sportsbook feels secluded. It has it all.
Current 2020 Sports Betting Grade: A
Click Here for Our TOP 2023 USA Sports Betting Site!