One of several locations around the country, Sam's Town Hotel and Gambling Hall of Las Vegas is located east of the strip. It debuted in 1979 and is among the first welcoming sites you see as you fly in from the west. Sam Boyd's theme of the old west brings some flavor, but Sam's Town also delivers the good for its locals and tourists; and that includes its sportsbook.
Sam's Town Sportsbook
Perhaps the first thing you might want to know is the part of town Sam's Town is located in is a little seedy, so it attracts its share of…interesting people. Depending on how you look at it, it could be amusing, annoying, or awkward.
Another bizarre fact about the Sam's Town sportsbook is we were told its betting app has different lines than those at the sportsbook. The staff didn't know why, and we were perplexed because the whole simplicity of the betting app was that it's linked to the sportsbook. Nevertheless, the Boyd Gaming app is what you can download for free after creating an account inside. Your maximum bet size on the app is a lot smaller than what's allowed at the casino, but the app will feature some live betting; granted only on the big games. Live betting is betting on games while they're in progress. This type of bet was created only a few years ago, but it quickly became very popular. Most sportsbooks, including Sam's Town, don't have it.
Size and Location
The sportsbook is on the far left of the casino. It's a short walk from the poker room and far enough away from the slot machines. There are quite a number of sportsbooks that can overhear the constant chirping of slots, so we are always happy to see a sportsbook that separates itself from it.
The sportsbook is built horizontally with the sports on the right side. Sports seating is made up of five rows of 33 leather club chairs with armrests, with one long row of counter seating right behind it.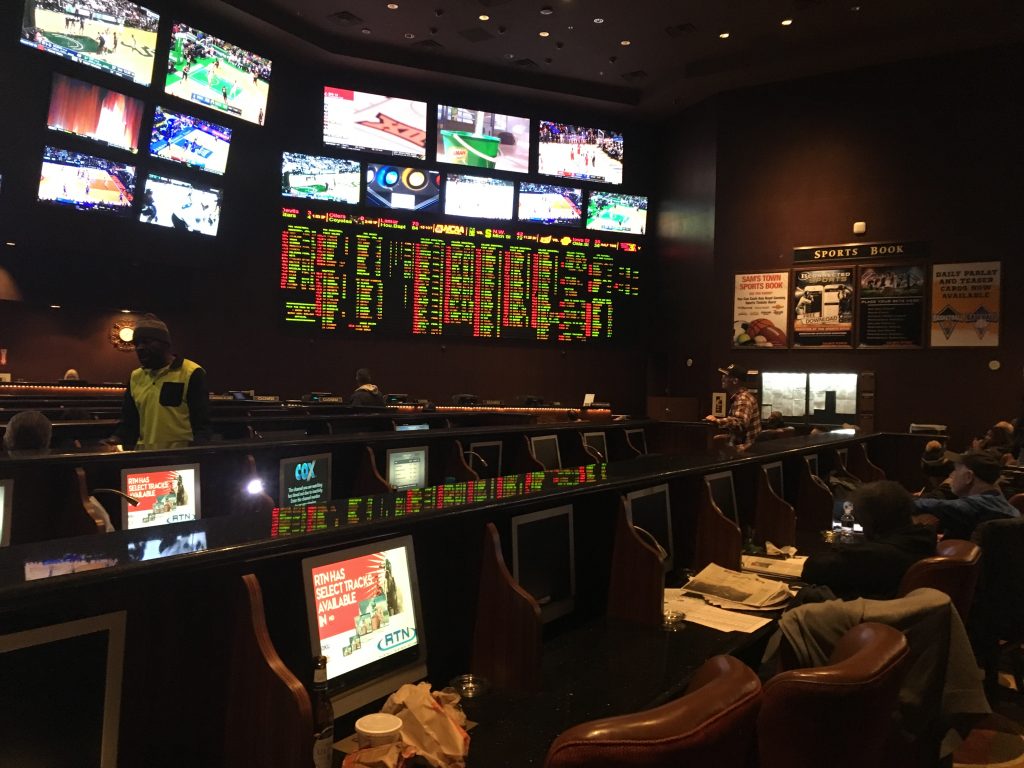 This is a large sportsbook, and most of the seating, including the entire racebook are the desk row style. Each seat, except for those in the very back row have their own TV. Altogether you can comfortably sit 150 people just in the desk rows.
The sportsbook has 15 TVs plus a giant screen, with the betting board right under the TVs, perfectly visible. The racebook has 18 TVs including a big screen. The picture quality suffices. It is nothing exceptional, but the sound quality of the main game is. Everything comes through loud and clear, completely eliminating you from being able to overhear any nearby chatter or other distractions.
Traffic and Viewing Ability
There is plenty of wide open space to get in and out of the sportsbook. You don't have to worry about tripping over anyone or having someone block your view. Since it's a finely built sportsbook, we expect it to be busy during any big game, playoff series, or NFL weekend.
As mentioned, the betting board is in a good location, but the lettering is a little small. We couldn't see it as far back from it as we'd like. It wasn't a major issue, but worth mentioning because we like to always know what the lines are.
Drinks at Sam's Town Sportsbook
The policy on drink tickets was a little disappointing. The standard minimum bet to get a drink ticket at any off strip sportsbook is $20, but at Sam's Town it's $25. It's also $25 regardless if you're betting in the sportsbook or the racebook, and this is also unusual because the racebook's edge is significantly greater. We would have figured it to be only $5 or $10 at most.
They also have a note taped in front of every cashier that you can't get more than two tickets per visit. And given the big capital letters it was written in, it seemed like they were serious. Still if you want to get completely smashed, it's probably very easy to just space your bets out and do it with different cashiers. But it's annoying you even have to think about this. We appreciate the casino's concern for their customers to not drink too much too fast, but it wouldn't be a crime to just treat them like adults.
Casino at Sam's Town
Out on the casino floor you'll find all your most typical table games with $5 minimums, with craps offering exceptional odds at 20x. There were a handful of mixed table games as well. Ultimate Texas Hold'em, Three Card Poker, Pai Gow Poker with the progressive, and a game rarely seen called Deuces Wild Hold'em Fold'em Stud.
Dining and Bars
Right inside the sportsbook is the Sports Deli and they have seating that can see the action. Other than that, there's nothing nearby. You'll have to leave the sportsbook to get to the food court.
If you like playing video poker while you watch the game, there is a bar behind the sportsbook. The seats either have its back to the book or it cannot see directly in, but there are a bunch of TVs at the bar.
Hotel at Sam's Town
There are over 600 rooms at Sam's Town. To go with its pool, fitness center, and Gatsby's Salon, its most convenient amenity is the 24/7 shuttle service that runs complimentary to downtown Las Vegas and the strip. This gives great incentive to anyone who wants to visit Vegas and the strip, but also be able to come up for air and have some solitude.
There are some fine rooms at Sam's Town with awesome views of the strip. If you want the big 1,065 square foot suite with the soaking tub, you'll have to call to make reservations. Otherwise the best price you can get is by booking online. The standard rooms are a modest 375 square feet, and the mini suite, which includes a Jacuzzi is 630.
Sam's Town figures to be the most expensive of the string of hotels that run along Boulder Highway, but you will still get a great deal during the week. The standard rooms will often be in the $40-$50 range, before tripling or quadrupling for the weekend.
Sam's Town Sportsbook Rewards
It's difficult to accumulate points in the sportsbook. Most people don't even think to swipe their player's card. It's a good idea though because swiping your card tracks your bet, so you are protected if you somehow misplace a winning ticket.
You can use the points you earn for food or your room, but you only earn $1 for every $500 you bet on sports. If you're playing the horses, every $12 gets you a point, and 20 points equals $5. In other words, you only have to bet $240 in the racebook to earn $5, compared to $2,500 in the sportsbook.
Wrap-Up
We had a very good time in here. It was spacious, had good sound, and food was right there. There's very little to complain about. We could do with some cheaper bet minimums to get a drink ticket when betting the horses, but overall, we were very satisfied. There's nothing fancy about this sportsbook. It just gets the job done without you noticing anything because all standards are met.

Current 2020 Sports Betting Grade: A-
Click Here for Our TOP 2023 USA Sports Betting Site!