Owned by Boyd Gaming and open since 1996, the Orleans has a large gaming floor and is a popular casino for locals that also tailors well to kids. Since its location is only a short drive west of the strip on Tropicana Avenue, it also brings in a fair amount of business from tourists. Using a theme of Mardi Gras, the Orleans does not try to blow you away with glamor and glitz. It is rather loud due to its low ceiling and it has not been renovated since 2004. The Orleans sportsbook could also use a few simple improvements, but overall, we were satisfied with it.
Orleans Sportsbook Review
This somewhat smoky sportsbook is a bit more racebook oriented, so it inherently comes with something of an old school grizzly feeling. You are allowed to smoke in here, but there is a small non-smoking section. No VIP seating is offered.
Like most Las Vegas sportsbooks, you can bet at the Orleans from your mobile device by opening an account and downloading the Boyd Gaming sports betting app. Creating an account is fast and free, and once you're connected you've got access to everything. The bet maximums are always smaller on the apps and particularly the Boyd Gaming app, but this is negotiable if you want your limit raised.
The biggest motive to using the app (besides not having to get out of your chair to bet) is if you are interested in live betting. Live betting is wagering on games already in progress, and this new form of betting gained a ton of popularity as soon as it became a thing. Most sportsbooks either don't offer live betting at all, or only occasionally have it available for one game. The Orleans does not offer any live betting.

Size and Location
This sportsbook is large and is horizontally built. Most books are immediately adjacent to the casino's poker room, but not here. In fact, this sportsbook seems to be smack in the middle of the gaming floor. We most prefer a sportsbook that has a slight bit of seclusion because it keeps outside noise and chatter from seeping in. At the Orleans, it is very easy to overhear people and slots, and the table games are just a short walk behind it.
Traffic and Viewing Ability

There is plenty of seating here. You can easily cram in well over 100 people if you had to. However, most of the seating caters to the horse players. Racebooks always use desk row seating for their customers, with each seat having their own TV and lamp. There are only 15 premium leather club chairs for the sports watchers. They are on the far right side of the sportsbook and spaced out in five rows of three chairs apiece. Behind the chairs is some additional standing space with counters and high tables.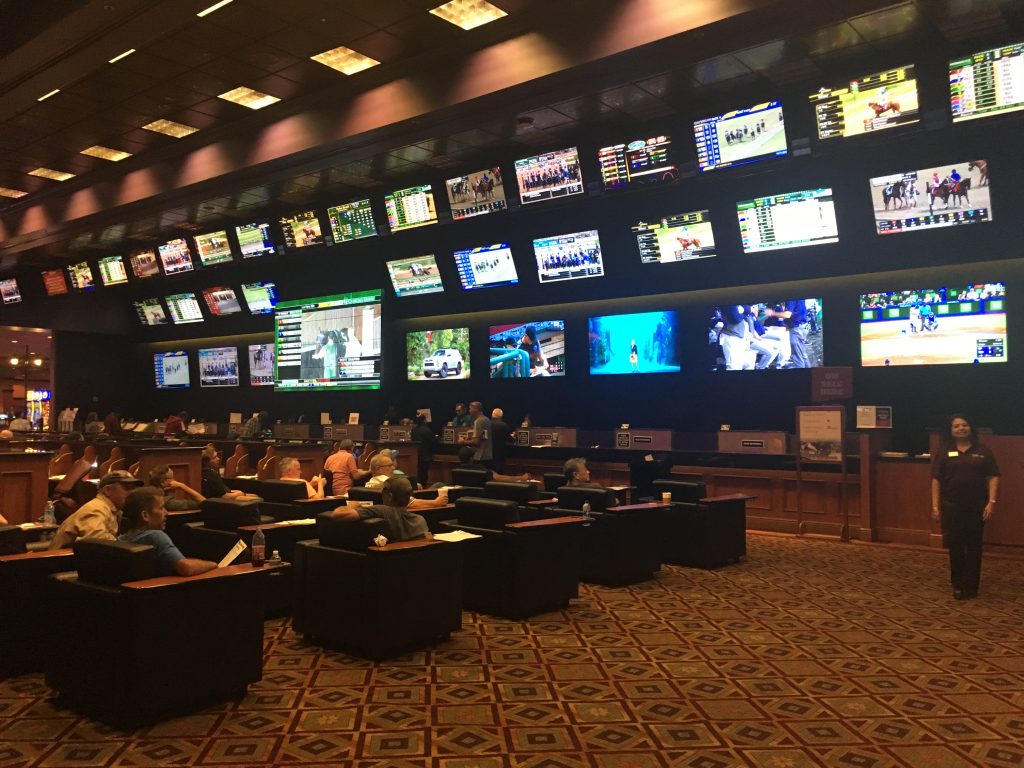 We were let down by the fact there was only one large screen TV and it was for horse racing. We accept that some sportsbooks aim more at the horse players, but you simply have to have a large screen TV for sports. Perhaps they do when there is a huge game going, but we went in on a Sunday afternoon during baseball season where everyone is in action.
Most of the TVs showed horse racing as well. Spread across the entire book, over 30 of them were showing the ponies. There are no viewing obstructions, but there were only seven modest sized sports TVs with eight more little ones all the way on the right side, directly above the betting board. The betting board is large and easy to read, but you won't be able to read it from anywhere in the sportsbook because of its horizontal design.
There are separate cashiers for the race and sports bettors, with there being several more clerks available for the horses. Even though this book is more accommodating for horse players, we still expect it to jam up during big sporting events or during any NFL Sunday.
Drinks at Orleans Sportsbook
The not-so-new anymore standard for sports and race bettors is you have to bet a minimum amount to obtain a drink ticket. The Orleans requires $25 for sports bettors, and $20 for the horses. It sounds like a lot because at this point, alcohol is now just a throw-in. If you are betting at a strip sportsbook, most of them require no less than $100 for sports, and many are substantially higher than that. Since horse racing is much harder to beat, the minimum bet for getting a drink ticket is never going to be through the roof.
But the Orleans is still relatively unfriendly when it comes to drink tickets. Almost every off strip casino only has a $20 minimum for sports bettors, and the minimum for the racebook at the absolute most is $10. Considering how much attention this book allocates towards its horse players, we were unpleasantly surprised at how much they want you to bet to give you a free drink.
Of course, if you put on your best smile for the cocktail servers and cashiers, no one is going to 86 you from the property if you attempt to talk your way into getting an extra drink ticket or two.
Casino at Orleans

There are many table games on the 135,000 square foot gaming space. Like all off strip casinos, finding games with a $5 minimum is easy. Blackjack pays 3-2 and you can also play either single deck or double deck. Roulette and craps are standard for any Vegas casino, and some of the mixed games at the Orleans are 3 Card Poker, Ultimate Texas Hold'em, Pai Gow Poker, and Baccarat.
Dining and Bars
The Orleans has a solid food court and some unique restaurants like Big Al's Oyster Bar, but you'll have to exit the sportsbook to get to them. The only option inside is a hot dog stand. It probably doesn't sound like much, but many sportsbooks don't have any direct food options.
Video poker is one of the best ways to get comped drinks. There is a video poker bar directly behind the sportsbook. It has some TVs, but your back will be to the sportsbook. However, there is also a lounge within that video poker bar. There are plenty of tables and nice leather chairs and they do face the sportsbook.

Hotel at Orleans
There almost 1,900 hotel rooms, and shuttle service is offered to and from the strip. Room rates will typically be inexpensive during the week, with discounts offered to seniors, military, and AAA members.
The Orleans doesn't strike as a luxury hotel at a glance, but they offer a wide range of suites that get up to 2,500 square feet with its standard rooms starting at 450 square feet. We were hoping for a break on the nightly resort fee, but it still comes in relatively high exceeding $28 a night after tax.

Orleans Sportsbook Rewards
The main reason to swipe your player's card after placing a bet is to track your wager in case you misplace your ticket. But, if you are planning on giving a lot of action at the Orleans, then know that you'll earn $1 in comps for every $500 you bet in sports. If playing the horses, you earn one point for every $12 you bet. After 20 points have been accumulated, you'll have $5 in comps.
Wrap-Up
Apart from the high minimum for drink tickets, the Orleans makes life fairly easy for the horse player. However, we were a little disappointed that there were only so many sports TVs and most of them were relatively small. The picture and sound qualities were adequate but not exceptional, so nothing about this sportsbook really stands out. It's large, but since it has a few shortcomings, there is not a compelling reason for an avid sports bettor to stop by here.
Current 2020 Sports Betting Grade: B

Click Here for Our TOP 2023 USA Sports Betting Site!