Thanks to "The Hangover", Caesar's Palace is as commonly known as any casino in Las Vegas. Centrally located, it is accessible from Las Vegas Blvd., Flamingo Road, and Frank Sinatra Drive. It is a huge property and offers a lot of everything Vegas is known for. With there being tons to do and see, it is a major attraction for tourists and locals alike, and that includes its sportsbook.
Caesar's Sportsbook
Caesar's is big and loud, but that high energy also makes it a solid atmosphere to enjoy a game in. There are plenty of TVs including some giant screens, up to over a dozen betting windows, and space is close to evenly split with the race book. Since it has giant screens, they can be split up into multiple screens on days numerous events are going.
There is a bathroom conveniently nearby and despite the fact some of its chairs say no smoking on it, smoking is allowed. There are plenty of leather chairs lined up in rows, and behind those is more seating space with couches and tables.
To the right of the cashier are all the betting pamphlets for that day which also including futures and upcoming events. The daily lines at Caesar's are no better or worse than what you would find anywhere else in town. However, the best lines for future's betting are rarely if ever found on the strip because most bettors are tourists not interested in spending time shopping for perfect payout. Caesar's ranks at the top of what I would call second tier casinos, and because of that, that means its future betting payouts should be a little friendlier.
Size and Location
One of the bigger sportsbooks in town, its location is totally out in the open in the middle of everything. As most sportsbooks are often tucked away somewhere off the beaten path, this sportsbook is only a short walk to anywhere in the casino. It is adjacent to the poker room and nearby upscale restaurants and lounges that are on the casino floor. This makes it a very noisy environment whether it's packed like you would expect during an NFL Sunday or March Madness college basketball or when it's after hours.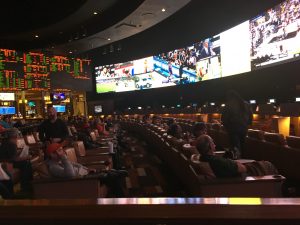 If you enter through either of two entrances off the strip, it's only a short walk through the lobby and casino floor. If you park or valet in the garage, it is only a short walk from there as well. The entrances it is not close to are the valet for the forum shops or the valet drop off on Flamingo road.
It is also adjacent to the nightclub Omnia. Through most of the day this is irrelevant, but since the club opens usually around 9 PM and the sports betting day usually isn't over by then, the loud, bumping music adds another noise distraction.
Traffic and Viewing Ability
There are constantly people walking around, but that is of no distraction. The betting board is high and on the left-hand side. It is easy to see from anywhere but since it is about half the size of the biggest betting boards in town, the betting menu rotates about every 20 seconds.
If you don't like waiting to see a particular line, you can always create an account at the sportsbook and download the Caesars Entertainment betting app. Creating an account is fast and straightforward, and once you're up and running you can bet on anything the sportsbook is offering. The only difference is the maximum bet allowed is significantly lower. Betting on games currently in progress is unavailable but that could change soon.
This sportsbook was created mainly for the sports bettors as there are only three rows of five desk seats for the horse players, but each chair swivels and is leather.
Drinks at Caesar's Sportsbook
You have to work harder than you used to drink for free or for cheap. The only way to get drinks now in the sportsbook is with a drink ticket. To obtain one, $50 is required for betting sports but only $5 on the horses. Obviously, if you're betting sports you can just buy drinks at a bar for much cheaper, but it shouldn't be too difficult to talk your way into some extra tickets by getting friendly with either the cashiers or the cocktail servers that frequently come by.
Directly behind the sportsbook is a perfectly located video poker bar. There is plenty of seating and allows a perfect view of everything.
Casino at Caesar's
If you want to do some old-fashioned gambling, Caesar's will accommodate. There are slots all around and all types of table games spread around the casino. Since Caesar's isn't too showy or upscale, you should be able to find minimum bets of $5 or $10 without a problem. There's really no quiet area in Caesar's. The music is playing loud and you'll also find some of the table games are accompanied by stage dancers.
Dining and Bars
In addition to the video poker bar, there are many other drinking spots and lounges all around the property near and far from the sportsbook. Regarding food, there is a complete food court nearby, but you'll have to leave the sportsbook. The best option for food is if you can get a seat in the couch area behind all the chairs. You don't have to buy anything just to sit there but listed on a plaque on each chair is a phone number. All you have to do is text "Sportsbook" to it and someone will come by with a menu.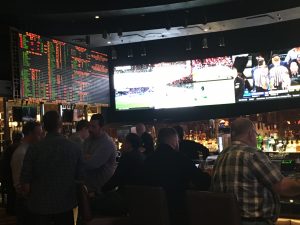 If you're looking for something more upscale, there are plenty to choose from. Most noteworthy are Mesa Grill and Searsucker which are immediately behind the sportsbook, and just a short walk from that is the Old Homestead Steakhouse. Towards the back of the casino you'll find the upbeat Italian spot Rao's, and right next to it is still the #1 rated (and most expensive) Bacchanal Buffet.
Lastly, two of our favorite places are a ways away in the Forum Shops, but well worth the trip to visit either Joe's Stone Crab or one of the best Italian restaurants in all of Las Vegas, Il Mulino New York.
Hotel at Caesar's
Caesar's hotel is complete with a full spa, gym, and pool. It has thousands of rooms in multiple towers. The standard rooms are nothing out of this world, but they get the job done. It's when you move up to the suites and penthouses do you really get to see the finer things Las Vegas has to offer.
Caesar's Sportsbook Rewards
The sportsbook offers rewards on all your wagers, but they are very little and accumulate very slowly. You only earn one credit per $1, and it takes 1,000 credits just to earn $2 in food comps. Still having them swipe your card whenever you bet is a good habit to get into because this logs proof of every bet you made. That means in the event should you somehow lose your ticket after winning a bet, you can still be paid out as long as nobody found and cashed in your ticket first.
Wrap-Up
Caesar's sportsbook has its drawbacks with all the noise to contend with and smoke to smell, but overall this sportsbook has everything you would want, and when you're done everything else you would want can be found at close range.
Current 2020 Sports Betting Grade: A-
Click Here for Our TOP 2023 USA Sports Betting Site!