Starting as the original MGM Grand in 1973, since 1986 and now owned by Caesar's Entertainment, Bally's is one of Las Vegas' older casinos. Its got the best location being right in the central part of the strip, which tremendously helps its cause seeing as it now just runs in the middle of the pack with its competition. And so too does its sportsbook.
Bally's Sportsbook
There's not too much to complain or rave about this sportsbook, but altogether it's a peculiar place to watch a game. The nice things about it are there is no smoking and plenty of cashier windows for busy days which you figure will only occur during playoff games, NFL Sundays, and March Madness. The most noticeable quality feature is how many rows of desk seating there are.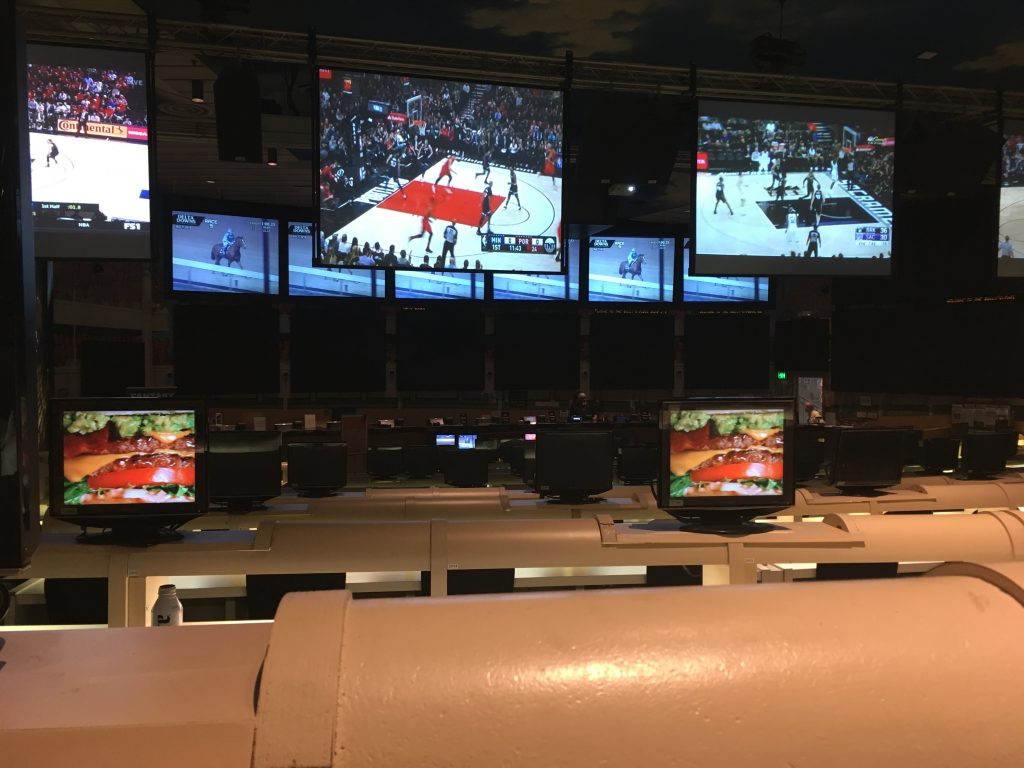 The seats start at the front and go all the way back up the moderately steep ramp. There are at least 10 rows of them so on most nights, everyone would be able to have their own private TV. And because the seating goes far back, there are multiple large TVs that hang down in the middle of the sportsbook in addition to the ones right behind the cashier.
Size and Location
Nothing seems to add up with Bally's sportsbook. It's enormous yet it is in the middle of nowhere. If you enter in off Las Vegas Blvd., a short walk to the right is the poker room. Many poker rooms and sportsbooks are side by side, but not here. You have to walk all the way to the back, down the escalator, and through the shopping mall right until you reach the food court. Who puts a massive Las Vegas sportsbook that far away from its casino?
Since Bally's has a parking lot and valet drop-off right off Flamingo Road, that is where you will want to leave your car.
The best benefit of having a sportsbook so isolated from everything is at least there's no outside noise, except it's almost too quiet. No slot machines, no noisy people, nothing.
Traffic and Viewing Ability
With all the places to sit to go with the wide walking lanes to the cashier, you won't have any problem getting around. There's plenty of TVs and conveniently there's a single large betting board on the side wall showing all the action for the day which also rotates to show the future's action. Also, off to the side near the cashier are the pamphlets for that day's action along with the futures.
The day to day lines will be comparably fair to everything else on the strip because I don't imagine people come from all over the world to go this sportsbook. That said, a good rule of thumb to remember is the more glamorous the casino, the worse the lines will be for things like future's betting. Bally's isn't especially glamorous but since it is on the strip, don't expect to find any great deals.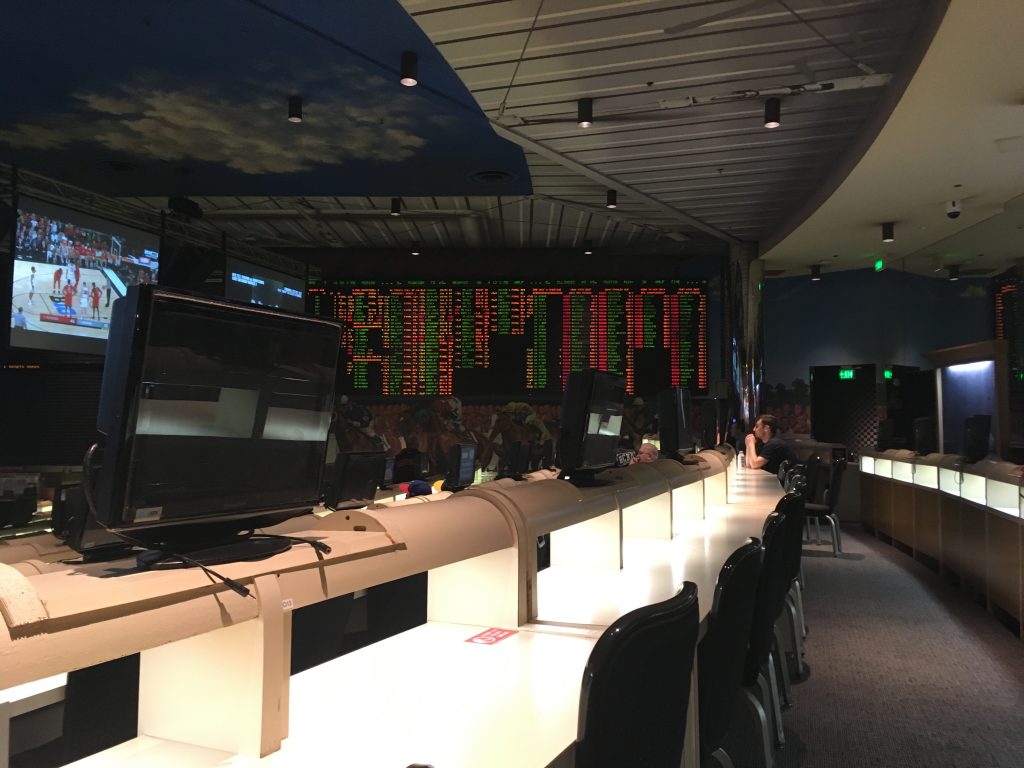 In case you feel like betting but don't want to haul all the way down to the sportsbook, you can also create an account at the sportsbook and then download the mobile betting app called Caesars Entertainment. With the app you have access to all the same lines as offered in the sportsbook including live betting, which is betting on games already in progress. The only change is the maximum bet allowed is drastically less.
Drinks at Bally's Sportsbook
Cheap alcohol is harder to come by in Las Vegas and there's no incentive to betting sports. You must bet either $20 on horse racing or $50 on sports to obtain a drink ticket. $50 sounds and is expensive just to be awarded a bonus drink, but this is actually cheaper than what it is at most other places. Of course, this rule is not law.
In a laid back place like Bally's, I wouldn't expect it to be too difficult to try and charm your way into drink tickets with either the cashiers or the waitresses. Seeing as how far away the sportsbook is from everything else, the cocktail waitresses will be coming by frequently, so, there's plenty of opportunity to try and establish a rapport with them.
Casino at Bally's
Despite its prime location, Bally's does not deliver in terms of modern day glamor and glitz. It tends to draw a slightly older crowd to go with its old school feel. Its most standout entertainment choice is the Real Bodies exhibit.
Regarding table games, it has everything you need and there are slots everywhere. The betting rules are fair, and the minimums are reasonable as this casino is more aimed at the blue collar bettor.
Dining and Bars
Just outside the sportsbook is one video poker bar, but there's only a few seats. That is also kind of in a silly location because unless you're sitting right the edge of the bar, you come as close as you can to being able to see what's going on inside the sportsbook without actually being able to do it. If you go back to the casino, you'll find multiple other video poker bars and lounges scattered around.
There's a bathroom and complete food court immediately outside the sportsbook with plenty of choices and you can still see the big screen TVs from some of them. However, its drawback is none of them accept any food comps.
Bally's as a whole isn't going to blow you away, but it gets the job done. If you're looking for upscale food your choices are BLT Steak or the Sterling Brunch which is available on weekends. Apart from that, its eateries are more casual with the likes of Italian, Thai, or deli, but casual dining often hits the spot the hardest.
Hotel at Bally's
The standard rooms at Bally's have been around a long time, but it's not like the paint is peeling off the walls. You can probably get yourself a room with a strip view and considering how great Bally's location is combined with the low rates you can likely get, it's a pretty good value overall. It's a big hotel so there's plenty of nice suites to choose from as well. And to complement all of it is their pool with spa and salon.
Bally's Sportsbook Rewards
If you swipe in your Total Rewards player's card for each bet, you receive 23 cents back towards food per every $100 wagered. Not especially rewarding, but that is actually more than what most sportsbooks offer.
Plus, when using your TR card, you have the added insurance of having your name linked to each bet. This way should you place a winning bet but lose the ticket, you still collect your winnings if no one has already cashed in your winner.
Wrap-Up
At the end of the day, this sportsbook delivers well enough. It's in a bizarre location with no other casino activity that you can immediately access and you can't eat the nearby food for free, but if you are looking for quiet, spacious, your own TV, easy to access lines, and a nearby parking spot, you'll be happy here.
Current 2020 Sports Betting Grade: B-
Click Here for Our TOP 2023 USA Sports Betting Site!