Located downtown, the recently renovated Golden Nugget is hands down the class of Fremont Street. Downtown Las Vegas draws a different crowd type altogether, but it will be a mix of locals trying to enjoy Vegas while staying away from the uptown strip hubbub, and tourists essentially trying to do the same thing. Everything downtown is cheaper. From the alcohol to the gambling, to the food to the hotels, downtown is more economical and a far different experience. None of the downtown sportsbooks are especially memorable, but the Golden Nugget put a lot of effort into theirs and it is the best downtown has to offer.
Golden Nugget Sportsbook
The sportsbook does not allow smoking or vaping, is dimly lit, and uniquely designed in that it has TVs all over the place. Since most of them show sports, there is no designated seating for the racebook. All the seating consists of leather club chairs, semicircle booths, or tables with chairs. There are no desk seats with their own TV.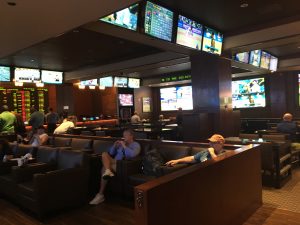 The main seating section faces about 16 large TVs, although a few of them stretch beyond the seating area and are difficult to see. On the opposite side of the sportsbook's main seating with their backs to each other is another seating section with several more TVs. In between these sections are a bunch of tables and chairs, perpendicular to those are the booths, and also perpendicular located oppositely of the booths is the cashier which has a row of small TVs above it. Additionally, running above the tables and chairs is another row of small TVs, and these were the only ones that showed horse racing.
We're sorry if that whole description was confusing, but that's because the design of this sportsbook is too. You've got TVs and chairs running in both directions. It doesn't seem to matter much once you're inside as the sound, picture, and seating quality are all good, but nevertheless this design, though organized, is more complicated than necessary.
Pamphlets are available showing all the lines for that day, futures, upcoming events, and whatever props. Since the Golden Nugget is independently owned, and it being downtown, means the daily lines could be a little friendlier than what you would find on the strip, and certainly friendlier for futures. This book will get its share of tourists, but since it'll be mainly locals they're not going to settle for a weak payout like many strip tourist bettors would.
Size and Location
This is a moderately small sportsbook, but it's big enough. There are a few cashiers and one for keno as well. There was no section marked for VIPs, but seating wise there are four booths, over 30 leather chairs, and 12 tables and chairs in between the two seating sections. The sportsbook has a nice secluded location in the corner, away from casino noise.
Traffic and Viewing Ability
We expect this sportsbook to be active most of the time, but not to fill up for any event besides the most major ones. The nice thing about the atypical seating design is you're close to whatever screen you're watching. However, the betting board is a different story. It is right behind the cashiers and not easy to see because it is low and blocked by columns and by whoever is waiting in line. There is, however, additional betting boards, but only on the main sports wall between the TVs.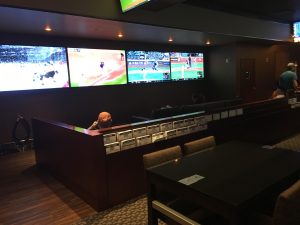 This provides an incentive for downloading the Golden Nugget sports betting app. You can do it inside the book quickly and for free, and once you've got the app you have access to all the same lines. The only difference is minimum and maximum wagers are each lower. Unfortunately, neither the Golden Nugget nor the app has live betting, which is betting on games that have already started.
Drinks at Golden Nugget Sportsbook
This is the sportsbook's biggest drawback. Even though the days of getting free drinks in the sportsbook have passed, the new standard is you can at least get a drink ticket by betting a certain amount. Well not here. Cocktail servers come around, but you have to pay for your drinks whether you're betting $20 or $20,000. This is no good.
Casino at Golden Nugget
The casino floor is always active as the Golden Nugget is the class of downtown Las Vegas. It is new, shiny, and has plenty of slots plus all the standard table game favorites along with some other popular ones. Five dollar minimums were available, but many of them were $10. Some of the noteworthy games were $5 craps and single deck blackjack.
Dining and Bars
If you are going to spend a while in the sportsbook, you almost have to get something to eat and there is a solid nearby option. You can't see inside the sportsbook from it, but there is a cheaply priced grille adjacent to it. If you want to sit down to eat, there are eight more restaurants spread around with a diverse selection of food.
Also, all over the casino are several bars which have video poker which you can play for comped drinks. There is such a bar right outside the sportsbook, but it cannot see inside of it. And considering you also can't get drink tickets, this is a real bummer.
Hotel at Golden Nugget
The Golden Nugget is centrally located. It's been luxuriously renovated and includes a spa, salon, fitness center, and pool with a shark aquarium in its center. And when you throw in the fact it's centrally located and relatively inexpensive because all downtown casinos are, the Golden Nugget winds up a solid value.
Golden Nugget Sportsbook Rewards
Sportsbooks do not have nearly the edge their table games have, so rewards are rather minimal. For every $500 you bet you only receive $1 back for food comps. But regardless of that we still recommend you swipe your card for every bet because then your bet will be tracked, allowing you to still be paid in the event you place a winning bet and then lose the ticket.
Wrap-Up
Though we weren't blown away, the Golden Nugget's new sportsbook delivers well, and you won't find a superior sport watching venue downtown. For most patrons, the most important things are they can comfortably see their game(s) without being distracted by casino noise and the Golden Nugget provides that. We wouldn't mind having an easier time reading the betting board, and we definitely wish drink tickets were available, but otherwise, this sportsbook is worthwhile.
Current 2020 Sports Betting Grade: B+
Click Here for Our TOP 2023 USA Sports Betting Site!