Located on the furthest north end of the strip, the Stratosphere is the cutoff point leading to downtown. Open since 1996, it will remain one of the first great sights people notice when flying into Las Vegas. With its high observation tower and thrilling rides that sit atop it, it makes for a great tourist destination. It's kind of funny how awesome it looks because when you actually get right up to it you see what a shady area it's in, and its sportsbook is only a moderate upgrade from that.
Stratosphere Sportsbook
The sportsbook side has about 40 leather chairs, some leather couches, and a few high tables and chairs in the back. The seating is comfortable and it's a non-smoking area, but it is all downhill from there. The Stratosphere is a low-end smoky casino and that carries right into the sportsbook.
There are TVs spread all around. Most of them are small but a couple are big screens with poor picture and sound quality. It felt too much like I was watching the games on mute. The 12 racebook TVs are perpendicular to the sportsbook with seating of 3×6 of desk rows, each with their own TV.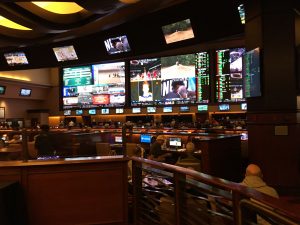 In the corner of the two books is the cashier where you will find pamphlets featuring all of that day's action along with lines on upcoming events, futures, and whatever props that may be going. The day to day lines themselves is not extra beneficial or detrimental than any other book. The one discrepancy you might find is on futures. As strip bettors are primarily tourists that like taking any action home with them, they are more than glad to accept a weak payout. If you are set on not getting ripped off on futures, you will have to venture out into the local sportsbooks but there's no guarantee their lines will be much better.
Size and Location
It doesn't hold a ton of people, but its seating is spaciously spread out and convenient to access. When you come down the escalator from inside one of the last free parking garages on the strip, the sportsbook is right there allowing it to serve as a quick place to drop in, bet, and leave. There is a bathroom nearby, and while it is not adjacent to slots or table games, it's still noisy enough to make its already poor sound quality even more noticeable.
Traffic and Viewing Ability
Most people who come here will be either be locals or hotel guests, so traffic shouldn't be too bad. It could get close to capacity during popular events like NFL Sunday or March Madness college basketball, but otherwise, this will be a relaxing environment to watch a game in. Given the poor sound, perhaps a little too relaxing.
The betting board is a significant problem. It is behind the cashier and out of the main TV section's way. That part is fine, but the lettering is really small and there is a huge pole blocking your view from a lot of seats. This provides great incentive to keep a pamphlet with you, but since lines are liable to change after the pamphlets are printed, you'll want to verify what they currently are when you bet.
Since the racebook TVs are small, you can't see them too well by turning your head from the sportsbook. Plus, there is another huge pole blocking some vision there too.
The Stratosphere is behind on the times as well. Just about every strip sportsbook lets you easily open an account right inside so that you may download their sports betting app allowing you access to every line. They do not, and there was no mention of that having one anytime soon. In addition, live betting, which is betting on games already in progress is unavailable, and I'm not holding my breath about that being added either.
Drinks at Stratosphere Sportsbook
Getting free drinks inside the sportsbook used to be easy, but not anymore. Now you need to bet a substantial amount just to get one drink ticket – $100 on sports and $25 for horses. It would be nice to see the lower level sportsbooks be a little more flexible about drinks, but they aren't. And $25 for horses is among the most expensive on the strip. Still, these are only rules, not laws. If you can get friendly with a cashier or cocktail server, perhaps you can talk your way into some extra tickets.
Casino at Stratosphere
Like any casino, there are endless slots. Regarding table games, $5 minimum bets are easy to find. And while their selection of games is not especially wide, they do offer single deck and double blackjack along with 10x odds on Craps, Crapless Craps, and Bonus Craps.
Dining and Bars
Adjacent to the sportsbook and facing it is a small video poker bar. If you want to get some cheap drinks while you watch without having to bet, this provides a solid alternative. Just slip a $20 in and play it slow. Around the rest of the casino, you will find numerous other bars and lounges.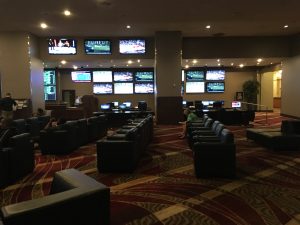 The restaurants here might be better than one would guess, with the nicer ones being reasonably priced and all bunched together. The highlight restaurant is Top of the World, located high above inside the observation tower. Now this one is overpriced, but it's a steakhouse and constantly rotates, providing you with a great view of all of Las Vegas. As far as getting some eats nearby the sportsbook, there is nothing but a Starbucks.
Hotel at Stratosphere
If you are looking for cheap, this might be the one. Since this hotel is surrounded by so many seedy motels where Vegas' most down and out go to do…things, they have to practically give the rooms away and they are not half bad. The standard rooms are what they are, but the bathrooms have been renovated and there are plenty of rooms with great views.
Stratosphere Sportsbook Rewards
Comps and player points are difficult to attain in sportsbooks. Here you get $1 back for every $300 you bet on sports, and $1 for every $25 bet on horses. This is actually relatively generous compared to other sportsbooks.
Regardless if you are interested in comps, it is still recommended to swipe your card whenever you bet because that proves a record of your bet. Meaning if you manage to place a winning bet and then lose the ticket, you will still be paid since the action was recorded on your card.
Wrap-Up
You can do worse than the Stratosphere, but you can certainly do a whole lot better. We didn't expect much when we walked in, and my expectations were met. Considering the sportsbook has been remodeled it's embarrassing how hard it is to read the betting board and how poor the sound quality is. Despite the faint smell of secondhand smoke, it's relaxing and comfortable to sit in, but this is a sportsbook. Not a meditation room.
Current 2020 Sports Betting Grade: C-
Click Here for Our TOP 2023 USA Sports Betting Site!