In the world of US casinos and gambling in general, the state of Maine does not typically make many headlines. After all, there are only a handful of casinos, even fewer off-track betting facilities, and the state, as a whole, has a fairly small, sparse population. Despite all of this, a piece of legislation that just recently unanimously passed through the House of Representatives is being heralded as one of the best sports betting bills in the country.
After first narrowly passing through Maine's House of Representatives by a vote of 19-15, the House went on to pass the bill, known as LD 553, without a single objection. Democratic Governor Janet Mills still needs to apply her signature to the 23-page document, but that seems like a foregone conclusion as it currently stands. Proponents of legal sports betting are pointing to Maine as having potentially set the standard for other pieces of sports betting legislation that are currently being drafted across the country.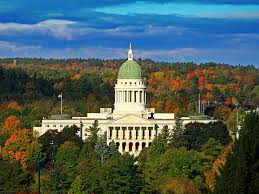 What Makes Maine so Special?
Something that you will hear a lot when discussing LD 553 is the phrase "open market." The reason for this is due to the fact that Maine is creating an even playing field for potential sports betting licensees. Unlike other states that put a cap on the number of licenses and/or restrict licensees to only preexistent casinos and other gambling facilities, Maine has not set any limits on the number of licenses that can be dealt and are further not requiring any operators to be from the state of Maine in any sense of the word. 
Something else that makes this development in Maine so significant is that there are two different—yet favorable—tax rates for brick and mortar and mobile operators. For brick and mortar sports betting facilities, sports betting revenue will be taxed at a low rate of 10%. Mobile operators will see sports betting revenue taxed at 16%.
A point of contention during the formation of this piece of legislation was with regard to the eligibility of mobile operators. There was a contingent of lawmakers who felt that mobile operators should be "tethered" to an entity that already existed in Maine. In other words, there was hope that mobile operators be tied to a casino or off-track betting facility as a means of keeping things within the state, so to speak. While that is a good idea, the "open market" idea won out and operators do not have to be tied to any single gambling facility. In fact, the bill itself specifically states that gaming operators that already exist in other states will be qualified to apply for a license to operate within the state. The logic behind this is that operators from other states already know the ins and outs of the industry and will be better equipped to offer a top-notch sports betting platform right from the offing. 
Mobile betting was a major part of this bill and was included from the beginning, which is something we did not see in many other states.
Who Can Bet, and When?
The timeline as it relates to when bets will actually be placed is something that is still quite vague. First, the governor needs to sign the bill to officially enact it as law. After that, the body tasked with overseeing the sports betting industry—The Department of Public Safety's Gambling Control Unit—will need to determine what licenses are given out. After prospective licensees pay their $20,000 application fee, there is no set timeline for when the Gambling Control Unit will determine whether or not a license is given.
Conservative estimates do not think that we will see sports betting in Maine until 2020, however there is some confidence that we will see bets being placed in time for the NFL season this fall. 
Those who are able to place bets both in person and online must be at least 21 years old. At this point, there is no official language as to how one will have to prove that they are of age to place mobile bets. As is the case in most other states, it is widely believed that one will have to prove their age at a physical gambling destination before they can place mobile wagers. 
All things considered, things are happening in a hurry in New England. After all, Maine's neighbor, New Hampshire, also moved to legalize sports betting just a week or so ago. The dominoes continue to fall and now, more than 20% of the total United States 21+ population has access to legal, regulated sports betting.