Illinois is a lot like other states in the country in that it recently moved to legalize sports betting. It is different than other states, however, in that its gambling expansion bill came with a lot more than just that. In addition to the state officially allowing its casinos to offer sports betting, the 816-page bill also sets forth the establishment of six new casinos, one of which will be located in Chicago. On top of all of this, the quantity of video gaming terminals allowed to be at bars and truck stops is going to nearly double.
When you consider all of the changes imminently going to hit Illinois' gambling industry, it becomes immediately apparent that Illinois is the Midwestern gambling capital in the making. While this is music to the ears of gamblers and lawmakers, not everyone is happy about how drastic the gambling environment of the state is being altered.
A Quick, Massive Rollout of Changes
As mentioned above, the new law will not only pave the way for six new casino licenses, but will also allow currently existing casinos to expand their footprint. According to the law, the state's 10 already standing casinos are able to expand their offering of slots and table games by roughly 70% when all is said and done. What's more, the state's three struggling horse tracks will all be allowed to virtually transform themselves into full-fledged casinos. Now, the tracks can offer slots and table games.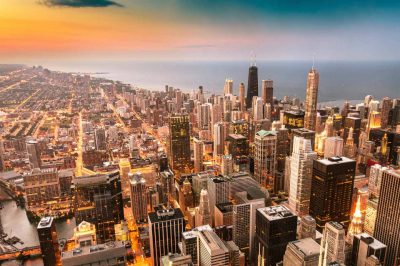 Perhaps the most noticeable change people will see comes with the aforementioned casino that will be erected in the Chicago area. The entity that is granted this license will also be granted the ability to station slots and other video games within the confines of O'Hare and Midway airports. This is such a big deal because there is only one other part of the US where gambling takes place in airports, and that is in Las Vegas. Understanding just this much will help you understand why many people believe Illinois is going to quickly become one of the premier gambling destinations of the United States, behind places like Nevada and New Jersey.
For those who have vested interest in the state's gambling industry, as well as gamblers in general, the passing of this massive bill is being seen as a major victory. As these things typically go, however, not everyone is satisfied with how quickly nor how easily this bill was passed. Luckily for them, the bill does not solely focus on the positives an expanded gambling industry will bring to the state.

Problem Gambling to be Studied as Part of the Bill
For those who are on the front lines of combating problem gambling in Illinois, the expansion of the gambling industry is something that brings with it mixed emotions. On one hand, there is some disappointment with regard to just how easily accessed gambling will be, but on the other hand researchers are finally going to be able to study just how many people in the state are problem gamblers. The reason for this is due to the fact that the recently passed bill also sets forth a study into problem gambling and how it can be addressed going forward.
Opponents have gotten angry in the wake of this bill's passing, but it is clear that their anger is mostly in vain as Illinois' Governor JB Pritzker has spoken in support of gambling on more than one occasion. Being that Illinois is one of the worst-performing states from an economic perspective, this move is one that makes a lot of sense. With that said, Pritzker is not moving forward on expanding gambling in Illinois without regard for the potential problems that can arise. In addition to the bill mandating that a study into problem gambling be conducted, the first-term governor also outlined nearly $7 million that will go directly to supporting those who identify as being problem gamblers. The hope is that, with time, problem gambling in Illinois can be identified before it is too late.
There is no timeline surrounding when the Chicago casino will be built, but after hearing about projected revenues the site might bring in, the belief is that very little time will be wasted.