When people in the sports betting world talk about retiring, they are usually referring to a professional athlete who is calling it quits. This week, in the wake of another raucous NFL Sunday the retirement we are talking about is that of Dave Portnoy, who announced his retirement from sports betting. Portnoy was fuming after the Philadelphia Eagles came from behind, forced overtime via a last-second field goal, and ultimately won the game. This resulted in Portnoy losing a sizeable bet and taking to social media to blast the performance of the NFL's officials.
This is not the first time Barstool's founder has announced his exit from the sports betting world, having done so at least once before. The majority of people who concern themselves with Portnoy and his betting are doubting this retirement will last long, but it has been raising a lot of questions about celebrities and their endorsement of gambling.
Dave Portnoy: Degenerate Sports Bettor
When Philadelphia Eagles kicker Jake Elliot lined up for a game-tying 59-yard field goal in what can best be described as miserable conditions, few in the crowd were confident it was going in. Of course, the kick sailed through the uprights and after conceding a field goal midway through the overtime period, the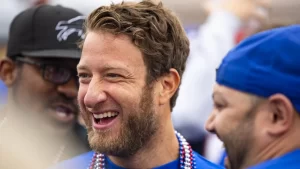 Eagles drove down and sealed their victory with a touchdown. Dave Portnoy, who claimed to have a "monster" wager on the game, immediately sounded off on Twitter in a fit of rage, taking aim at both the Bills and the NFL refs.
He has not threatened legal action this time, but in previous spats Portnoy has done exactly that. Earlier this year, Portnoy threatened a lawsuit against the NFL after a betting loss of more than $100,000. In this incident, a wager was placed on the Cincinnati Bengals under the assumption their star quarterback, Joe Burrow would be playing. At the very last minute the star player was scratched due to injury, leading to a losing bet for Portnoy. No legal action has been brought to date, but one can imagine he and his team are at least tossing the idea around.
Portnoy, Barstool, and Online Sports Betting
Dave Portnoy is not just a big sports bettor and founder of a sports-oriented brand, he is himself integrally involved in the regulated sports betting industry. In 2020, Penn—an established gambling brand in the United States—bought a 36% stake in Barstool Sports, which by this point had a self-branded online gambling site in a few different states. Portnoy has once more regained control of the online sportsbook, but it has recently rebranded as ESPN Bet thanks to a high-dollar collaboration with the Disney-owned brand.
Thanks to this, and thanks to ESPN Bet already expected to begin service in more parts of the country, there are not many people betting that Portnoy will live up to his retirement announcement. With that said, it may be in the Barstool founder's best interest to hang it up for good. Many of his recent high-profile and high-dollar bets have ended up losing, and though there is no way to say for sure the extent of Portnoy's sports betting losses (or profits), we can say that it might be time for a break.