Iowans can finally get ready to join a host of other states in placing real money, legal wagers on their favorite professional and college sports, amongst other events. This week, lawmakers in the Hawkeye State approved legislation that legalized both sports betting and daily fantasy sports (DFS) games that you would find at sites like DraftKings. One distinction worth making before going any further is that even though DFS games are available online, sports betting was legalized only in person, at approved destinations (ie. Casinos). The only way by which one can place sports bets online is if they first go to one of the states 19 casinos and register as being someone who is of at least 21 years of age.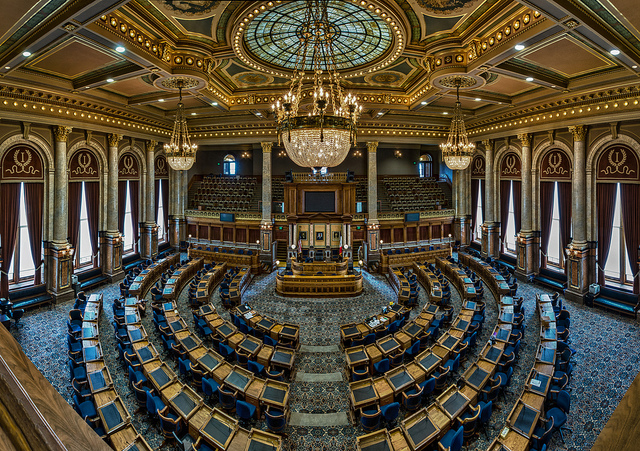 This piece of legislation and its subsequent passing comes in the wake of a 2018 US Supreme Court decision that overturned a Federal Ban on sports betting outside of Las Vegas. In the wake of this ruling being overturned, many states have legalized sports betting in a hurried manner. Iowa did not rush to legalization, but the state began considering the issue almost immediately after the Supreme Court's ruling. According to Senator Roby Smith, a Republican from Davenport, "this just brings people out of the shadows and gives them a regulated environment. It gives people the freedom to choose to do sports wagering, legally."
What Happens Next?
Now that lawmakers have agreed and passed legalization efforts, there is still one more hurdle that has to be overcome; getting the governor's signature. The bill is headed to the desk of Republican Governor Kim Reynolds, who has stayed almost silent on the issue. Being that the gambling industry in Iowa is growing on what seems to be an exponential basis, there are few people who think the governor will abstain from signing this bill into law.
For Iowa casinos, there is no putting a price on the signature of Governor Reynolds as this would mean an absolutely massive win for them. According to the Des Moines Register, the bill sets forth that the state's casinos would be tasked with regulating the sports betting industry despite other, previous proposals potentially giving that authority to another entity.
If all goes well and the bill does earn the signature of the governor, the Iowa Racing and Gaming Commission will begin developing the rules casinos that offer sports betting would have to follow. If everything goes to plan, it is widely believed that bets may come streaming in as soon as July or August. It is believed that the commission will utilize its emergency rule-making procedure so that rules can be implemented and betting can begin as quickly as possible. Though this may sound rushed, the procedure outlines that the Administrative Rules Review Committee can, at a later date, alter anything that they should deem needing alteration. Ultimately, the goal is to allow for legalized bets to be able to be placed before college and professional football seasons begin.
Not Everyone is Happy About This Ruling
Though the passing of this bill represents a massive bipartisan effort, not everyone is happy that the bill has been passed. Religious organizations and various lobby groups have condemned the passing of the bill in the same way as has been done in so many other states where sports betting has been legalized. All opponents of the bill have made the same disproven claim that legalizing sports betting will increase gambling addiction. This claim clearly did not gain much traction, however.
All things considered this seems to be a great move for Iowa and one that makes sense, too, considering the nearly 20 gambling destinations in the state.