At the start of 2020, New Hampshire become the 14th state to legalize sports betting in the United States and the second state to legalize it in New England. On Monday, Governor Chris Sununu placed the first bet in the state to mark this momentous occasion. In front of a large crowd at a downtown sports bar, Sununu entertained suggestions for his first bet, eventually settling on a futures bet for the New England Patriots to win the Super Bowl. The 82nd governor of New Hampshire placed an $82 bet from his iPhone that offered a $1,000 payout. The crowd applauded the governor, and many residents throughout the state began registering to place their own bets. This occasion marked New Hampshire's decision to approve a six-year contract with DraftKings, a leading online sports betting vendor, allowing anyone over the age of 18 to sign up and place a wager.
Ahead of the Curve
Since the United States Supreme Court's decision to allow sports betting throughout the country, many states have rolled out new legislation to capitalize on the opportunity. Sports betting has already proven to be a lucrative opportunity throughout the nation, but the challenge for many states has been the ability to settle on legislation that they deem appropriate.
New Hampshire joins Rhode Island as the second state to offer sports betting in the New England region, while Massachusetts struggles to iron out issues with proposed legislation to join in on the action. Maine is also awaiting pending legislation for sports betting within the state, but in the meantime, residents will have to turn elsewhere if they are interested in placing a wager on their favorite sports team. In other areas in the northeastern United States, New York, Pennsylvania, and New Jersey have all legalized some form of sports betting. New Hampshire has set its eyes on residents of neighboring states, hoping to draw bettors from those who have yet to legalize sports betting options.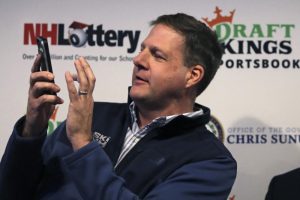 DraftKings, a Boston-based company, has exclusive rights to operate sports betting under their new contract in New Hampshire. As Massachusetts legislators flounder over the details of their sports betting laws, DraftKings hopes to open up offices in New Hampshire. In addition to the online betting that has been made available in the state, New Hampshire will also allow 10 brick-and-mortar sportsbooks. These sportsbooks could open at casinos, restaurants, or other entertainment facilities, making them popular destinations for visitors from Vermont, Massachusetts, or Maine.
Response and Projected Benefits
On Tuesday, the New Hampshire Lottery shared that more than 6,000 players had already registered, placing more than $250,000 in wagers. It was also reported that a significant number of these players were Massachusetts residents, who already have shown interest in traveling to place their wagers. The timing of the legalization is favorable, as the NFL playoffs begin this weekend, with the College Football Playoff National Championship and NCAA March Madness Tournament looming on the horizon.
Sununu is convinced that the legalization is the best decision for the state, citing the fact that revenues will help benefit education programs. New Hampshire will receive 50 percent of the revenue generated from sports betting, and officials have projected that $7 to $10 million will be generated annually to the direct benefit of educational programs. By 2023 these projections increase to $13.5 million annually.
Some concerns linger about the projected revenues, as Rhode Island fell drastically short of their $23 million projections, earning only $2.2 million in the last year. Despite these concerns, Sununu and New Hampshire officials are confident that residents of New Hampshire and bettors from neighboring states will do more than enough to help generate the expected revenues.