On Thursday, the Louisiana Gaming Control Board approved DraftKings as the first fantasy sports betting company to do business in the state. The license approval has been a long time coming as the Bayou State has been working on introducing sports betting for years. DraftKings officials were ecstatic about the decision, working to go live within 24 hours of the board's unanimous approval. The launch is a step in the right direction for sports betting in the state, and is a sign of things to come, as other companies prepare to have their licenses approved. The launch of fantasy sports is a timely one, as Louisiana also plans to introduce other forms of sports betting later this year.
Fantasy Sports with Draft Kings
Now that DrafKings' license has been approved, the company is set to launch their renowned fantasy sports products for residents within the state. Fantasy sports differs from traditional sports betting and online sportsbooks. Instead of placing wagers on moneylines, spreads, futures, or prop bets, fans will access the DraftKings app or website to create their own rosters and compete against other players in a variety of sports. The most popular example of fantasy sports betting would be fantasy football with the National Football League. With DraftKings fantasy sports, residents of Louisiana will be able to play over an entire season, or a single day of games in the sport of their choice, including baseball, basketball, football, or even a golf tournament.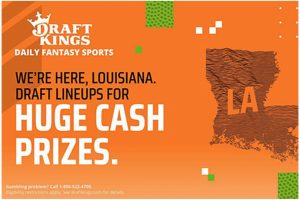 The introduction of fantasy sports betting is the first step for the Bayou State into the world of sports betting. As DraftKings becomes the first to receive a license to operate, a number of competitors are waiting to leave their mark on the gaming landscape. While Louisiana has welcomed a variety of gaming options for years, the introduction of fantasy sports and sports betting marks a significant shift that will inevitably have an impact on the state's gaming revenue.
The Path to Fantasy Sports Betting
Louisiana is currently home to 13 riverboat casinos, which have provided an enticing gaming option for residents, as well as a tourist attraction for people throughout the United States. However, the state has recently felt the pressure to expand their gaming options, as southern states like Mississippi, Georgia, and Alabama have legalized or proposed sports betting legislation. Since the Supreme Court's decision in 2018 to overturn the ban on sports betting, the industry has gained significant traction throughout the country, generating millions in revenue. Louisiana voters were quick to approve fantasy sports betting, as voters in 47 parishes voted to approve fantasy sports betting in November 2018, but despite the early vote to approve sports betting it has taken years for tangible sports betting to materialize.
Now that fantasy sports are set to launch, officials are setting lofty revenue goals. Gaming experts have shared that the industry could produce as much as $15.5 million in net revenue in the first year of operations. Out of that figure, nearly $1.3 million in tax revenue would go directly to the state. In the coming years, it is expected that Louisiana will continue to expand sports betting in the state. With this expansion, officials estimate that the market could fall between $2 billion and $2.6 billion over the next decade.
Looking to Expand Beyond Fantasy Sports
DraftKings isn't the only industry leader set to launch fantasy sports in Louisiana. Earlier this year FanDuel submitted an application to the gaming board to begin operating fantasy sports options of their own, hoping to go live before the upcoming NFL season. Daily fantasy sports are just the first step for sports betting in Louisiana, as both DraftKings and FanDuel hope that their platforms will help build a strong customer base before other forms sports betting begins later this year.
Louisiana has yet to launch any brick-and-mortar or online sportsbooks within the state, but the approval of DraftKings fantasy sports license could suggest that a physical or online presence for the industry-leading sports betting company could become a reality in the future. The company has already branded sportsbook wagering at 13 casinos throughout the United States, so the transition to a physical presence in Louisiana would be a smooth one. DraftKings also has a partnership with Casino Queen, who has already announced their intentions to buy the Belle of Baton Rouge and Hollywood Casino Baton Rouge, opening the door for a DraftKings sportsbook once that deal is done. With such a strong foothold in the industry, as well as the state, it is likely that online and brick-and-mortar sportsbooks will successfully launch later this year.