A bill that could bring legal sports betting to the state of Wyoming is making its way through the House and Senate and many believe Wyoming residents to place wagers within the year. On Monday, Wyoming HB 133 passed in the Senate after receiving a 24-5-1 approval vote. The Cowboy State is typically known for its rural landscape, scenic views, and breathtaking national parks. Now Wyoming, like many other states in the country, is looking to capitalize on the budding sports betting industry.
A Bump in the Road
Wyoming's sports betting bill has already faced a number of challenges, but it has made some significant progress after a relatively rocky start. Earlier this month, the House voted against the bill, leaving many doubtful about sports betting's immediate future in the state. However, Rep. Landon Brown, a bill co-sponsor, called for a reconsideration vote and promised to answer any lingering questions that officials had about the proposal. Initial concerns about the bill were related to whether or not the state's tribes would have the opportunity to voice their opinion about introducing a new form of gambling revenue into the fold. In a somewhat miraculous turnaround, the reconsideration vote passed by a count of 32-28, as representatives vowed to give tribes a voice in the new legislation.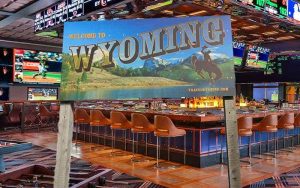 After passing in the House, the bill progressed seemingly unopposed through the Senate Appropriations Committee and also the full Senate. A few minor amendments were made to address some concerns surrounding gaming license applicants, like those that were brought to the table regarding the state's tribes contributing to the new legislation. Now that the bill has passed in the Senate, it will face two more votes before being forwarded to Gov. Mark Gordon. Many believe that in the coming months lawmakers will be able to iron out the rules and guidelines for legal sports betting, with residents placing wagers before the new year.
Details of the Bill
Wyoming's sports betting bill is unique in that it exclusively offers online sports gambling. Under the bill, anyone over the age of 18 would be able to place wagers on their favorite sports teams. The Wyoming Gaming Commission will be responsible for regulating all online sports betting, which could launch as early as July 1. In a recent committee hearing, Wyoming Gaming Commission Director Charles Moore stated that a more realistic launch date would be September 1.
Bettors in the state could have access to a minimum of five sportsbook operators. In order to be considered for a license to operate in Wyoming, applicants must have active sportsbooks in at least three other states. To operate, sportsbooks must pay a $100,000 new permit fee, with a $50,000 renewal fee. All sports betting revenue would be taxed at a rate of 10%, and the revenue generated would go toward the state's general fund and county health programs. Early estimates from the Gaming Commission suggest that the sports betting market in the state could bring in nearly $450 million annually.
Existing Gambling Laws
Those opposed to the bill argue that the introduction of sports betting could lead to significant gambling addiction in harm, while others believe the pros outweigh the cons. Sen. Jeff Wasserburger, R-Gillette was quoted in the Star Tribune suggesting that the introduction of a legal sports betting market could help mitigate issues surrounding the black market of sports betting. Others noted that the bill does more than enough to help address gambling addiction, by directing revenue toward gambling addiction programs.
As states throughout the country continue to roll out sports betting legislation, Wyoming residents may be turning elsewhere to place wagers on their favorite sporting events. Neighboring states, including Colorado and Montana, have already embraced sports betting, causing residents from Wyoming to cross state lines to place wagers. Many lawmakers in Wyoming view this as revenue waiting to be had and are looking to capitalize with this new bill.
Wyoming is already home to a number of legal gambling activities, including blackjack and poker rooms, as well as racetracks and pari-mutuel wagering. In the near future, Wyoming lawmakers hope to add online sports betting to that list.