Amid the Covid-19 related shutdowns, many states are looking for new and lucrative ways to raise state funds. While many states have approved the practice of legalized sports betting, with three new states approving ballot questions this past November, odds look bleak as to whether Oklahomans will see a change in their state law anytime soon.
Not a New Issue
The question of legalized sports betting has come up in Oklahoma before. Unfortunately support for deciding the issue has time and time again failed to gain any traction in the state legislature. The issue was placed on the back burner again as the Governor and the state legislature hashed out a hotly debated tribal gaming issue. In October, Governor Kevin Stitt elected to forgo an appeal of a federal court ruling that allowed tribal gaming compacts to automatically renew for 15 years. At the time, Governor Stitt was trying to negotiate a higher "exclusivity fee." Currently, tribes in the state pay between 4% and 10% of gross revenue for the exclusive right to operate Class III gaming. The months long battle involved disputes between state legislators, Governor Stitt, and the federal government over the Governor's power to unilaterally renegotiate these fees. That dispute has largely been resolved and the tribal gaming compacts are generally considered to be renewed. Perhaps this frees up lawmakers to take up the sports betting issue.
Bi-Partisan Cooperation Required
"There's no clock ticking on when this needs to get done," says Matthew Morgan, Chairman of the Oklahoma Indian Gaming Association. "I guess it could come up [in the] next legislative session, but it may not." He went on, "I don't think you'd see most tribal leaders in a hurry to get this done. It needs to be done correctly. And that's probably going to take time." That time may have gotten longer in the wake of the recent tribal gaming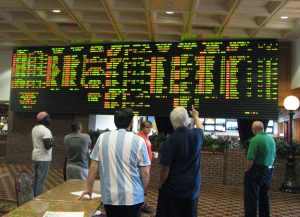 compact dispute. According to Morgan, any discussion over legalized sports betting would need to begin with a mending of the strained relationship between the Governor's office and tribal leaders in the state. "That relationship between the governor and tribal leaders needs to be repaired," he said.
"The governor has been supportive of negotiating with Oklahoma's tribes in good faith to expand opportunity for all parties and remains committed to working with all Oklahomans on top ten solutions that deliver a stronger, more prosperous future for our state," said Baylee Lakely, spokeswoman for Governor Stitt. In the Governor's version of compact negotiations, he included a provision for "event wagering" however those provisions were rejected by the Oklahoma Supreme Court along with Stitt's authority to unilaterally renegotiate the gaming compacts. Lakely went on, "in April 2020, Governor Stitt negotiated new gaming compacts with the Otoe-Missouria Tribe and Comanche Nation. The new gaming compacts demonstrated the state could offer unique, thoughtful opportunities for each tribe while also achieving fair-market rates, as high as 13%, for Class III gaming operations. Among other provisions, the compacts stated sports betting would be permitted to the extent it was authorized by law."
Under current Oklahoma law, legalized sports betting would likely require approval by the legislature in order to go operational. "I've consistently said that I think sports betting or wagering is a potential negotiating point for the state in its compact negotiations with the tribes," said Greg Treat, Senate Pro Tem in the Oklahoma Senate. "If an overall compact agreement is reached that is beneficial to all Oklahomans, I will consider it."
Cautious Optimism for the Future
Morgan agreed with Senator Treat's analysis, "I think he reads the landscape correctly. It has to be an agreement that benefits everyone." He went on to caution that legalized sports gambling is not a silver bullet for state revenues. "You're hoping for 3 to 4 percent at the end of the day. I don't like people talking that 'We're going to get hundreds of millions of dollars' but it would help," he said. When asked on his opinion of the chances on legalized sports betting in Oklahoma he said, "I don't like to predict … I think tribal leaders are willing to have that conversation, but it has to benefit everyone. And there has to be respect. And it was to be in the parameters of what our markets will bear. That conversation has to be precise of what that will look like. Sports betting, whatever form it might be … a very important aspect is: What would that revenue fee-sharing look like? Everything helps, when the state's looking for money, when tribes are looking … something like sports betting could help."