This past Thursday, the Purdue University Board of Trustees approved a new sports wagering policy that has raised a few eyebrows throughout the country. The new policy bans faculty, staff, and non-athlete students from gambling on any sporting events that involve Purdue teams, coaches, or student-athletes. While sports betting was legalized in the state of Indiana as of September 1, any person found violating the new policy at Purdue could face termination or other punishment. The proposed ban would bar those associated with Purdue University from placing bets at brick and mortar sportsbooks as well as online sportsbooks. The policy will go into effect once the rule has been officially published by the University.
The NCAA rules already prevent student-athletes, university officials, coaches, and other professionals from wagering on college athletics, but Purdue's decision to extend this ban on wagering to everyone associated with the University is unique. The policy aims to restrict the ability of staff and athletes to exploit their positions and potentially influence the outcome of the events in which they are betting on. For example, a professor could pressure their students into influencing the outcome of a match, or they could ridicule them for their performance in which they lost a bet. Additionally, athletes may share game plans or team strategy that could impact fair play. While a rule banning sports betting to prevent these unsavory situations seems like a good idea, the logistics of such a rule raises some serious questions.
Complications Surrounding the New Rule
In the state of Indiana, anyone who is 21 or older can bet on sports. It's up to the Indiana Gaming Commission to ensure that all gambling operations are adhering to guidelines established by the industry. The challenge that the new policy that Purdue has presented is that faculty, staff, and students are only restricted when betting on Purdue matches, so how can this type of activity be monitored or regulated? As the policy stands, students and staff can still bet on other collegiate sports, just not those associated with their University. This opens up a myriad of issues with trying to monitor who is betting on what at Purdue.
While the University may be able to monitor the internet activity of the students on campus, they certainly wouldn't be able to flag all sports betting websites because not all sports betting is being outlawed, only the matches being played by Purdue. This means that the University would have to develop a system that allows them to thoroughly analyze all activity on sports betting websites and applications to monitor exactly what students are betting on, which would require a dedication of extensive resources and may also raise questions about invasion of privacy. Additionally, it would be difficult to track who is responsible for the inappropriate online activity. What if a student is logged in under someone else's account? What if they are logged in as a guest account? Not to mention the fact that many students may be using their own wireless network, or even placing bets through applications on their mobile devices. Tracking the online activity of every student, even those who are using networks other than the one provided on campus, would be impossible.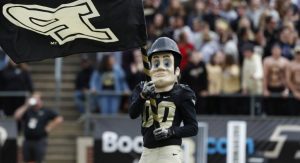 It is equally important to consider the approach that Purdue takes in order to crack down on sports betting at brick and mortar locations. Since the law states that anyone 21 and older can place bets on sports in the state of Indiana, casinos have no obligation to provide Purdue University with any information about the betting activity of its customers. The same could be said about the Indiana Gaming Commission, who oversees both the brick and mortar and online betting for the state. Their job is to monitor the activity of casinos and consumers in relation to the law, not the rules of Purdue University. Without much legal leverage, it is difficult to see how Purdue plans to crack down on these instances of sports betting without relying on individuals to divulge information when they see others violating the rules.
Timeline and Expectations
The announcement that came on Thursday has been in the works since all sports betting was legalized in early September, and University officials believe that it is a step in the right direction for Purdue, and that it accurately represents the University's values. The expectation is that the rule will go into effect before Purdue plays Iowa on Saturday, October 19. Purdue will be the first public university to adopt a no sports betting policy in a state where sports betting has been legalized. However, St. Joseph's University, which is a private college in Pennsylvania, recently announced a similar policy. If this is to be an emerging trend throughout the country, it will be interesting to see if Purdue is successful in establishing guidelines that accurately detect and identify students who violate the rules, without infringing upon their rights.